Elizabeth Harden Gilmore House
Introduction
Author-Uploaded Audio
Elizabeth Harden Gilmore was a Charleston funeral director and a pioneer in the civil right movement in West Virginia. Gilmore was a leader and one of the founders of the local chapter of Congress for Racial Equality (CORE) that led sit-ins throughout Charleston. She also worked to secure the admission of African American Girl Scouts into the previously all-white Camp Anne Bailey. Gilmore led the first sit-in against the Diamond Department Store's lunch counter in Downtown Charleston. Thanks to her leadership, the store opened the lunch counter to African American patrons in 1960. In 1988, Gilmore's home was placed on the National Register of Historic Places. Efforts continue to restore the home and operate it in a way that honors Gilmore's legacy.
Images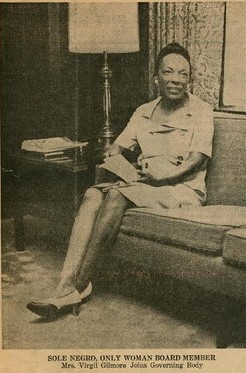 The home is closed to visitors and is in danger of being lost due to years of neglect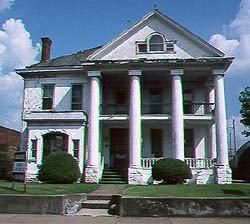 Diamond Department store, location of CORE's year and a half long sit-in.
Backstory and Context
Author-Uploaded Audio
The Harden-Gilmore house was constructed in 1900 by an Italian immigrant and contractor, Dominic Minotti. Minotti also built the piers on the bridges that connect Kanawha City and South Charleston with Charleston. After several years of retirement, Minotti passed away in 1925. In the mid-1930s, Minotti's wife passed away and the house became a boarding house for a brief period, and was then put up for sale. Elizabeth Harden Gilmore, the first woman to be a licensed funeral director in Kanawha County, purchased the home in 1947.
Elizabeth Harden Gilmore bought the home, with her husband, when she was in her late 30s. They remodeled it to serve as both their home and funeral parlor, Harden and Harden Funeral Home. The ownership of the Black funeral home in Charleston, WV, gave Gilmore a sense of recognition as a leader in the Black community. 
Gilmore took this leadership seriously, and became a key figure in the civil rights movement in West Virginia. Gilmore fought for her daughter's right to be admitted into Camp Anne Bailey. Her daughter's Girl Scout troop was the first African American group to be admitted into the camp. Gilmore also co-founded the local chapter of the Congress of Racial Equality, or CORE, in 1958. Serving as the co-chairman and the executive secretary of CORE, Gilmore led the efforts of a sit-in at the local Diamond Department Store. After a year and a half long fight, Gilmore and CORE successfully convinced The Diamond to open their lunch counters to African-Americans. 
Elizabeth Harden Gilmore was active in an impressive number of civic organizations. She founded a women's club in the early 1950s that opened and operated the first integrated day care center in Charleston. She served on the community welfare council and on the Executive Board of the Citizens Committee for a West Virginia Human Rights Law, a grassroots organization formed to achieve the passage of an enforceable civil rights law. Due to the efforts of that organization, the state civil rights law were amended in 1961. She was a member of the Charleston Chamber of Commerce (serving on their education task force), an adviser to the Volunteer Service Bureau, and a charter member of the Kanawha Valley Council of Human Relations. During her time on the council, she served as the group's first Vice President, participated in their Panel of American Women (a public forum focused on race and religion), and worked to get African Americans into homes and neighborhoods that had excluded them in the past through the Clearing House for Open Occupancy Selection Effort. She also participated in the U.S. Commission on Civil Rights. In 1969, Gilmore became the first African American appointed to the West Virginia Board of Regents, and eventually served as the vice president and then president. 
"I am convinced of the efficiency of direct action. If our people had used it a generation or two ago, we wouldn't be witnessing the things today that shock and sadden people of all races." - Elizabeth Harden Gilmore1
Sources
National Register of Historic Places Nomination Form. July 28, 1988. Accessed December 03, 2016. http://www.wvculture.org/shpo/nr/pdf/kanawha/88001462.pdf. 
Elizabeth Harden Gilmore. We Shall Overcome: Historic Places of the Civil Rights Movement. Accessed March 05, 2017. https://www.nps.gov/nr/travel/civilrights/wv1.htm. National Park Service
Mrs. Gilmore's Defining Black History. February 12, 2012. Accessed December 03, 2016. http://www.democraticunderground.com/1187426.
Additional Information