RLC Adobe - The Library
Introduction
The Rancho's library dates to the building's renovation in the 1930s. By combining a storage room, office, and bedroom, Llewellyn Bixby Sr. created large library where he and wife Avis spent their time reading, listening to the wireless, and doing crossword puzzles. Above the card catalog hangs a portrait of Jotham Bixby, often called the "Father of Long Beach" for his role in civic development. Above the hearth hangs a portrait of Jotham Bixby's father-in-law, the Reverend George W. Hathaway, who was a progressive Congregational minister and Union chaplain before retiring to live with his daughters in California. Rev. Hathaway was Llewellyn Bixby Sr.'s grandfather.
Images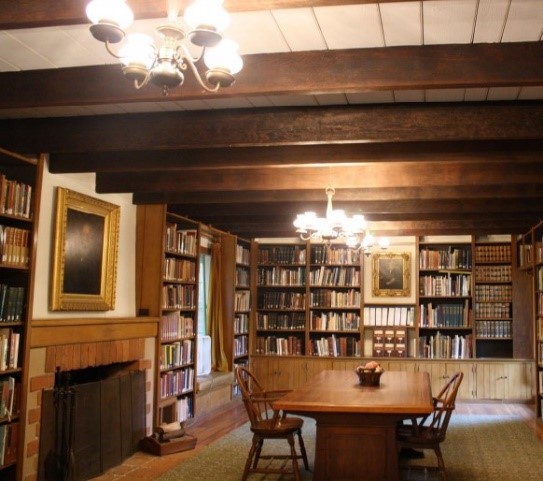 Backstory and Context
Now part of the Long Beach Public Library system, the reference books on display here are part of a specialized collection of California history materials that are available for on-site use. Although some researchers choose to peruse the card catalog system, which is still maintained and continually updated to reflect new acquisitions, Rancho Los Cerritos' reference collection is also cataloged through the City's library database, http://longbeach.gov/library/.  
Additional Information