Chuck Noll and John Gruden Championship Room-University of Dayton
Introduction
The Chuck Noll-Jon Gruden Championship Room in the Frericks Center on the University of Dayton campus showcases the five Super Bowl championships won between the pair of former Dayton coaches Chuck Noll and Jon Gruden. Gruden became the youngest coach to ever win a Superbowl while Noll led the Pittsburgh Steelers to four championships.
Images
The University of Dayton Athletics Department dedicated The Chuck Noll-Jon Gruden Championship Room in 2013.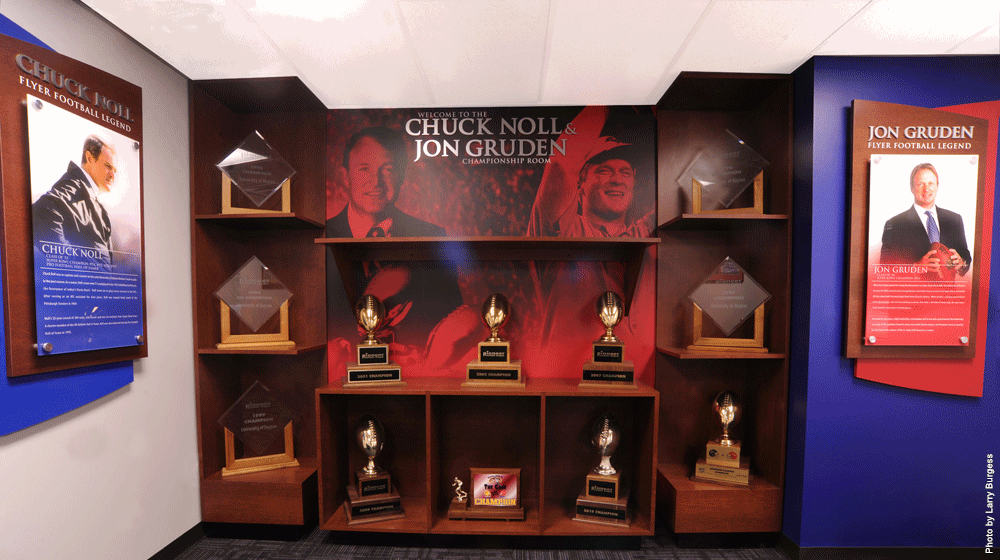 Hall of Fame coach Chuck Noll won four Super Bowls.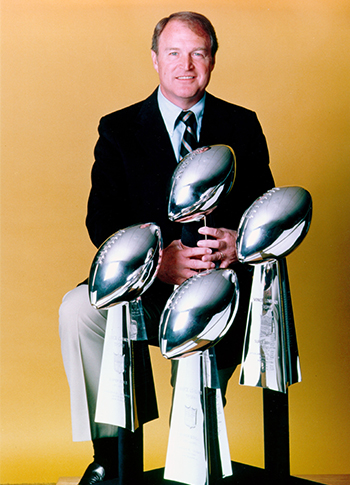 Backstory and Context
Born in Cleveland, Ohio, Charles Henry Noll, or Chuck Noll as most people know him, started his legacy. After a troubling start of a football career, Noll persevered and played college ball. His talents were recognized on a coaching level, as he became a part of the coaching staff on multiple National Football League (NFL) teams. Finishing out his career in Pittsburgh, he's one of the longest-tenured head coaches of all the NFL.

Born in 1932, Chuck Noll was the youngest of his 3 siblings and grew up in a predominantly African American neighborhood, a factor he credited as inspiring him to advocate for opportunities for African American players and coaches. At a young age, Noll set high goals for himself and worked multiple jobs to pay his tuition.

After becoming a standout at a local Cleveland high school, Noll was recruited by Notre Dame. After suffering from an epileptic seizure his first year on the team, however, Notre Dame saw too much risk in keeping Nol on the team. As a result, Noll transferred to the University of Dayton where he graduated with a degree in secondary education before playing professional football for the Cleveland Browns. He remained with the Browns until his retirement in 1953.

After his retirement, he received two coaching offers, one from the University of Dayton and one from the Los Angeles Chargers (later San Diego). Noll accepted the Los Angeles position and was an assistant coach for the Chargers in their inaugural season in 1960. He remained with the Chargers until 1965, when he became assistant coach to Don Shula of the Baltimore Colts. Noll stayed with the Colts until 1968, when he was hired as the head coach of the Pittsburgh Steelers.

While he was with the Steelers, Noll won 4 Super Bowls within 6 years. During his 23 years in Pittsburgh, the Steelers were 209-156-1 with a 16-8-0 postseason record. During his career, he created the famous defensive system known as the "Steel Curtain". He was deemed the nickname "Emperor Chaz" by a known sportscaster due to his coaching style. Noll was the only coach in the NFL to win 4 Super Bowls during his career. Finally earning high recognition, he won the 1989 NFL Coach of the Year award. Noll will always be known for his innovative thinking in the African American movement, having Joe Gilliam be the first starting African American quarterback, following by others doing the same.

Noll retired from coaching in 1991 and was elected into the Pro Bowl Hall of Fame two years later. He passed away on June 13, 2014 at the age of 82.
Sources
"Chuck Noll." Pro Football Hall of Fame. Accessed February 6, 2015. http://www.profootballhof.com/hof/member.aspx?PLAYER_ID=166.

Rosenthal, Gregg. "Legendary Pittsburgh Steelers coach Chuck Noll dies." June 14, 2014. http://www.nfl.com/news/story/0ap2000000358676/article/legendary-pittsburgh-steelers-coach-chuck-nol...
Additional Information