Houdaille Industries (1947-1980)
Introduction
Huntington was once the site of the country's largest automobile bumper factory, Houdaille Industries. The company's roots trace back to France's Maurice Houdaille who invented a rotary shock absorber for automobiles. An American corporation bought the name and the rights to Houdaille's inventions and became the country's premier manufacturer of shock absorbers by the 1930s. In 1946, the company purchased a factory building in Huntington, which had been built by the American Thermos Bottle Company in 1924. Houdaille Industries' Huntington plant manufactured over three million metal bumpers annually and shipped to auto assembly plants in the United States and abroad. During the late 1970s, however, the metal bumper industry declined due to federal auto safety requirements and fuel-economy standards, causing the Huntington plant to shut down in 1980. In recent years, the plant has drawn controversy due to allegations that its employees were exposed to radioactive nickel. Today, the former bumper factory is the site of Koppers Inc., a railroad equipment supplier.
Images
Houdaille's Huntington plant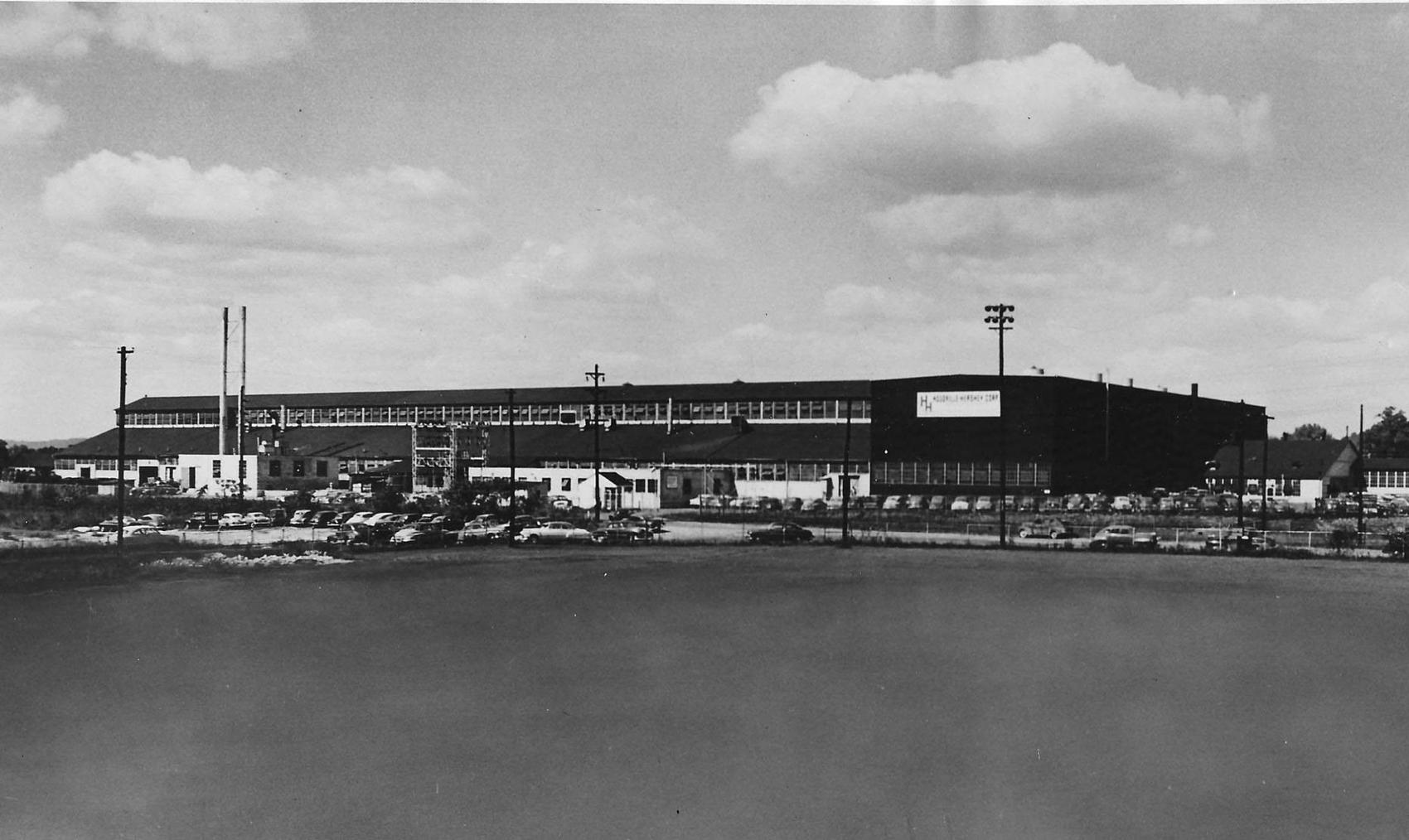 Stamping out automotive bumpers, Houdaille Industries, 1955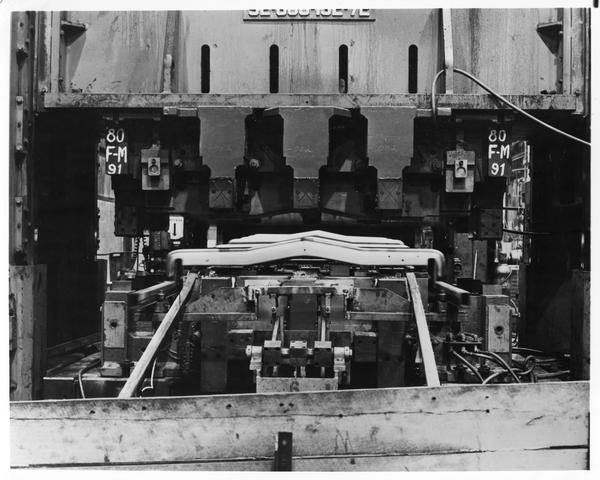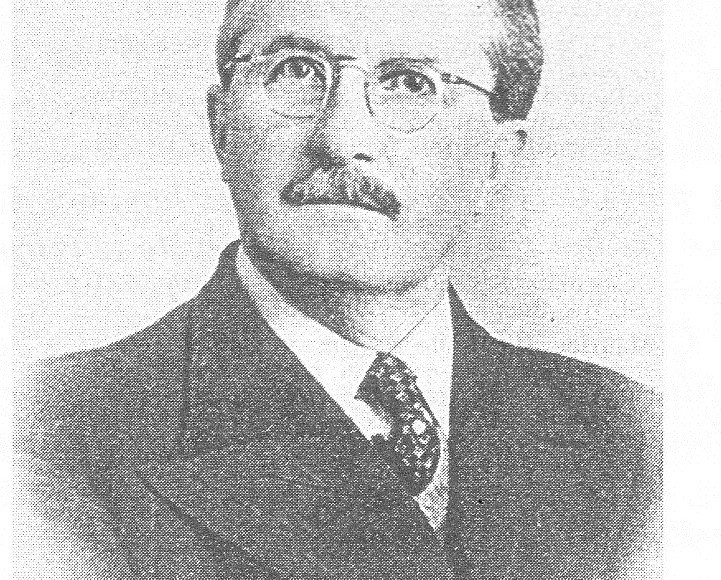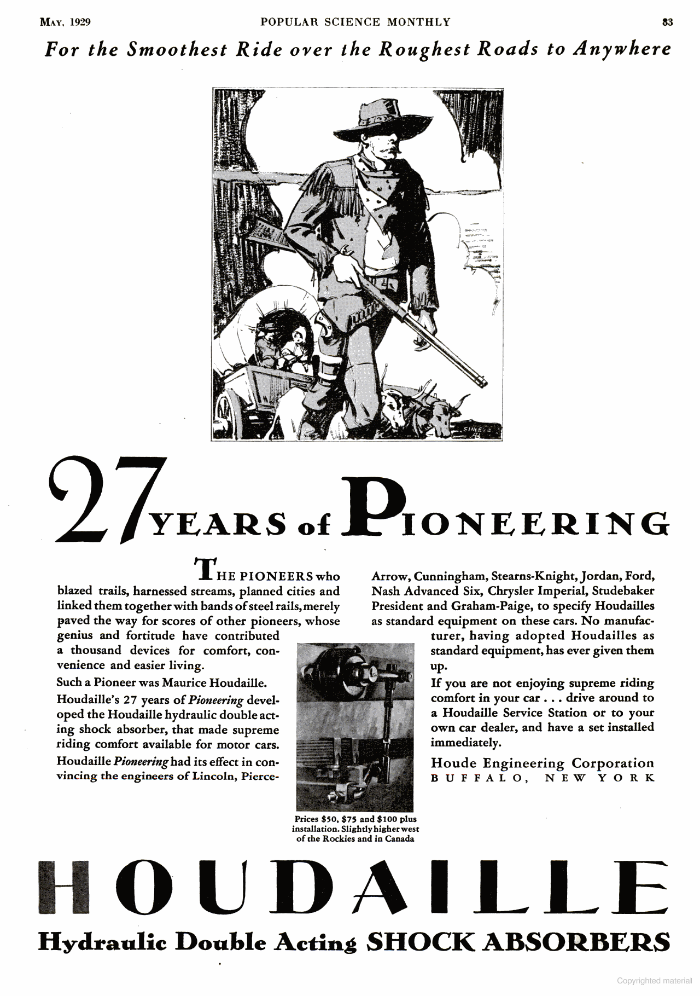 Ad for Houdaille's British subsidiary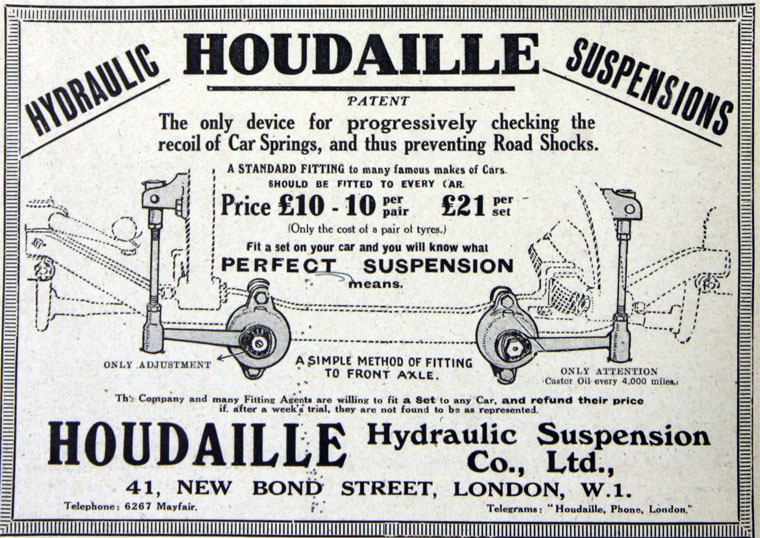 Houdaille Industries, circa 1976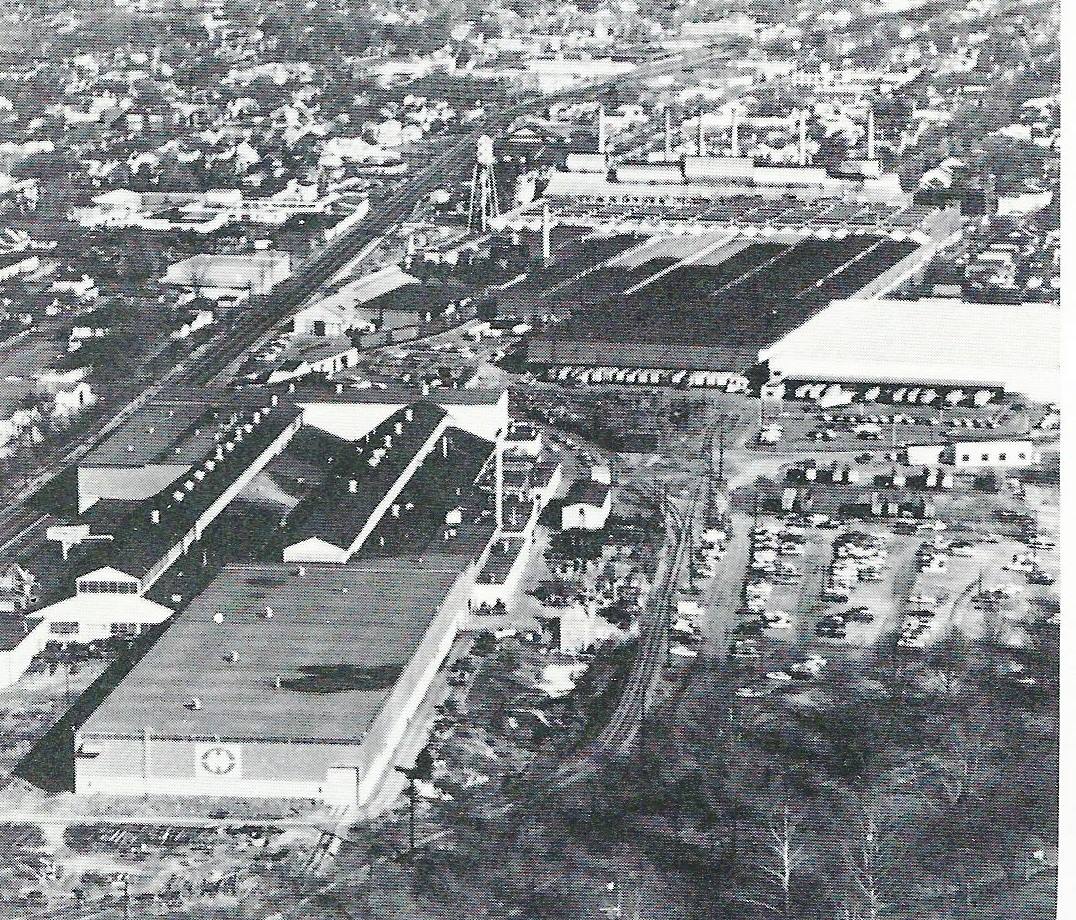 Houdaille Industries is visible behind the larger Owens-Illinois plant
The bumper plant is visible in the background of this photo of the nearby Owens-Illinois factory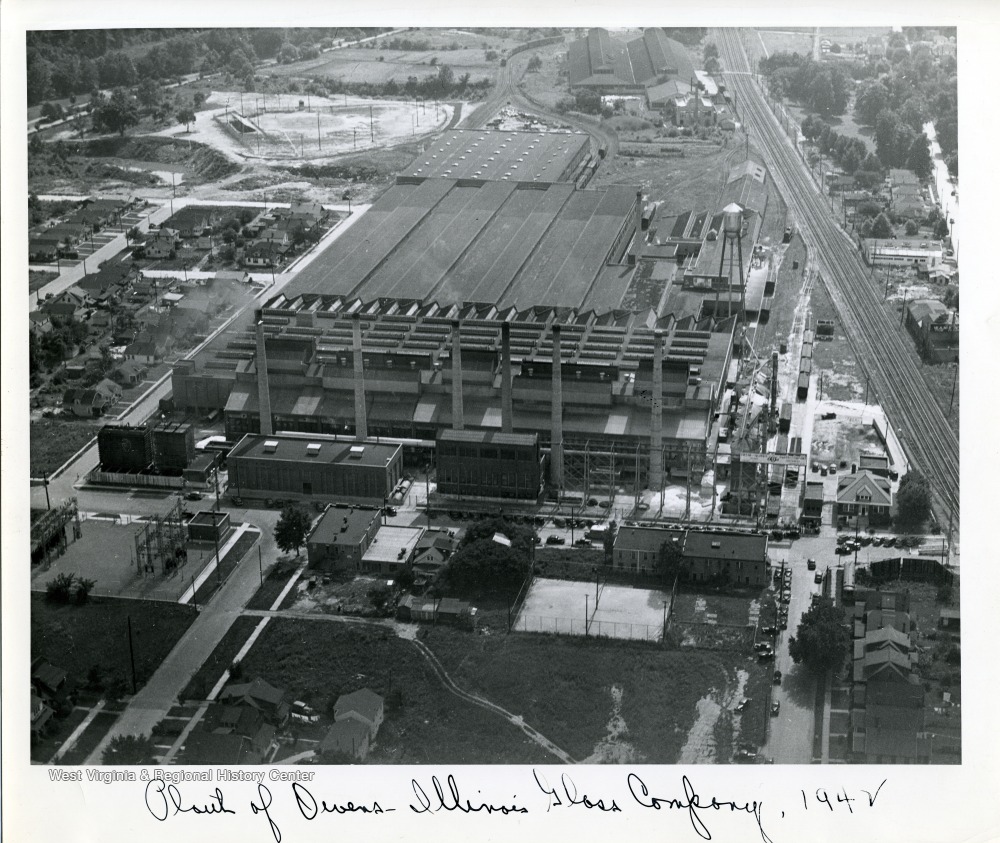 Backstory and Context
During World War I, a Frenchman named Maurice Houdaille invented a form of recoilless artillery that advanced the use of hydraulics. Houdaille then adapted this technology to develop and patent a rotary double-acting hydraulic shock absorber for automobiles, which greatly increased their comfort. By 1915, an American importer of European automobiles named Paul Clodio had begun to receive requests to retrofit Houdaille's shocks onto American vehicles. After meeting with Houdaille, Clodio purchased the manufacturing and selling rights for the shock absorber in the United States, and in 1918, Houde Engineering was founded in Buffalo, New York. The company grew to become one of the country's largest auto-parts subcontractors, and was the leading manufacturer of shock absorbers by the 1930s. It quickly expanded beyond Buffalo, with factories across the United States. 
Following the Second World War, Houdaille, which by then was named Houdaille-Hershey, decided to open a plant in Huntington. The company purchased a factory that was originally built by the American Thermos Bottle Company in 1924. The American Thermos Bottle Company's origins can be traced to the turn of the twentieth century, when Reinhold Burger and Albert Aschenbrenner patented a domestic vacuum flask with a protective metal casing, which they termed Thermos. In 1906, American businessman William B. Walker met Burger and secured the rights to manufacture thermoses in the United States. The following year, Walker founded the American Thermos Bottle Company and began making vacuum bottles in Brooklyn, New York. Demand for thermoses rapidly exceeded the factory's capacity, and the company soon built new manufacturing facilities across the country, including in Huntington. The Huntington plant was completed in 1924 and operated until the outbreak of World War II, when the factory was taken over by the U.S. Army Air Force, which used it as a warehouse. 
After the military vacated the facility, Houdaille moved into the former thermos factory and repurposed it for the manufacture of metal automobile bumpers. A major addition was constructed by Neighborgall Construction, today one of Huntington's oldest firms. At the Houdaille plant, sheets of steel called blanks were cleaned and polished, and then cut and shaped using two-story tall presses. The bumpers were then coated with nickel or chrome on one of the world's largest electroplating machines. The finished bumpers were then shipped to car assembly plants across the United States and abroad. Huntington's bumper plant had four press lines that formed bumpers, two lines for nickel plating, and one line for chrome plating. At its peak, the factory employed nearly seven hundred workers and made more than three million bumpers each year. 
During the 1970s, federal auto safety requirements and fuel-economy standards were introduced that caused the metal bumper industry to enter a decline. The first safety standards for bumpers were issued in 1973. They mandated that bumpers must be strong enough to prevent headlights, tail lights, fuel system components, and other safety items from damage after a 5 mile-per-hour frontal impact and a 2.5 mile-per-hour rear impact. Regulations were increased again for 1974 and 1979 models. In order to meet these standards, steel bumpers became larger and were mounted further from the vehicle from 1974 onwards. At the same time, automakers began manufacturing plastic bumper covers that were lighter and less expensive than metal ones. Following these changes, the market for the metal bumpers made at Houdaille's Huntington plant essentially vanished. The company unsuccessfully petitioned the 1979 safety standards before shutting the factory down in 1980.    
In the years since its closure, the former bumper plant has drawn attention for allegations that its employees were exposed to radioactive nickel. According to retirees and their survivors, the nickel used to plate bumpers at Houdaille was supplied by the Huntington Pilot/Reduction Pilot Plant, which reclaimed nickel powder from scrap at Department of Energy nuclear weapons facilities. Former employees only learned that the nickel was radioactive once materials surrounding the Reduction Pilot Plant/Huntington Pilot Plant were declassified. While several have asked for compensation for exposure, illness, and death related to radiation poisoning, the appeals were denied because Houdaille Industries had not had a contract with the Department of Energy. It remains unclear whether the allegations will be investigated further.
After the bumper plant closed, the building was acquired by Portec Rail Products Inc. in 1989. The company primarily manufactured rail joints at the facility. In 2010, Portec's Huntington plant was purchased by another railroad equipment supplier, Koppers Inc., which still operates there today. Koppers' Huntington facility designs, manufactures and markets various types of rail joints, including bonded insulated joints, polyurethane encapsulated joints and epoxy fiberglass joints. 
Sources
Casto, James E. Lost Huntington: Houdaille Industries, Huntington Herald-Dispatch. December 29th 2014. Accessed August 31st 2020. https://www.herald-dispatch.com/special/lost_huntington/lost-huntington-houdaille-industries/article_f082eb43-790a-5e2f-a630-5475665ef92a.html.
History of Thermos, Thermos. Accessed August 31st 2020. https://www.thermos.com/history.
Houdaille Hydraulic Suspension Co, Automotive American. September 6th 2018. Accessed August 31st 2020. https://automotiveamerican.com/2018/09/06/houdaille-hydraulic-suspension-co/.
LeBarron, Brian. An Early History of the Torsional Viscous Damper, Vibratech TVD Blog. May 31st 2017. Accessed August 31st 2020. http://blog.vibratechtvd.com/blog/an-early-history-of-the-torsional-viscous-damper.
Rutherford, Tony. Huntington's Houdaille Plant Handled Radioactive Materials, Huntington News . August 4th 2014. Accessed August 31st 2020. http://www.huntingtonnews.net/92377.
Image Sources
https://www.herald-dispatch.com/special/lost_huntington/lost-huntington-houdaille-industries/article_f082eb43-790a-5e2f-a630-5475665ef92a.html

https://digital.hagley.org/1986268_1_0213#modal-close

https://automotiveamerican.com/2018/09/06/houdaille-hydraulic-suspension-co/

https://books.google.com/books?id=bCoDAAAAMBAJ&pg=PA83&lpg=PA83&dq=maurice+houdaille&source=bl&ots=8haoi8dbDh&sig=ACfU3U10F7sNyOZa9aV4Ef2PE6MXY-3EeQ&hl=en&sa=X&ved=2ahUKEwjOq6zz1LTrAhXCl3IEHVnnCpo4ChDoATABegQIARAB#v=onepage&q&f=false

https://automotiveamerican.com/2018/09/06/houdaille-hydraulic-suspension-co/

https://www.facebook.com/photo?fbid=2638574489505471&set=gm.2264867743737296

https://www.herald-dispatch.com/multimedia/photo_galleries/photos_historical/gallery-do-you-remember----feb-7-2012/article_1632276c-d7ea-5cd0-88ca-7fc4786234d8.html

https://wvhistoryonview.org/catalog/007026

Additional Information