Cooper's Do-nuts Riot (1959)
Introduction
Ten years before the historic protest at the Stonewall Bar in New York City, the first documented and major confrontation of LGBTQ+ people in defiance of the police occurred at this location in the spring of 1959. The setting was Cooper's Do-Nuts- a small donuts shop in Skid Row, Los Angeles. After LAPD officers arrested some men dressed as women while they were dining at Cooper's, patrons began pelting the police with donuts and trash.
Images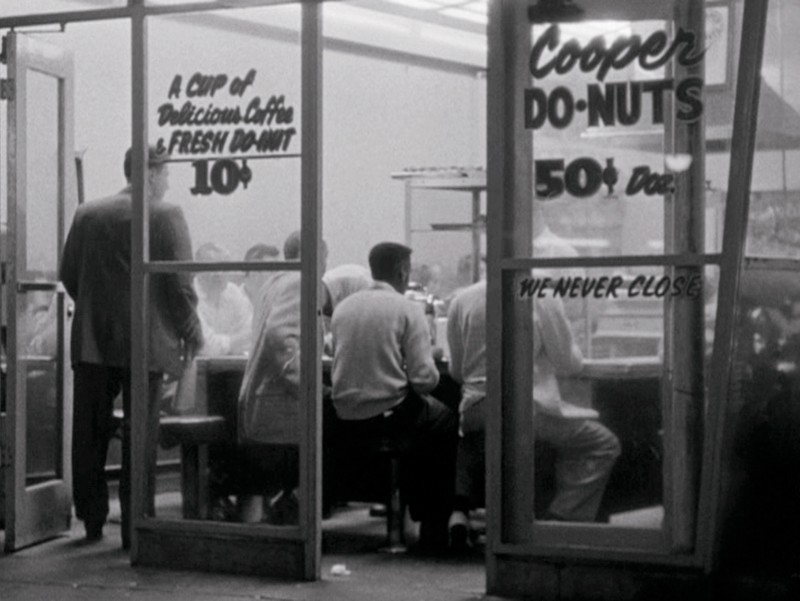 LAPD Chief at the time of the riots, William H. Parker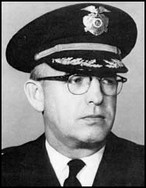 City of Night, a novel written by John Rechy (who was a part of the uprising), which makes reference to that night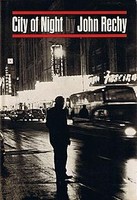 Cooper's Do-nuts sign (1982)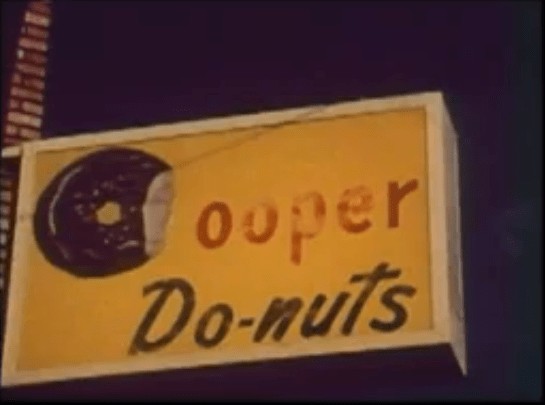 Backstory and Context
WhenLGBTQ+ patrons protested against the police outside of Cooper's Do-Nuts, a small coffee shop on an evening in May, 1959, the event seemed so unextraordinary that the precise date is difficult to document. Cooper's was a donut shop that was located between two bars (Waldorf & Burbank and Harold's) on South Main Street that were well-known at the time for catering to LGBTQ patrons. At this time, those who wished to be "out" in public had few options but to go to places in neighborhoods like L.A.'s notorious "Skid Row." clubs which was home to many bars as well as vice trades such as prostitution. It was during this time period that the newly appointed LAPD Chief, William H. Parker, was beginning a targeted campaign against those guilty of what was then known as"sex perversion" (i.e. transgender people, homosexuals, prostitutes). Under Parker, arrests of people in the LGBTQ+ community increased 86.5%.
One of the most notorious tactics used by the LAPD involved "ID checks." This was a process where an officer checked IDs to make sure a person seemed to match the sex listed on their state identification. If a person did not appear to be the sex listed, they would be taken to jail for the crime of "masquerading." Cooper's Do-nuts was a late night hangout mostly frequented by the trans women, drag queens, and hustlers of various racial backgrounds who were targeted with this tactic by the LAPD so often that they were not allowed entry into gay bars like Harold's or Waldorf & Burbank.
On the night of the riots, two LAPD officers came into Cooper's and selected five people for an ID check. John Rechy, a gay writer who hustled at the time, was present at Cooper's on the night of the riot. Rechy characterized the others who were arrested that night as, "two hustlers, two queens and a young man just cruising." When the officers started trying to push all five people into the back of one police cruiser, tempers flared. The other patrons in the area, many of whom had experienced similar treatment in the past, began pelting the police officers with the donuts that they were eating. Then they resorted to throwing plates, trash, and cups of hot coffee. The two officers left, leaving behind the five people they intended to arrest. Later, the police officers returned with reinforcements. The resulting protest is often referred to as the "Cooper's Do-Nuts Riot," and is largely undocumented. However, the event temporarily led to the closure of traffic on Main Street.
While much is unknown about the protest and there is no historical marker, the event is significant within the larger narrative of LGBTQ+ protest and civil disobedience that later grew in the 1960s and beyond. The next protest by LGBTQ+ people against police occurred six years later at Gene Compton's Cafeteria in San Francisco and then the large multi-day protest at New York's Stonewall Inn four years later that is often cited as the start of the LGBTQ+ movement.
Sources
Brightwell, Eric. The Cooper Do-nuts Uprising, Eric Brightwell. June 17th 2013. Accessed September 2nd 2020. https://ericbrightwell.com/2013/06/17/the-cooper-do-nuts-uprising/.
Cruse, Chris. Cooper's Do-Nuts, Queer Maps. Accessed September 2nd 2020. https://queermaps.org/place/coopers-do-nuts.
Faderman, Lillian. Timmons, Stuart. Gay L.A.: A History of Sexual Outlaws, Power Politics, and Lipstick Lesbians. Edition 1st. New York City, New York. Basic Books, 2009.
James, Scott. What Was Your Stonewall? Pivotal L.G.B.T.Q. Moments Across the U.S., The New York Times. June 20th 2019. Accessed September 2nd 2020. https://www.nytimes.com/2019/06/20/us/stonewalls-across-us-lgbtq.html.
Lilly, Christiana. Los Angeles' Cooper Donuts gay riots sparked a revolution 10 years before Stonewall, The Pride LA. September 30th 2016. Accessed September 2nd 2020. https://thepridela.com/2016/09/los-angeles-cooper-donuts-gay-riots-sparked-revolution-10-years-stonewall/.
Moffitt, Evan. 10 Years Before Stonewall, There Was the Cooper's Donuts Riot, Out. May 31st 2015. Accessed September 2nd 2020. https://www.out.com/today-gay-history/2015/5/31/today-gay-history-10-years-stonewall-there-was-coopers-donuts-riot.
Image Sources
https://ericbrightwell.com/2013/06/17/the-cooper-do-nuts-uprising/

http://www.lapdonline.org/search_results/content_basic_view/33114

https://www.goodreads.com/book/show/3823752-city-of-night

https://ericbrightwell.com/2013/06/17/the-cooper-do-nuts-uprising/

Additional Information