Brown County Courthouse
Introduction
Brown County Courthouse has served Green Bay and the county since it opened in 1911. Besides the awe-inspiring architecture, the building contains an abundance of artwork that depict Green Bay's early history, including European settlers interacting with Native Americans and early military battles near the region. The artwork serves as a reminder that the building's arrival may have occurred in the twentieth century, but the development of Green Bay into a commercial and political hub dates backs several centuries.
Images
The Brown County Courthouse in Green Bay, Wisconsin, opened in 1911.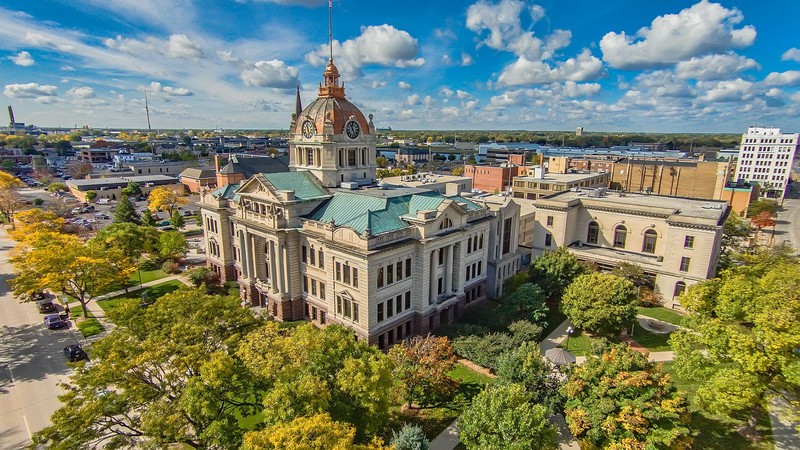 Backstory and Context
The Brown County Courthouse (circa 1908) is a quintessential pre- World War I Beaux-Arts style building that mirrors the South Dakota state capitol, both designed by Charles E. Bell. The building survives as one of the most tangible representations of Green Bay's significance as both an economic hub and center of governance in northern Wisconsin, while the artwork inside depicts much of the early history that aided in the formation of Green Bay as a region of modern significance.
On October 26, 1818, U.S. Congress divided the Michigan Territory into three counties: Brown, Crawford, and Michilimackinac, with Brown County consisting of modern, eastern Wisconsin. For the first few years, though (until 1823), a lock of courthouses in the Brown County area forced people to take a boat to Detroit to settle court matters. Finally, in 1824, a formal circuit court system emerged from Michigan's Upper Peninsula throughout modern-day Wisconsin and eastern Minnesota. For thirty years, the county seat of governance changed several times. However, it mainly existed in De Pere from 1837 to 1854, a period for which Wisconsin went from an official territory (1836) to a state (1848). The incorporation of Green Bay as a city in 1854 also included a change in the county seat from De Pere to Green Bay. By that time, the original three counties had evolved into twenty-nine. Although everything transferred from De Pere to Green Bay in 1854, construction on the historic building did not commence until 1908, ninety years after the creation of Brown County; an estimated 10,000 people attended its grand opening on January 13-14, 1911. 
The courthouse artwork is as impressive as its architecture. Starting in 1910, Franz Rohrbeck and Franz Bieberstein painted several murals inside the courthouse portraying Green Bay's history. One mural illustrates the 1634 arrival of Green Bay's first European settler, Jean Nicolet while another shows the seventeenth-century missionary Father Claude Allouez with a Native American Chief. Others feature local military battles and the American military base at Fort Howard. Meanwhile, he painted the dome with four themes: Justice, Agriculture, Commerce, and Industry. Besides paintings, one can find a statue of French explorer Nicolas Perrot, the aforementioned Allouez, and an unnamed Native American completed by Sidney Bedore in 1922 and named: "Spirit of the Northwest."
The historic courthouse opened in 1911, but the building truly represents Green Bay's slow climb to prominence that dates back to well before Europeans arrived. Native Americans populated the region until the early seventeenth century until French, and then British, settlers slowly pushed them westward by the nineteenth century. After the U.S. defeated the British, both during the Revolutionary War and then the War of 1812, British influence largely ceased, Wisconsin existed as part of the Northwest Territory (1788-1800), Indiana Territory (1800-1809), Illinois Territory (1809-1818), and finally, the concurrent creation of the Michigan Territory and Brown County in 1818. The court system arrived decades later, as did statehood and the incorporation of Green Bay. As Green Bay grew to prominence, so did its significance in terms of local governance. The building arose when Green Bay had firmly been established as the northern hub of Green Bay, and the artwork found inside depicts some of the rich histories that led to Green Bay's existence. 
Sources
Brown County. "History of Brown County." browncountywi.gov. Accessed September 4, 2020. https://www.browncountywi.gov/government/history-of-brown-county/
De Pere Historical Society. "First Brown County Courthouse." deperehistoricalsociety.org. Accessed Septembrer 4, 2020. http://deperehistoricalsociety.org/court_house.php
Erdmann, Biruta. "Nomination Form: Brown County Courthouse." National Register of Historic Places. nps.gov. January 1, 1976. https://npgallery.nps.gov/GetAsset/db01a3cf-14a5-487a-bede-5e2510bd8e14/.  
Filipowicz, Diane H. "Nomination Form: County Courthouses of Wisconsin." National Register of Historic Places. nps.gov. January 26, 1982. https://npgallery.nps.gov/GetAsset/17eaeb1e-e2e8-45ff-b077-23ae8ca0304b.
Neville Public Museum. "Beneath the Courthouse Dome." The Neville Blog. nevillepublicmuseum.org. November 07, 2012. https://www.nevillepublicmuseum.org/the-neville-blog/Beneath-the-Courthouse-Dome#:~:text=The%20courthouse%20has%20been%20a,for%20designing%20grand%20governmental%20buildings.
White, Richard. The Middle Ground: Indians, Empires, and Republics in the Great Lakes Region, 1650–1815. 2nd ed. Studies in North American Indian History. Cambridge: Cambridge University Press, 2010. doi:10.1017/CBO9780511976957.
Wisconsin Historical Society. "Property Record: Architecture and History Inventory, 100 S. Jefferson Street." wisconsinhistory.org. Accessed September 4, 2020. https://www.wisconsinhistory.org/Records/Property/HI2070
--- --- --- "National or State Registers Record: National or State Register of Historic Places, 100 S. Jefferson St." wisconsinhistory.org. Accessed September 4, 2020. https://www.wisconsinhistory.org/Records/NationalRegister/NR2114. 
Image Sources
By Chris Rand - Own work, CC BY-SA 4.0, https://commons.wikimedia.org/w/index.php?curid=36878761

Additional Information