Chicago Board of Trade Building
Introduction
The Chicago Board of Trade Building is a skyscraper located in Chicago, Illinois, United States. It stands powerfully as a gateway to the city's financial district, at the foot of the LaSalle Street canyon, in the Loop community area in Cook County. Originally built for the Chicago Board of Trade (CBOT) in 1930, it is now the primary trading venue for the derivatives exchange, the CME Group, formed in 2007 by the merger of the CBOT and the Chicago Mercantile Exchange. This 45-story edifice was designed by the distinguished architectural firm of Holabird & Root. Designed in "Art Deco" style, clad in gray Indiana limestone, capped with a pyramid-shaped roof, this 605 ft (184 m) tall skyscraper was the tallest building in Chicago until 1965. It serves as the southern border for the skyscrapers hugging LaSalle Street and is taller than surrounding structures for several blocks. This Art Deco building incorporates sculptural work by Alvin Meyer and is capped by a 31 foot (9.5 m) tall aluminum statue of the Roman goddess "Ceres" - Goddess of Grain and Harvest, in reference to the exchange's heritage as a commodity market. Ceres is faceless because its sculptor, John H. Storrs (one of the leading 1920s sculptors) , believed that the forty-five story building would be sufficiently taller than any other nearby structure, and as a result no one would be able to see the sculpture's face anyway.
Images
Front view of "The Chicago Board of Trade Building", Chicago's tallest building from 1930 until 1965.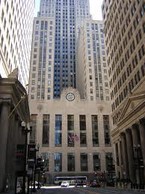 Aluminum statue by sculptor John H. Storrs of the Roman goddess of grain, Ceres, holding a sheaf of wheat in the left hand and a bag of corn in the right hand, as a nod to the exchange's heritage as a commodities market.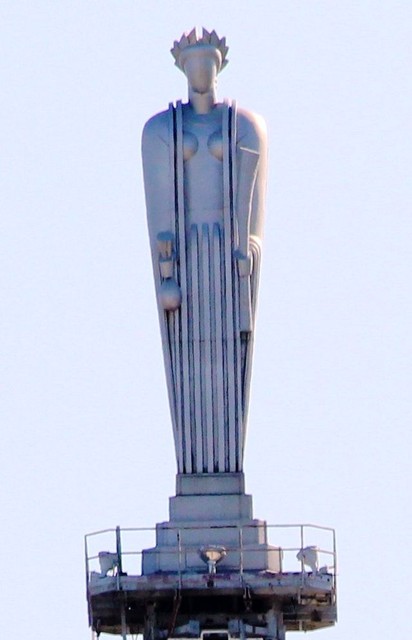 Backstory and Context
When the Chicago Board of Trade was organized in 1848, it was located in a few rooms over Gage and Haines's flour store on South Water Street. During its early years, the Board seemed constantly on the move in a search for more floor space for its rapidly expanding operations. Since 1852 the Board was relocating several times until 1865 when in finally moved to its first really permanent home in the Chamber of Commerce Building located at the southwest corner of LaSalle and Washington Streets.
In 1871, the Chicago fire destroyed this structure, and for several months, the Board conducted business in a 90 foot square wigwam near the corner of Washington and Market Streets. By the end of the year, however, the Chamber of Commerce Building had been rebuilt, and the Board had returned to its old location.
In 1881 the Board decided to construct its own building, purchased property at what is now 141 West Jackson Boulevard, and hired W. W. Boyington, a leading Chicago architect, to design a suitable edifice. Completed in 1885, this structure with its mansard roof and 300-foot tower served as the Board's home for over forty years. This was the first building in Chicago with electricity. By the mid 1920s, however, it had become too small for the Board's needs and increasingly uneconomical to operate, and in 1927, the members voted to demolish it and construct a new building.
In 1928 the original building was torn down and construction began on the second, actually the building that we can see today "Chicago Board of Trade Building". It was hailed as a masterpiece then, and is no less remarkable now. The CBOT located on skyscraper's 12th floor includes a 19,000 square foot trading floor and has been in almost continuous operation since it opened. While the new edifice was under construction in 1928-30, the Board established temporary headquarters in a building at 447-511 South Clark Street.
Sources
Commission on Chicago Historical and Architectural Landmarks, Chicago Board of Trade Building (Chicago: Commission on Chicago Historical and Architectural Landmarks, 1975). Condit, Carl W. , Chicago, 1910-29: Building, Planning, and Urban Technology (Chicago: University of Chicago Press, 1973). Dies, Edward J., The Wheat Pit (Chicago: The Argyle Press, 1925). Holabird and Root to H. A. Rumsey, November 13, 1929, in Chicago Board of Trade Archives, Chicago Board of Trade Building, Chicago, Illinois.
Additional Information