Hazlewood Historic House Museum and Brown County Historical Society
Introduction
Home to the Brown County Historical Society and their local history museum, this historic home was the location where Morgan L. Martin drafted much of what would become the Wisconsin state constitution in 1848. This was Martin's home and was later acquired by the historical society that operates a small museum on site. In addition to his influence in framing the state constitution, Martin held numerous elected and appointed roles fulfilling local, territory, county state, and federal duties. After marrying his wife in 1837, he built the Hazelwood house and the couple lived in the home together until Morgan Martin's death in 1887.
Images
Winter at historic Hazlewood Museum in Green Bay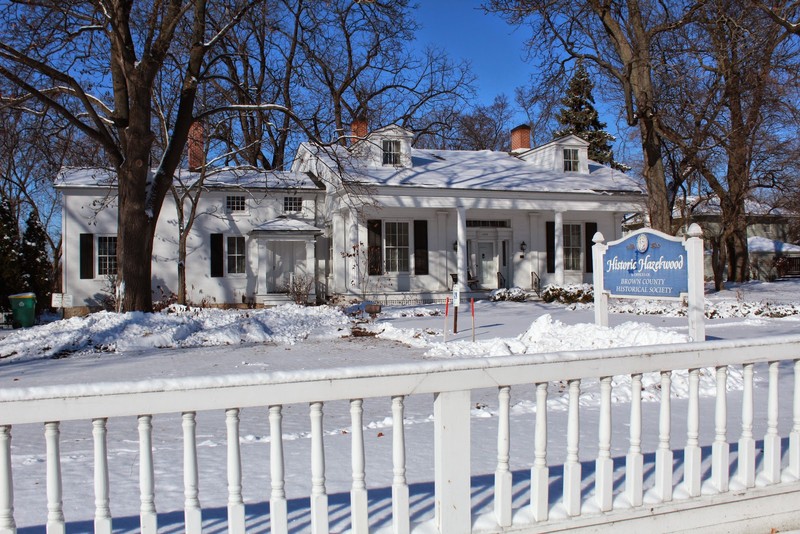 Hazelwood Historic House Museum (built in 1837) and home of the Brown County Historical Society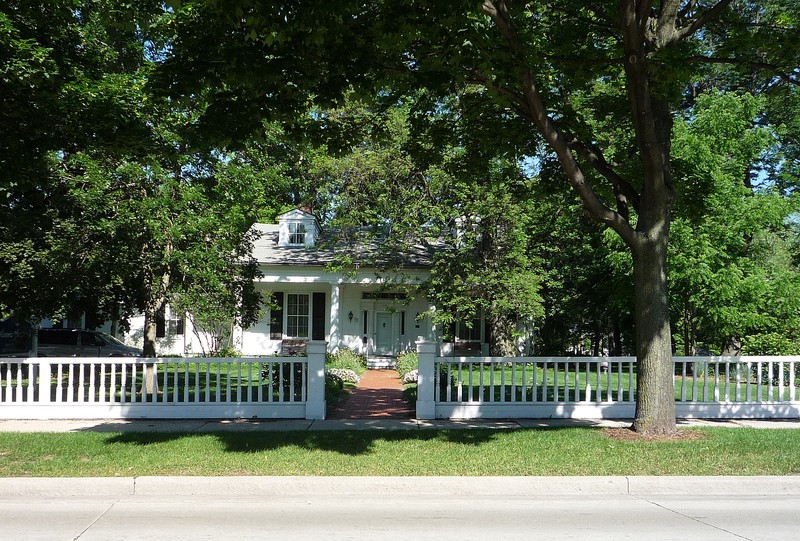 Backstory and Context
Built in 1837, Hazelwood enjoys historical significance as the home to Morgan and Elizabeth Martin, who wielded significant political and cultural influence in Green Bay and Wisconsin during much of the nineteenth century. Among the many things Martin accomplished, he wrote a considerable portion of the Wisconsin constitution in the Hazelwood home.
Morgan Lewis Martin was born on March 31, 1805. He graduated from Hamilton College (Clinton, New York) in 1824, studied law in Lowville, New York, and moved to Detroit in 1826. One year later, while still in Detroit, he passed the bar exam and subsequently moved to Green Bay. 
From 1818 to 1836, Wisconsin existed as part of the Michigan Territory and Morgan served as a member of the Michigan territorial legislature the last six years (1831 - 1836). In 1836, Wisconsin received territorial status. Consequently, Morgan and Moses M. Strong called a convention in Green Bay to organize the Wisconsin Democratic Party. Around that time, Morgan married his wife Elizabeth and had Hazlewood built for them in 1837. The next year, Martin began a six-year term as the local representative in the upper house of Wisconsin's territorial legislature; he also served as the legislative body president from 1842 to 1843. 
Morgan's term ended in 1844, allowing him to become Wisconsin's U.S. territorial representative in the United States Congress from 1845-1847. When that term ended, he took the role of president of the second Wisconsin constitutional convention. In 1847, Morgan wrote a large percentage of the constitution in his Hazelwood home, sitting at a table that one can still see in the historic house. 
The creation of the state constitution is far from the end of Morgan's story. He again filled the role of state assemblyman in 1855 and then a state senator from 1858 to 1859. When the Civil War arrived, Morgan took the position of Union Army paymaster. When the war ended, he moved to another role when the U.S. appointed Morgan Indian Agent, which he fulfilled from 1866 to 1869. By 1874, Morgan again served his local community as their representative in the state assembly, but only for one year. Finally, in 1875, he took on his last role when he served as a judge in Brown County; Morgan remained on the bench until he passed away in 1887. 
Hazlewood overlooks the historic Fox River and stands today as Green Bay's only historic house that is open to the public and located on its original site. Hazelwood stands as an excellent example of Colonial architecture, with both Greek Revival and Federal influences. Architect Joseph Jackson, an Irish immigrant, spent time in the Eastern U.S. before coming to Green Bay in 1837. The Martin home was Jackson's first commission of many he received, which included designing several Colonial homes in Green Bay. The Brown County Historical Society purchased Hazelwood in 1989 and undertook a five-year renovation of the historic home, with most of the work completed in 1995. The Historical Society moved its offices to Hazlewood and also developed a museum in the historic house.
Sources
Anderson, Donald N. "Nomination Form: Hazelwood." National Register of Historic Places. nps.gov. April 28, 1970. https://npgallery.nps.gov/GetAsset/c30d2737-e3b7-4d48-a2c4-655225cbb345/. 
Follette, Dwight. "Judge Morgan L. Martin, First President of the Borough of Green Bay, and Outstanding Pioneer in green Bay and the State of Wisconsin." Daily State Gazette (Green Bay) December 27, 1887. https://exploreoneida.com/wp-content/uploads/2018/08/1887-Story-of-Judge-Morgan-L.-Martin.pdf
"Hazelwood Historic House Museum." Brown County Historical Society. browncohistoricalsoc.org. Accessed September 5, 2020. http://www.browncohistoricalsoc.org/hazelwood/
Image Sources
http://www.wisconsinhistoricalmarkers.com/2014/11/hazelwood.html

By Bobak Ha'Eri - Own work, CC BY 3.0, https://commons.wikimedia.org/w/index.php?curid=7316694

Additional Information