The Engineering Building
Introduction
The Engineering Building is the most widely renowned building on campus. Designed and constructed by the architect James Stirling in 1971, it became an early symbol of his seminal architectural style and contains a variety of labs and lecture rooms for engineering students and for other colleges of the university.
Images
The Engineering Building 2020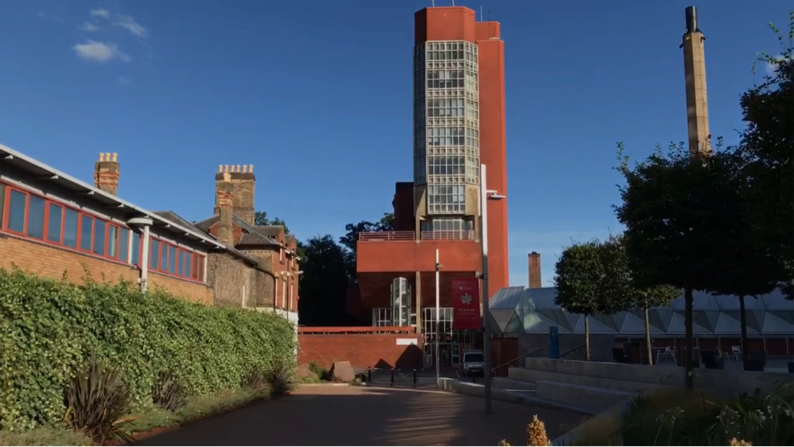 Backstory and Context
Author-Uploaded Audio
The Engineering building is the most famous and internationally recognised building on the campus. Designed and constructed by the architect James Stirling in association with Wilson Lovatt and Sons Ltd., it is the first major building to be constructed by the architect, who went of to become one of the greatest post war architects in Britain. It is known in architectural circles as a landmark of 20th century architecture. The building was featured in a set of four commemorative stamps produced in 1971, which illustrate the buildings national importance. The building is characterised by two towers, one tall and translucent, the other banded to indicate the floor levels, each rising from cantilevered lecture theatres, with the taller tower defining the main entrance. The towers are clad in red Accrington brick with matching Dutch red tiles over any other areas of concrete work. The teaching block which spans over two thirds of the site is defined by its prismatic roof structure which is set at 45 degrees to the wall, creating a crystalline form which glows after dark over the storey- high brick plinth, following the notion of the requirement of true north light in the workshops. The building received the prestigious R.S. Reynolds Memorial award in 1965 from the American Institute of Architects for 'honouring a significant form of architecture'. It was listed Grade II in 1993 by the Department of National Heritage. In 2008, the building was named by the Telegraph as one of Britain's top fifty most inspiring buildings.
Sources
Lyons. A, 2017. 'The Engineering Building'. From 'The Architecture of the Universities of Leicester'. Anchor Print Group Ltd.
University of Leicester, 2020. 'The Engineering Building' https://le.ac.uk/engineering/about/building. Accessed on: 15th August 2020.
Additional Information