Cloud Gate, "The Bean"
Introduction
Cloud Gate is British artist Anish Kapoor's first public outdoor work installed in the United States. Though commonly known throughout Chicago as "The Bean" because of its kidney-bean shape, Cloud Gate was so christened when it debuted in 2006, two years after installation began. Kapoor's 110-ton elliptical sculpture is forged of a seamless series of highly polished stainless steel plates, which reflect Chicago's famous skyline and the clouds above. The reflections of the city and the people surrounding the sculpture are equally fascinating. The Bean grew rapidly into one of Chicago's major landmarks, up there with the Hancock Tower, the Chicago River, the Willis Tower, Navy Pier, and Wrigley Field. In fact, it is Chicago's No. 2 tourist attraction, thanks in part to its reflective surface that simplifies selfie photographs. The sculpture is a major feature in the city's Millennium Park and stands next to Jaume Plensa's Crown Foundation (installed in 2004), another favorite for its constant monumental video feed.
Images
The Cloud Gate is commonly known as "The Bean" because of its kidney-bean shape.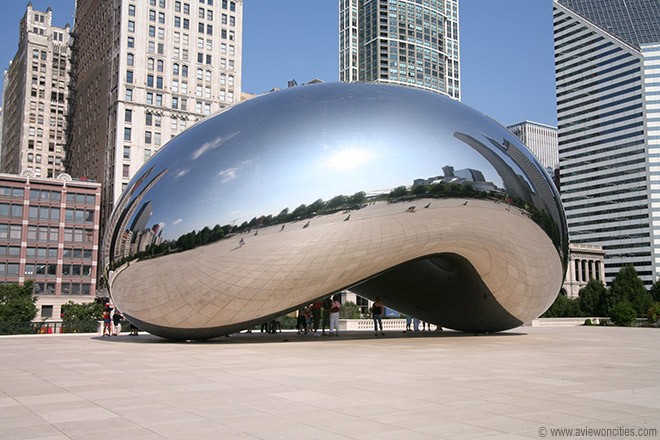 Backstory and Context
Born in India, Anish Kapoor (b. 1954) has lived and worked in London since the 1970s. Kapoor has recently emerged as one of the most influential sculptors of his generation. His work represents a fascination with darkness and light, radiance, and fluid reflections. Cloud Gate is his first outdoor permanent installation in the United States.
Cloud Gate stands thirty-three feet high and sixty-six feet long. Made of 168 stainless steel plates that were created in California over a period of two years, the sculpture was assembled on site in Chicago. With 2200 lineal feet of continuous welding, Cloud Gate received "The Extraordinary Welding Award" from the American Welding Society.
Though initially estimated to cost $6 million, Millennium Park's iconic sculpture ended up costing nearly four times that figure. Private and corporate donations covered the entire cost of the artwork. Mayor Richard M. Daley declared May 15, 2006, the day of its official dedication, as "Cloud Gate Day." In celebration, jazz trumpeter Orbert Davis composed "Fanfare for Cloud Gate" for the ceremonies.
Sources
Heidi Weiss, "Anish Kapoor, 'Cloud Gate' artist: I call it 'The Bean' too," Chicago Sun Times, 13 October 2017. Accessed 23 January 2018 from: https://chicago.suntimes.com/chicago-politics/anish-kapoor-cloud-gate-artist-i-call-it-the-bean-too/
Additional Information