The Henry Wellcome Center
Introduction
The Henry Wellcome Center is another grand example of the university's commitment to providing a world class medical education for their students. Constructed in 2004, the site is home to some of the School of Medicine's most advanced technology, whilst also providing a welcoming atmosphere with the range of art they display in and around the building.
Images
The Henry Wellcome Building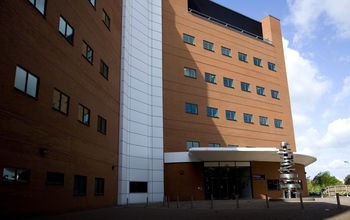 Backstory and Context
Author-Uploaded Audio
The Henry Wellcome complex opened in 2004 to accommodate biochemistry and psychology within the College Medicine, Biological Sciences and Psychology. The building also houses the impressive Frank and Katherine May Lecture Theatre, named after two major benefactors to the university. The building is of concrete frame construction, with a façade of combination of white plastic-coated metal panels, glass and the warm sunset orange brick work. One part of the building was designed to specifically to house a powerful NMR (nuclear magnetic resonance) scanner requiring an absence of metallic materials in its radius. As such, this area is constructed of fibre reinforced concrete and non- magnetic reinforced brickwork under a timber roof. The six-story building accommodates a laboratory, research and teaching facilities, as well as a café for staff and students The foyer is enhanced by several works of art. For instance, a painting by John Lancaster of the Faculty of Arts, Design and Humanities at De Montfort University. The impressive main stairwell is centred by the breath-taking 'Atomica' by John Sydney Carter, FRBS. The building is named after Sir Henry Wellcome, who in 1880 established the pharmaceutical company Burroughs Wellcome, who bequeathed his assets to a trust in 1936, with the intent of the money being used to research in to biomedical improvements in animal and human health. The building was officially opened in 2006 by Dr. Mark Walport, director of the Wellcome Trust 
Sources
Lyons. A, 2017. 'The Henry Wellcome Building'. From 'The Architecture of the Universities of Leicester'.
Additional Information