Old Central City Park and Gazebo
Introduction
Old Central City Park and Gazebo serve as the central part of this historic Huntington neighborhood and are utilized for entertainment and cultural programs during Old Central City Days. The park is one of several results stemming from a five-phase program to economically redevelop the district beginning in 1988. As part of that plan, the neighborhood was christened "Old Central City" and preservation and development efforts began in earnest in the years that followed. Before becoming part of Huntington, Central City was an independent town from 1893 to 1909 that included many of the largest factories in the region. Central City was established by a group of local businessmen who sought to entice industries into the area. During its brief existence, Central City became home to major businesses such as Heiner's Bakery, the Fesenmeier Brewery, D. E. Abbott and Company, Duncan Box and Lumber Company, and the Huntington Tumbler Company. In 1909 Central City was formally annexed by Huntington and became known as the neighborhood of West Huntington or Fourteenth Street West. After years of deindustrialization, urban decay, and rising crime, revitalization efforts were launched in the late 1980s to inject new economic growth in the neighborhood. Now known as Old Central City, the district is promoted as a cultural and historical center. It has been dubbed by Huntington as the "Antique Capital of West Virginia." Old Central City is home to a number of locally-owned businesses including multiple antique shops and a farmers' market. In June of every year, this park and gazebo are the center of a street festival known as Old Central City Days.
Images
Once a thriving industrial town, Central City has since been adapted into a cultural and antique district. Image courtesy of Steven Cody Straley.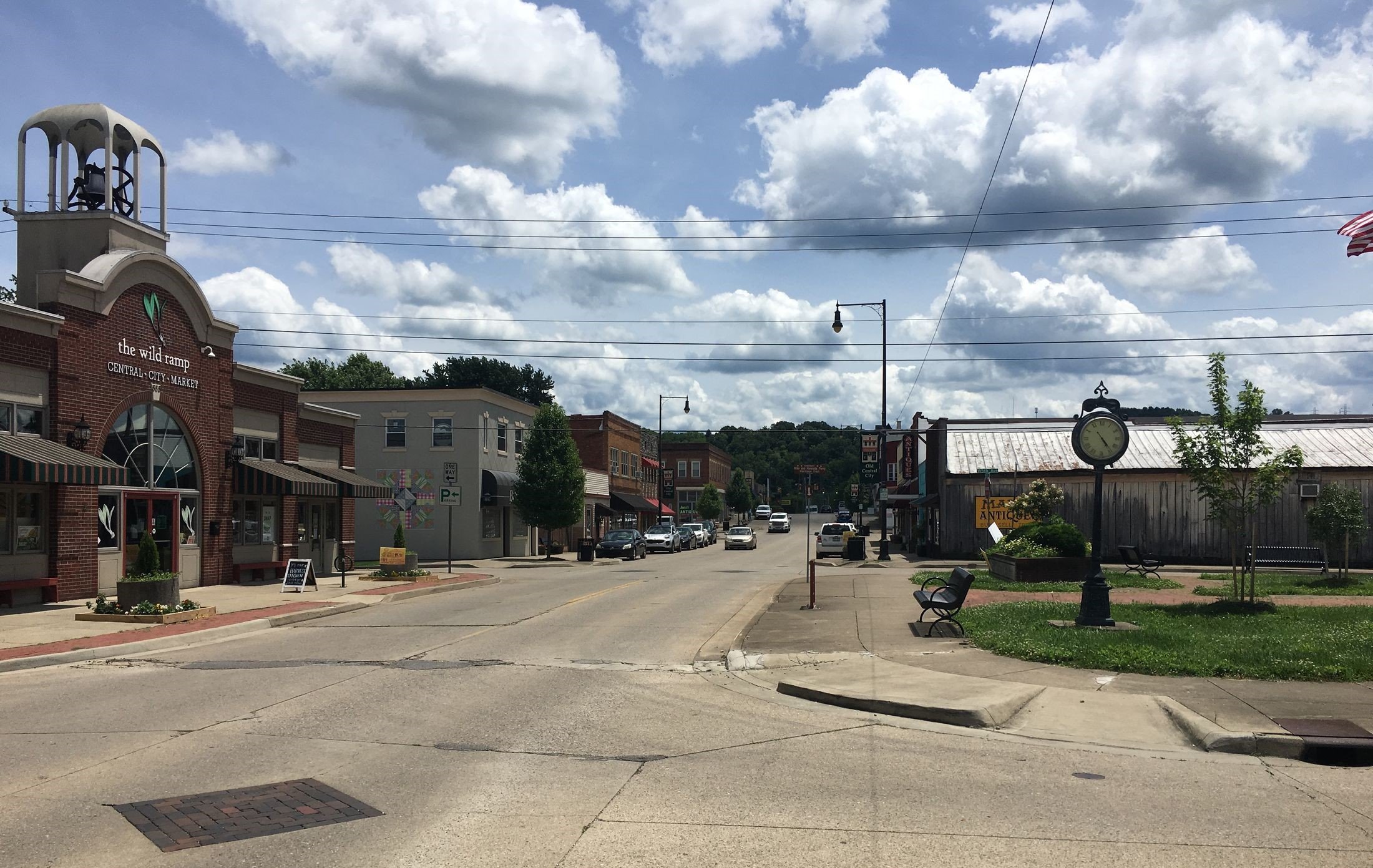 Fourteenth Street West looking south, in 1904. The area was predominately occupied by hardware and glassware factories, and breweries. Image courtesy of Marshall University Special Collections.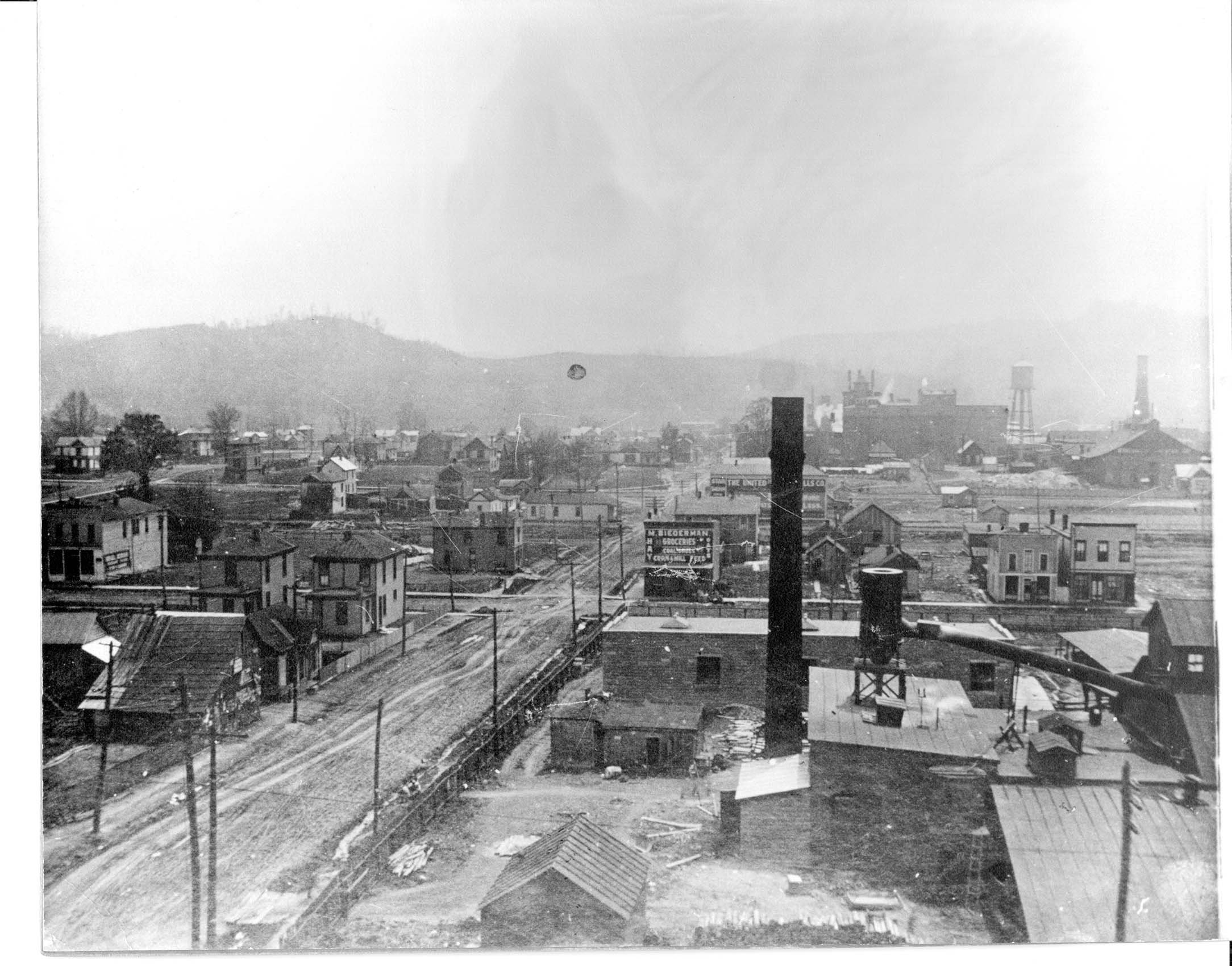 The Old Central City Park and Gazebo at 5th Avenue West and 14th Street West serves as the central point of the neighborhood and the site of many community activities. Image courtesy of Steven Cody Straley.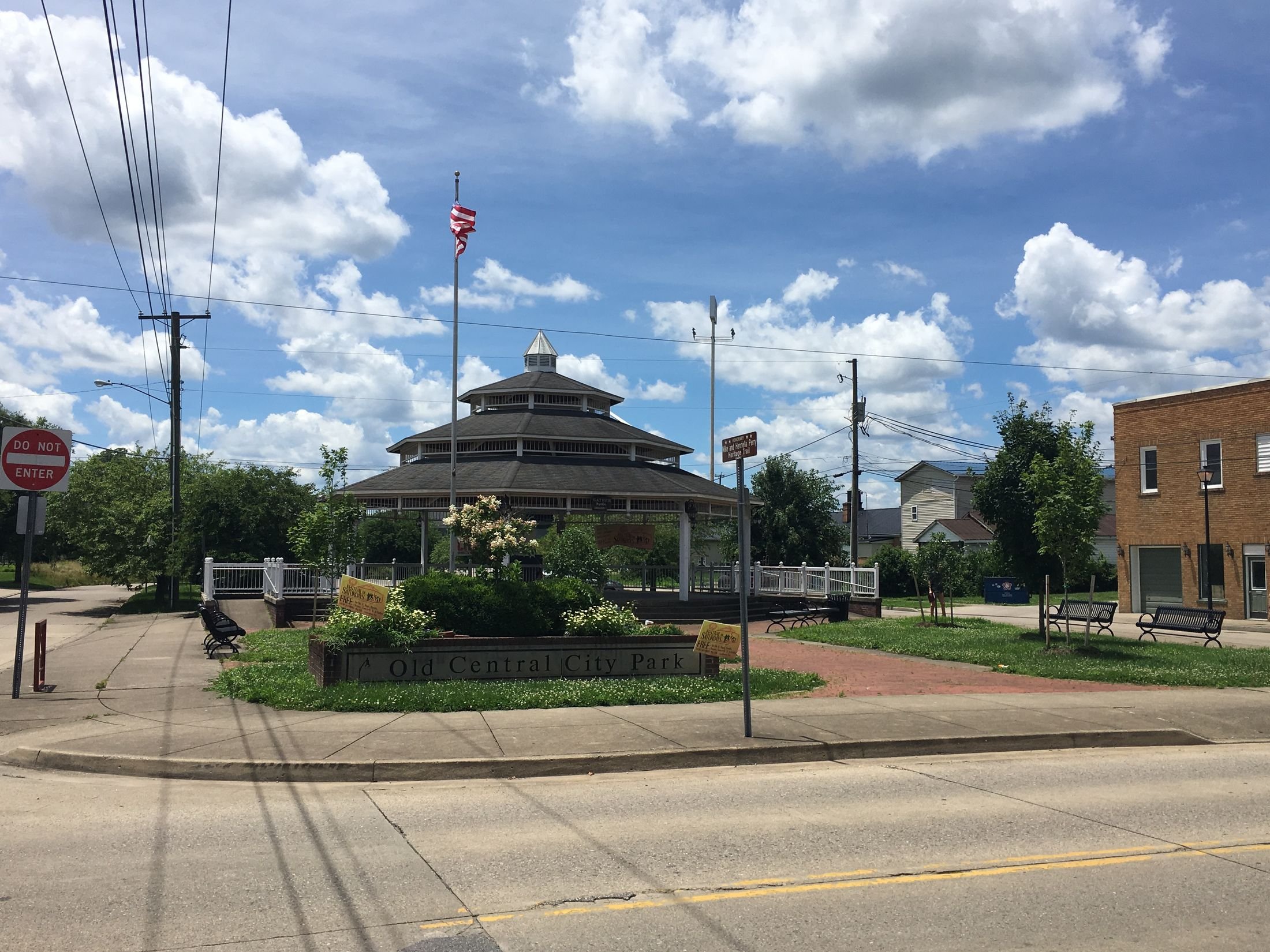 The Wild Ramp is a non-profit grocery store that specializes in selling goods from local farmers and producers. Image courtesy of Steven Cody Straley.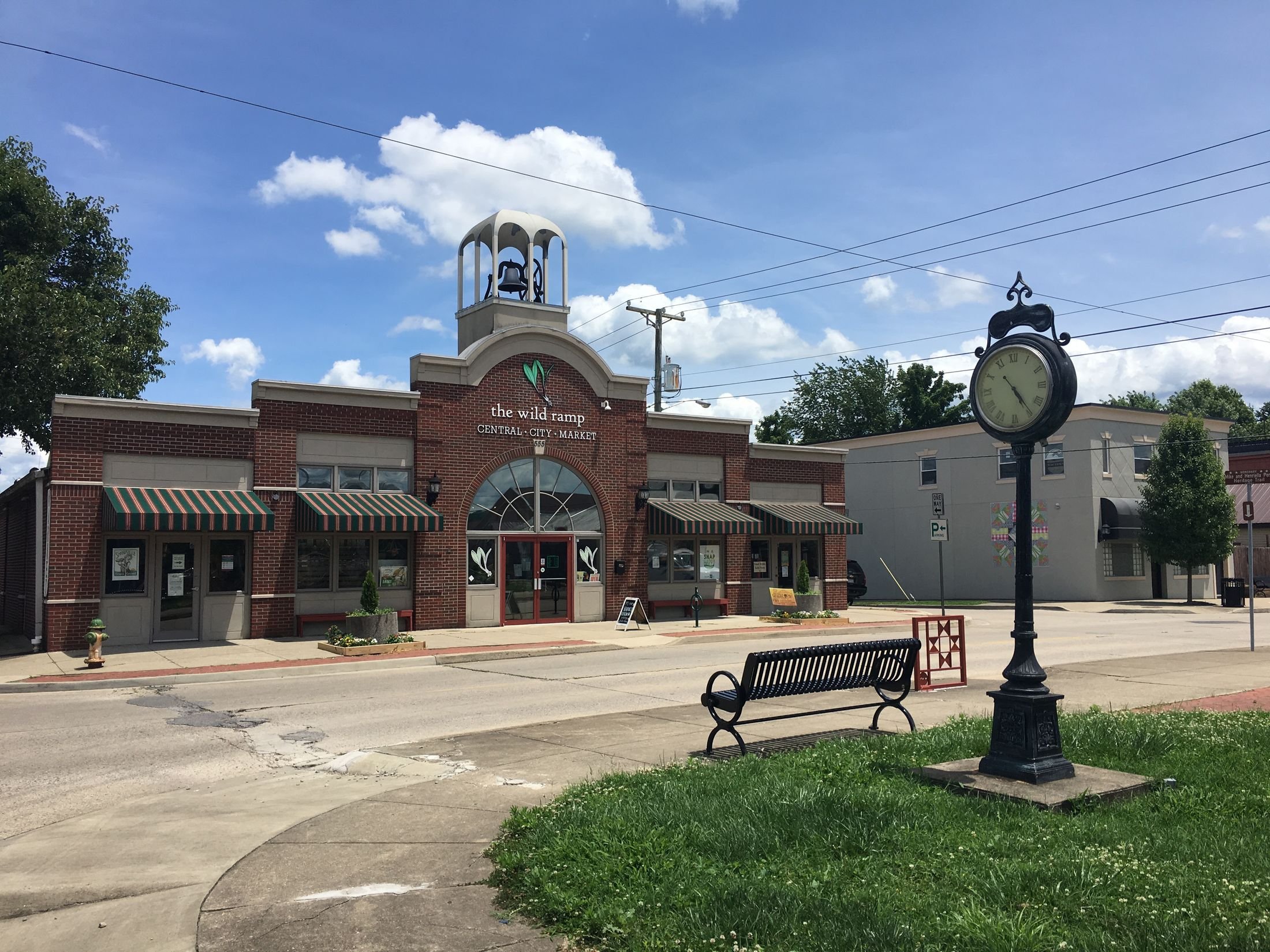 Many old storefront buildings have been converted into antique stores and specialty shops. Image courtesy of Steven Cody Straley.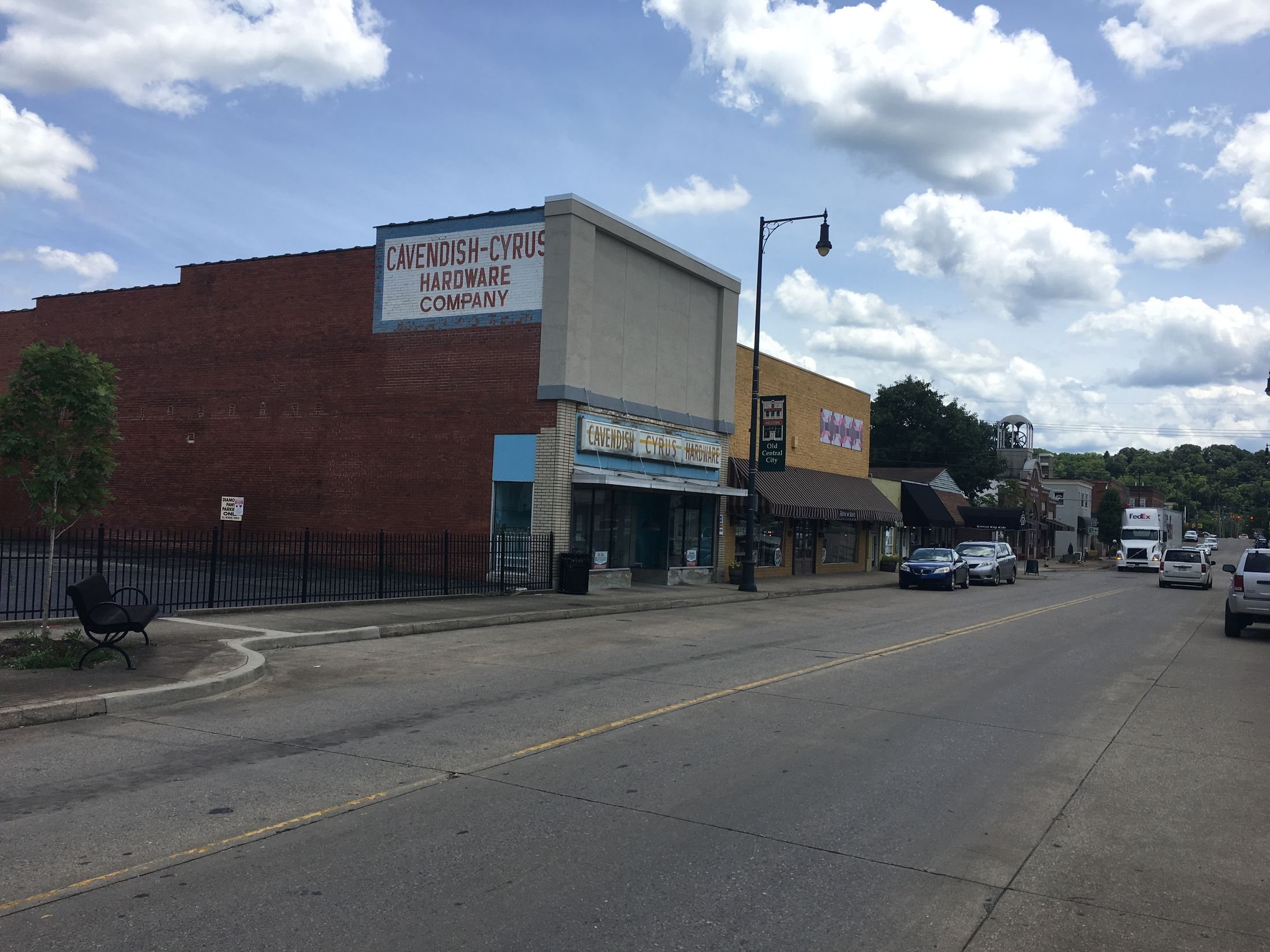 Various factories that existed in Central City and the surrounding area. Image courtesy of the West Huntington Public Library.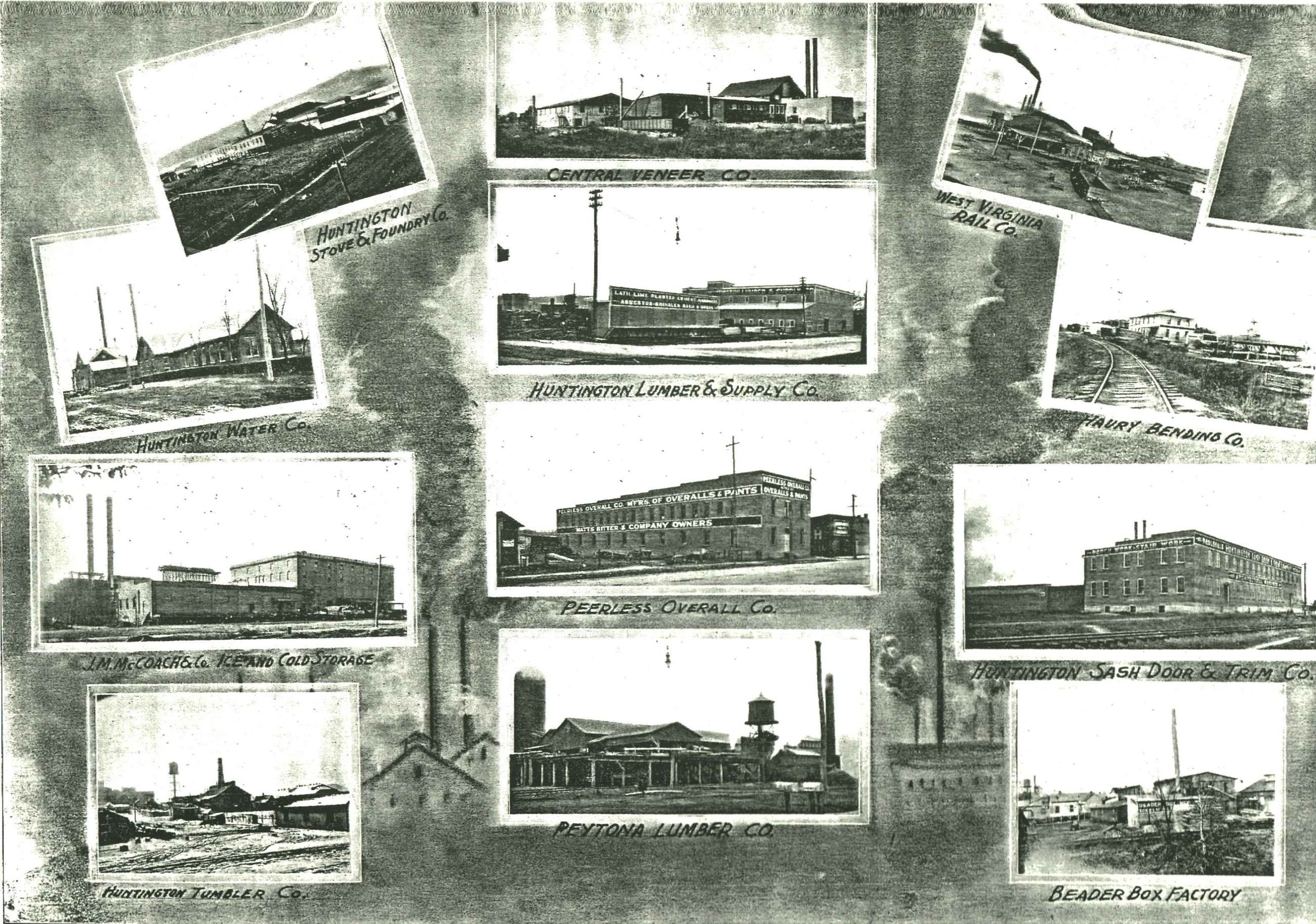 Additional factories from Central City and the surrounding area. Image courtesy of the West Huntington Public Library.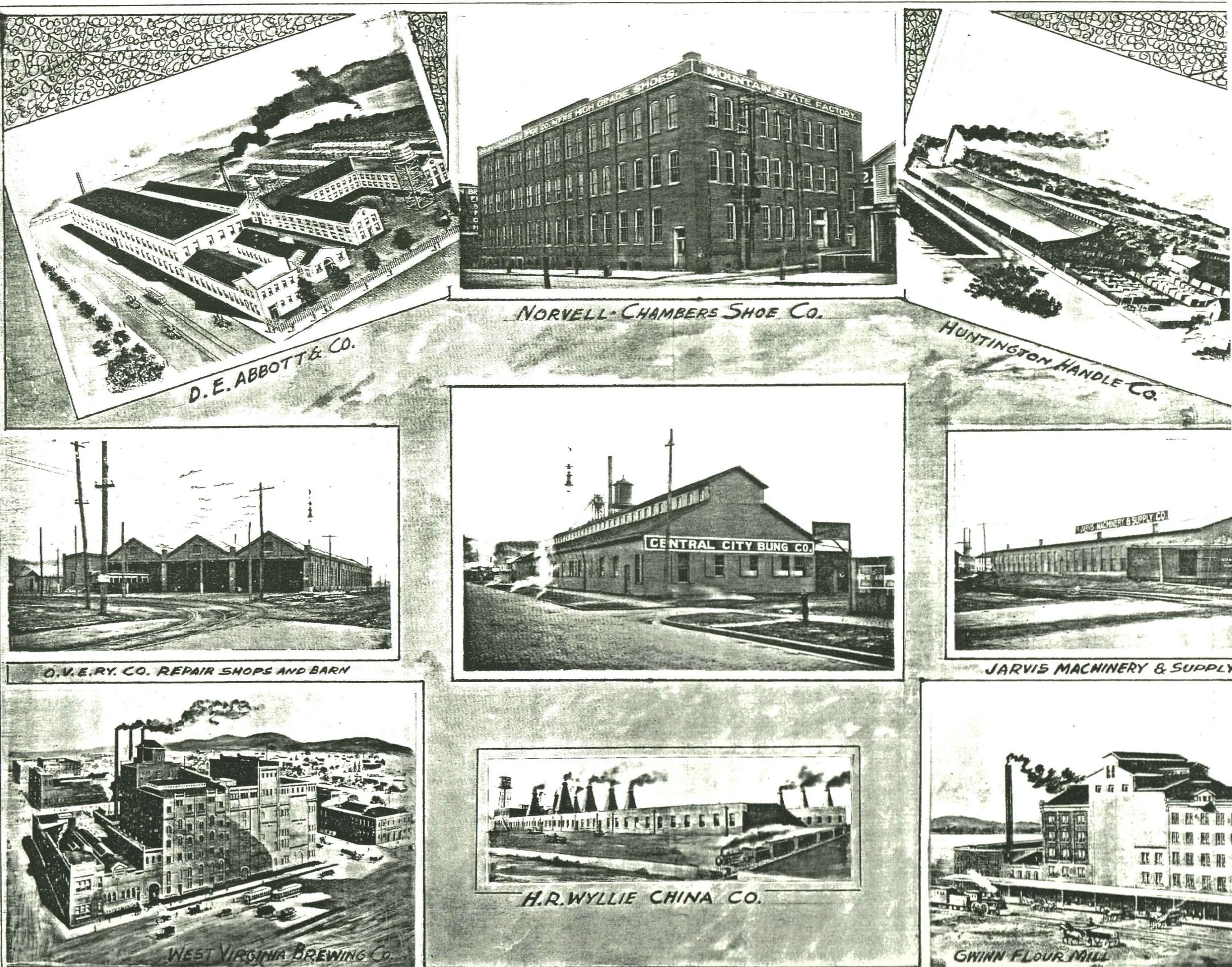 Backstory and Context
Around 1890 a group of prominent Cabell and Wayne County businessmen, including Martin and Floyd Chapman, Samuel and Zachary Taylor Vinson, J. L. Caldwell, G. F. Miller, and George McKendree formed the Huntington and Kenova Land Company with the goal of building a new community just west of Huntington. The men sought to create an industrial, manufacturing town to supplement Huntington, which at the time contained primarily only residential neighborhoods and railroad facilities. Several farms were purchased to make room for the new town, which was dubbed Central City. Some sources state that the name was chosen because the area was centrally located between Catlettsburg, Kentucky and Guyandotte, West Virginia. Because Huntington had already been established and overshadowed Guyandotte however, this claim is questionable. George McKendree designed the layout for the town, which consisted of numbered streets running north to south and avenues named after early American presidents running east to west. Central City was officially incorporated on July 31, 1893. Municipal services were set up, and Martin Chapman was elected as the first mayor.
In order to entice industries into coming to Central City the Huntington and Kenova Land Company offered generous land grants; in some instances businesses were given entire city blocks. The tactic proved fairly successful and in a short time there were a number of businesses large and small operating in the town. The largest industries were the Fesenmeier Brewery, the Hartzell Handle Factory, the D. E. Abbott Company (which manufactured picture frames), the Huntington Tumbler Company (which manufactured glass dishware), and the Central City Bung Company. The Bung Company, which manufactured poplar wood plugs used to seal beer and whiskey barrels, supposedly was the largest producer of bungs. Because of this, Central City was occasionally called the "bung capital of the world." Other businesses included Heiner's Bakery, the Duncan Box and Lumber Company, as well as a furniture factory, a veneer plant, a planning mill, an ice plant, warehouses, and grocery stores. The town also boasted a fire department, police department, electric lighting, and a newspaper.
Central City flourished thanks to the industrial growth and its population peaked at around 5,000. In 1908 Huntington requested to annex Central City, along with the town of Guyandotte to the east. The Central City Council approved the proposed merger in December 1908, and on June 3, 1909 Central City became officially incorporated into the City of Huntington. The area that was Central City became referred to either as West Huntington, the West End, or Fourteenth Street West, after the central street in the community. The neighborhood was not affected much by annexation and business continued as usual. Over the decades, however, these industries gradually shuttered. Today Heiner's Bakery remains one of the only original Central City businesses still in operation. By the 1970s and 1980s the community was gripped by urban decay. Bars and gentleman's clubs occupied storefronts; levels of crime rose; and many historic buildings were demolished due to neglect.
In 1983 a redevelopment plan was submitted to Huntington proposing ways to improve the Central City community. It suggested actions such as creating recreational spaces, improving public facilities, repairing infrastructure, beautifying the neighborhood, and promoting it as a historic district. It also proposed that buildings be preserved or restored to their 1890s appearances in order to attract both residents and commercial activity. In 1988 the City of Huntington began a five-phase program to economically redevelop the district, which was christened as Old Central City. That same year the Old Central City Association was formed by community members to preserve the early history of Central City and its industries. Huntington and the Association each worked for years to revitalize the area. Infrastructure was improved, a park and gazebo were built, and a farmers' market was established. Bars were replaced with small businesses –primarily antique shops– in many of the historic storefronts. In 1991 the Association launched Old Central City Days, an annual summer street festival that includes vendors, antique sales, and live entertainment.
Today Old Central City is promoted to tourists and locals alike as an antique district and cultural center. In addition to antique stores, the area around Fourteenth Street West is home to other small businesses such as a nonprofit, locally-sourced grocery store and the Central City Café, which was notably featured on the Food Network's Diners, Drive-ins and Dives. It is also located within close proximity to several area museums, such as Heritage Farm Museum & Village, the Museum of Radio and Technology, and the Collis P. Huntington Railroad Historical Society's open-air railroad museum. Also located within Old Central City is the West Huntington Library, a branch of the Cabell County Public Library; it contains a collection of materials on the history of Central City.
Sources
"About Old Central City." Old Central City Association. Accessed May 16, 2019. https://www.oldcentralcity.org/about
Casto, James E. Huntington: An Illustrated History. Northridge, NC: Windsor Publications Inc., 1985.
Larry E. Ellis, Architects, Inc. "Old Central City Redevelopment Plan." Huntington, WV: Larry E. Ellis, Architects, Inc., December 1983.
Miller, Lola Roush. Central City, WV 1893-1909: A Short History. Huntington, WV: Scaggs Printing & Office Supplies, 1993.
Miller, Lola Roush. Images of America: Central City. Arcadia Publishing, 2006.
Miller, Doris. A Centennial History of Huntington, West Virginia 1871-1971. Huntington, WV: Franklin Printing Company, 1971.
Sonis, Larry. "Central City." e-WV: The West Virginia Encyclopedia. January 26, 2012. Accessed May 16, 2019. https://www.wvencyclopedia.org/articles/1039
Wyant, Julian. "Travel to Old Central City." WV Living (Summer 2015). Accessed May 16, 2019. https://www.wvliving.com/towns/travel-to-old-central-city/
Additional Information