Cain's Ballroom
Introduction
Cain's Ballroom has kept Tulsans on their toes and rocking steady for nearly a century. Originally built as a garage to house the automobile collection of infamous Tulsa businessman W. Tate Brady, this rectangular sandstone and brick building is typical of the early 20th Century American Movement in architecture. Though it was built to be a garage, it was never used as such. Soon after it was built, Brady renamed it "The Louvre" and repurposed it into a tony, elite night spot for Tulsa's oil-boom nouveau riche. In 2003, the Cain's Dancing Academy was listed in the National Register of Historic Places under Criteria B. Currently, Cain's Ballroom maintains a relatively diverse and sophisticated slate of musical acts.
Images
Cain's Ballroom was built in 1924 and was originally a garage for a car dealership. It became a dance and music venue beginning in the 1930s. It was resurrected in the 1970s, becoming solely a music venue.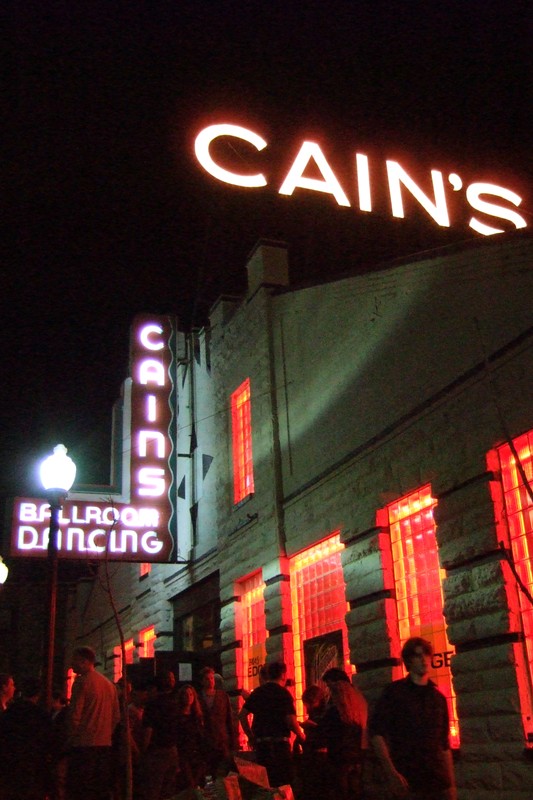 Backstory and Context
In 1930, Brady sold the building to Madison W. "Daddy" Cain, who installed a spring-loaded, log-cabin-style, maple wood dance floor and turned the place into a dance studio. Dancing lessons cost 10₵, and live music was featured nightly. In 1935, Cain's Dancing Academy and Ballroom became home to Bob Wilis & The Texas Playboys, and there they remained until 1942. The "King of Western Swing" played many venues in his time, but it was Cain's Ballroom that came to be known as "the Home of Bob Willis." The Cain's Ballroom regularly booked jazz, rag, blues, and country music acts, but Willis' danceable Western Swing was the biggest draw.

Willis popularized the music style of Western Swing, which blended the instrumentation and harmonies of jazz, boogie, and big band with the rhythms and time signatures of rhumba, mariachi, and jitterbug, and the melodies and chord structures of blues, hillbilly, and gospel. A midnight radio show, a daily noon-hour program, and weekly dances showcased this new musical sound. Willis kept the illustrious company at the venue: Kay Starr, Hank Williams, Tex Ritter, Ernest Tubb, Tennessee Ernie Ford, and Johnnie Lee Willis are but a few of the performers who also graced the stage at Cain's during its heyday. Their enormous portraits currently decorate the venue's walls. Willis' influence--and by extension, the Cain's Ballroom's influence--on performers such as Waylon Jennings, Buddy Holly, Jerry Lee Lewis, Buck Owens, George Strait, Willie Nelson, and Merle Haggard has been profound.
As television eclipsed radio and live entertainment in the 1950's, the Cain's Ballroom fell into decline, eventually going dark for a few years in the 1960's. Then in 1972, 82-year-old Marie Mayers bought the Cain's. A Bob Wills traditionalist, Mayers wanted to re-open the site as a full-time dance hall. Under Mayers, the Cain experienced limited success with traditional dance evenings and concert rentals. In 1976, Tulsa rock impresario Larry Schaeffer of Little Wing productions purchased the Cain's from Mayers. He restored and renovated the structure, keeping the original architectural elements and "feel" of the venue. The grand-reopening in 1977 featured a concert by Elvin Bishop. But it wasn't until early 1978, when Schaeffer booked the Sex Pistols through Malcolm McLaren, that Cain's Ballroom really took off as a venue for alternative, indie, and oddity music acts in multiple genres. In the 1980's, Schaeffer expanded this sensibility by partnering with Davit Souders to promote international groups and new-wave music in Tulsa.
During the popular musical wasteland that was the late 1990's, The Cain's Ballroom again experienced financial difficulties as the management struggled to connect with contemporary audiences and book acts they liked that the public would support. Hunter and Chad Rodgers, who produce and promote live shows through their company, Doc Roc Productions, purchased the Cain's in 2002. After a massive six-month renovation/restoration, Cain's Ballroom re-opened in 2003 with a sold-out Dwight Yoakum show. The Rodgers tread a careful line between booking musical acts that have proven to be popular and successful while still maintaining the Cain's Ballroom reputation for producing for the independent, odd, and up-and-coming. They shy away from booking only what they like and embrace a wide variety of genres and sensibilities. Thus far the formula is quite successful, as Cain's Ballroom repeatedly ranks among Pollstar's top 30 highest-performing venues in the nation.
Sources
"Cain's Dancing Academy." Tulsa Preservation Commission. Accessed February 15, 2015.
http://tulsapreservationcommission.org/buildings/cains-dancing-academy.
Chancellor, Jennifer. "Raising Cain: Cain's Ballroom goes from history to legend." February 28, 2013.
https://www.tulsaworld.com/scene/raising-cain-cain-s-ballroom-goes-from-history-to-legend/article_2b1dc42b-04ef-56a0-a0c9-d72f3b25d913.html.
Eaton, Kristi. The Main Streets of Oklahoma: Okie Stories from Every County. Mount Pleasant, SC: History/Arcadia, 2014. pp. 184-187.
Franks, Clyda R. Tulsa: Where the Streets Were Paved with Gold. Chicago, IL: Arcadia, 2000. pp. 50-54.
Giordano, Ralph G. Country & Western Dance. Santa Barbara, Calif.: Greenwood, 2010. pp. 18-20.

Photo Credit: Wikimedia Commons
Additional Information