Cheney Clow's Rebellion Historical Marker
Introduction
Dedicated in 2006, this historical marker designates the location of a fort and skirmish where British Loyalists under the leadership of Delaware's Cheney Clow fought a colonial militia in 1778. While a majority of area residents wanted separation from Great Britain, some like Clow opposed the Revolutionary War and hoped to remain under English rule. Cheney Clow and a handful of other royalists built a fort here in 1778 in defiance of those who sought revolution and independence. After a skirmish, Clow and his men abandoned the fort.
Images
Depiction of Cheney Clow's Rebllion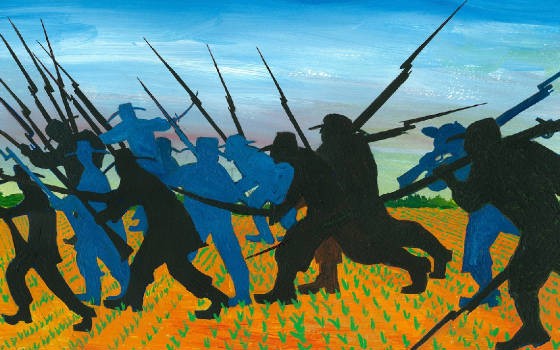 This State Historical Marker provides information about the rebellion and was dedicated by the Delaware Public Archives.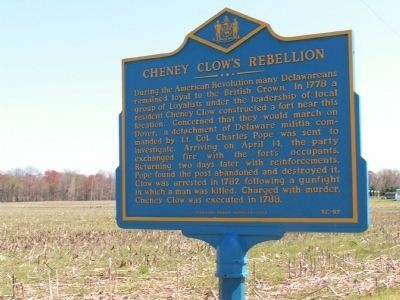 Backstory and Context
A former commissioned officer for the British army before the Revolutionary War, Cheney Clow decided to defy many other residents and pledged his loyalty to the Crown. He also rallied other British supporters around him. The Delaware militia attachment under the command of Lt. Colonel Pope, engaged the loyalists in a firefight on April 14, 1778. They left and returned within two days with reinforcements only to find the post empty and abandoned. After destroying the fort, Clow was hunted and another firefight occurred in which one man was killed. Clow was arrested and then executed later that year.
Sources
"Cheney Clows's Rebellion." Visit Delaware. Accessed February 15, 2015. http://www.visitdelaware.com/listings/Cheney-Clow-s-Rebellion/1601/587/?msid=1.

"Scene of Cheyney Clow's Rebellion." National Park Service - National Register of Historic Places Nomination Form. January 14, 1974. https://npgallery.nps.gov/GetAsset/183de8bb-8489-48c4-aea4-8a9d729ea575.



Additional Information