Camden Hotel / United Bank Building
Introduction
Weston's largest commercial structure, on the northeast corner of Main Avenue and Second Street (202-214 Main), now occupied on its first and in part, second floors by the United Bank, was erected in 1896. The three-story, steel frame building, faced with Milwaukee, yellow-orange, and terra cotta brick and trimmed with Cleveland stone, featured a flagpole-topped, conical turret towering above all else on the street intersection corner. (A flag is no longer flown.) Inside, it boasted natural gas-fired steam heat, electric lights, wired in accord with the latest rules and regulations of the Chicago Fire Department, hot and cold running water, and modern, flushing toilets throughout. These Innovations seldom found in small town America at the end of the 19th century. The original occupants were the National Exchange Bank, immediately on the corner; the 40-room R. P. (for Richard Pindall) Camden Hotel, its main entrance and lobby centering the building on the Main Avenue side ground floor (206-208 Main), its bedrooms on the second and third stories; and the Camden Opera House, whose entry was on Second Street (115 East Second).
Images
United Bank Building from Main and Second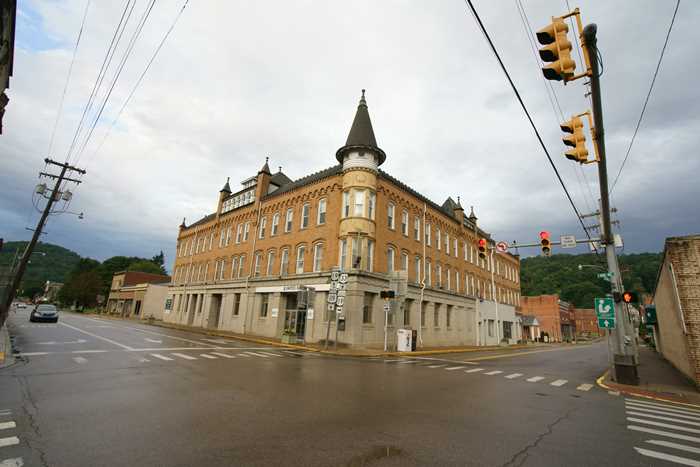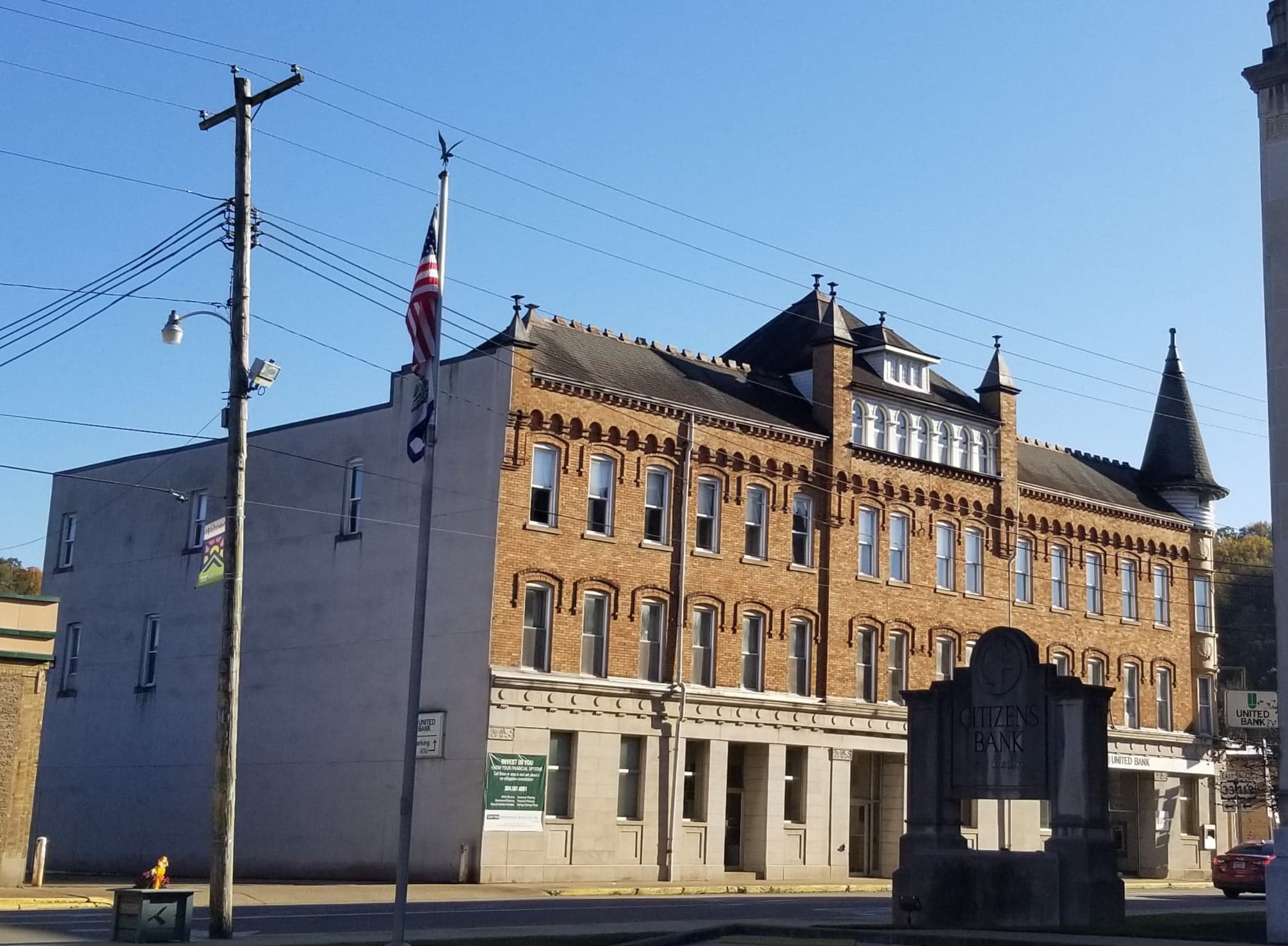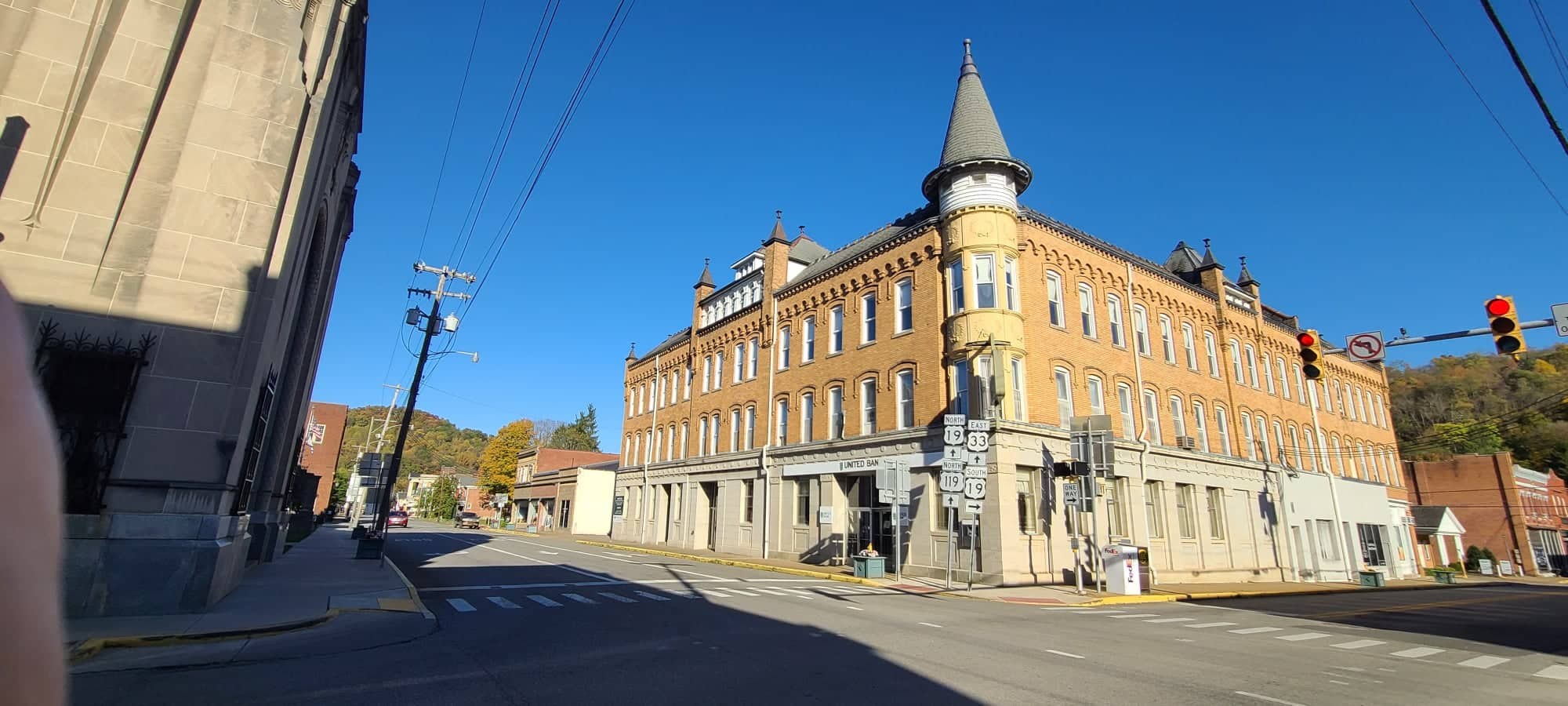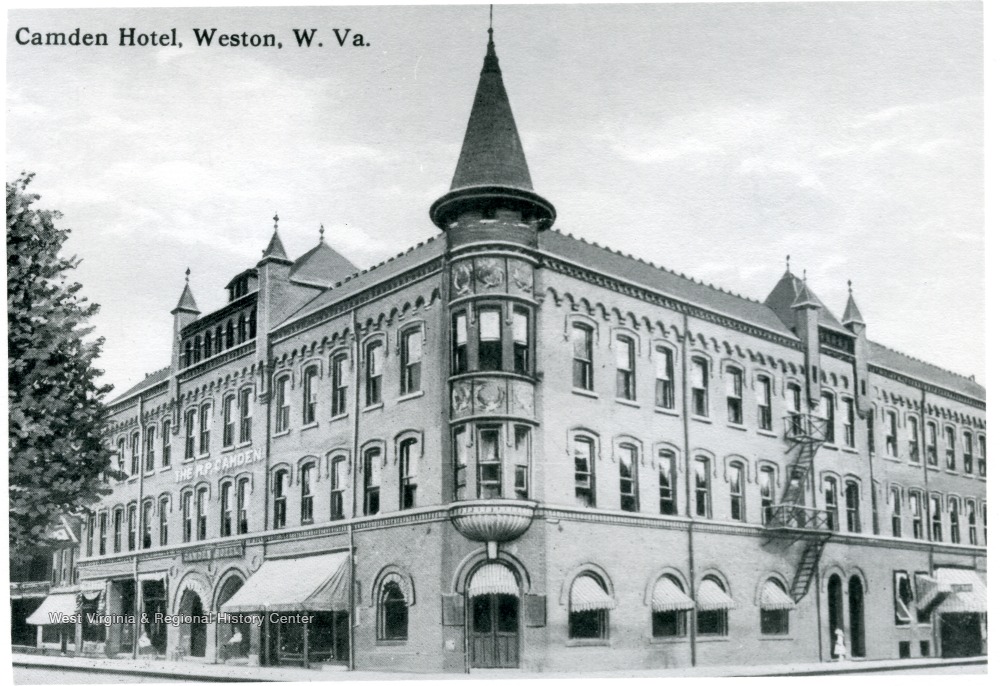 Backstory and Context
The Camden Hotel opened its doors to guests on February 9, 1897, beginning business at the dawn of the automobile era — in a town where no one yet owned a car. By comparison, five other inns already in business locally were strictly horse and buggy in age, style and accommodations. The new hostelry was the largest of any (by ten rooms), far and away the most impressive looking outside, and wonder-full inside. Among its several attractions were an elevator, bedrooms incorporating bathrooms, steam radiator heat, fire hoses on all three floors connected to high volume water mains, call bells to awaken guests in the morning, and 460 electric light fixtures illuminating every room, hallway and utility space from attic to basement. Due to uneven financial success over time, the Camden eventually closed its doors on November 30, 1969. 
The term "opera house" dates from 1720, when it meant a theater for the performance of classical operas. Gradually it came to be a synonym for any theater that presented musical dramas and plays, not necessarily operas, and, finally, the definition broadened to mean a building offering stage presentations of any kind. Weston's Camden Opera House was exactly that, a theater, fancier titled, where live entertainment was staged (for the first time on November 20, 1896) — regularly plays, musical and not, but also vaudeville acts, minstrels, inspirational lectures, and home talent shows. (Until construction of the Weston High School building with its large auditorium was completed in 1912, graduation ceremonies were conducted at the Camden. Worship services were an occasional use when some denomination's church was being renovated.) In time, the opera house was renovated, able to better accommodate the occasional showing of movies, and more significantly so in the late 1920s, converted from "a drab scene to one of brightness and beauty in a Spanish motif". Again remodeled in the mid-30s to become a true movie theater, it continued in business for nearly thirty more years, closing in mid-1963.
Sources
Accessed December 10th 2020. https://wvrhc.lib.wvu.edu/.
Smith, E. C. (2010). History of lewis county, west virginia. Place of publication not identified: Nabu Press.
Image Sources
Weston Historic Landmarks Commission

Weston Historic Landmarks Commission

https://wvhistoryonview.org/image/007882.jpg

Additional Information