Once Upon a Time Sculpture
Introduction
Installed in Nancy's Garden outside the upper level of the Maude Jellison Library, this small, bronze sculpture made by Jane DeDecker in 2000, shows a woman reading a book to a young child sitting on her lap. What do you think the relationship is between the woman and the child? What kind of story do you think she's reading? What's your favorite story? Where do you like to read? What's your favorite memory of reading?
Images
Once Upon a Time Sculpture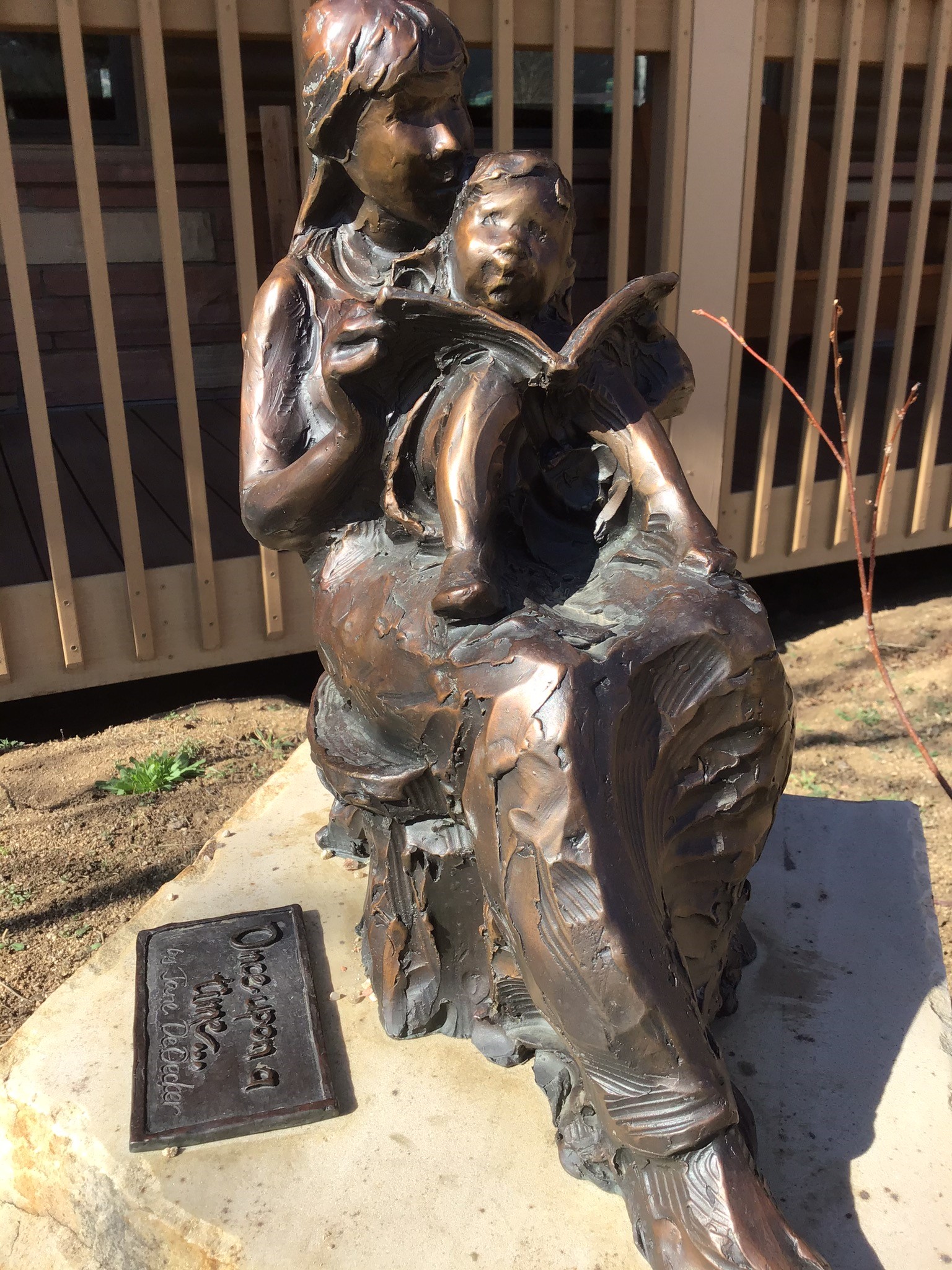 Backstory and Context
As a sculptor for over thirty-five years, Jane DeDecker has developed a very painterly, expressive style. She first creates a piece with clay, manipulating the material as if it is paint and her hands are the brushes. After casting the pieces in bronze, her sculptures add a sense of permanence to otherwise small, fleeting moments.
For more information on Jane DeDecker, her sculptures, and her creative process, visit the entry in this tour focusing on the YMCA Kids Sculpture or follow the link below to visit her website.
Nancy's Garden is located right outside the upper level of the library. The area is dedicated to Nancy Radcliffe, a much loved staff member of YMCA of the Rockies, Estes Park.
There has been a library at the YMCA of the Rockies since the mid-1920s. The Maude Jellison Library, named after Maude Jellison from Junction City, KS, was dedicated in 1964 and holds more than 22,000 books that can be checked out by guests during their visit to the Y. The youth library is located on the lower level of the building and is an inviting space for children to explore new worlds through reading an story time. To complement the relaxing atmosphere of the space, the library also has an art collection featuring several landscape paintings by a former camp artist, Alfred Wands.
Sources
Jane DeDecker. Accessed September 21st 2020. https://janededecker.com/.
Nancy Lea "Nana" Radcliffe Obituary - Lincoln Journal Star, Legacy.com. December 21st 2008. Accessed December 5th 2020. https://www.legacy.com/us/obituaries/journalstar/name/nancy-lea-radcliffe-nana-obituary?n=nancy-lea-radcliffe-nana&pid=121617665.
Additional Information