Norwalk Motor Car
Introduction
The era of independent automobile manufacturing in the U.S. peaked in 1909. In that year, 272 different manufacturers produced automobiles. From 1909 until 1922, The Norwalk Motor Car Company was one of many automobile manufacturers that sought a piece of the U.S. market. Originally produced in Norwalk, OH the company relocated to Martinsburg, WV in 1910. Over the next twelve years Norwalk Motor Car produced cars and trucks in Martinsburg. One of Norwalk's models, the 1913 Underslung 6, was marketed as "The Car of Absolute Exclusiveness." Operations at the plant ceased in 1922 and the Norwalk Motor Car Company passed into history.
Images

Norwalk Motor Car Factory, Miller Avenue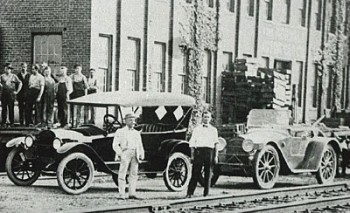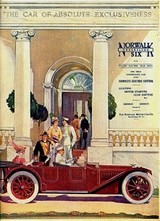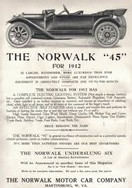 An article from The Inter Ocean (a Chicago, IL newspaper, dated December 28 1913) displaying the list of exhibitors for the 1913 Chicago Auto Show. Exhibitors include the Norwalk Motor Car Company.
The world's only complete Norwalk Underslung 6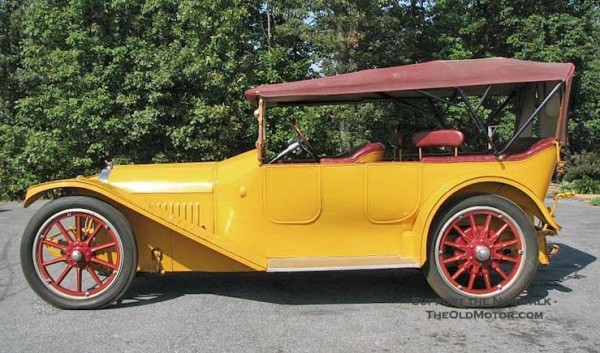 Backstory and Context
Industrialist Arthur Skadden began his first venture into automobile manufacturing in 1909. Skadden named his company, the Norwalk Motor Car Company, after his hometown of Norwalk, OH. Norwalk's first effort was a vehicle named the Auto-Bug.
1
Skadden's fledgling company ran into financial trouble. Norwalk Motor Car was placed into receivership late in 1911.
2
New investors purchased the company and relocated it to the former site of the Brooklyn Brass Works in Martinsburg, WV.
3
Leaving the city of Norwalk proved difficult, a the company was sued by both the county and a former employee.
4
However, production resumed in 1912.
Norwalk Motor Car manufactured several models but one of the company's most innovative marks was The Underslung 6. "Underslung" refers to the chassis placement below the axles, which allowed for a lower center of gravity and better handling. Fred I. Tone, an engineer for The American Motors Company of Indianapolis, developed the "underslung" design in 1906.5 Norwalk Motor Car employed the design on their "underslung" models. Beginning in 1913, Norwalk Motor Cars also featured the Vulcan Electric Transmission and electric lock brake. These advances greatly simplified the driving experience by replacing cumbersome levers with push-buttons.6
Company officials marketed their models aggressively. In 1913, The Norwalk Motor Car Company participated in the Chicago Auto Show7 and the New York Auto Show.8 In an era when the U.S. road network was under-developed, a Norwalk official drove from one show to the next. The car completed a 23,000-mile route beginning in Martinsburg and ending in Reading, PA.9 Norwalk Motor Car was one of 107 automobile manufacturers to specify Goodyear Tires on their production models.10 Norwalk marketed themselves in magazines and newspapers as being "The Car of Absolute Exclusiveness." Despite its innovative models and its aggressive marketing, the company continued to experience problems. From its peak in 1909, the number of American automobile manufacturers continued to shrink.11 Failing to grow in an extremely competitive environment, the company would again find itself in receivership in 1915. From 1918 to 1922, a company named Norwalk assembled cars and trucks, including fire trucks. In 1922 the plant closed for good.12
In September of 2008 The Friends of Norwalk Foundation, a non-profit corporation was formed. The Foundation located and restored the only known existing Underslung 6 produced by The Norwalk Motor Car Company. Formed with two goals, The Friends of Norwalk fundraising efforts are ear-marked to paying off the cost of purchase and restoration of the Underslung 6 and to establish a permanent location in which the car can be displayed.13 The restored Norwalk Motor Car is temporarily on display in the Rural Transportation Museum at the Agricultural Education Center in Boonsboro, MD.14
Sources
1. "The Norwalk Underslung- A Noteworthy Car Built in West Virginia", The Old Car, Last updated April 3, 2014, Accessed March 17, 2015, http://theoldmotor.com/?p=117878 2. "In Nearby Places", The Sandusky Star Journal, August 24, 1911. Newspapers.com, Accessed March 17, 2015. 3. "Norwalk History", Friends of Norwalk, last updated 2014, Accessed March 17, 2015, http://www.norwalkmotorcar.com/Norwalk%20History/index.html 4. "Norwalk Motor Car Company is Sued", The Sandusky Register, August 23, 1911, page 9, Newspapers.com, accessed March 17,2015. 5. Dennis Horvath, "The American Underslung- The Safest Car on Earth", Historic Indianapolis.com, 2015, Accessed March 17, 2015, http://historicindianapolis.com/the-american-underslung-the-safest-car-on-earth/ 6. "The Norwalk Underslung- A Noteworthy Car Built in West Virginia", The Old Car 7. "Improved Highways Make for National Prosperity", The Inter Ocean (Chicago, IL), December 28, 1913, Accessed March 17, 2015. Newspapers.com 8. "Big List of Exhibitors", The Brooklyn Daily Eagle, December 12, 1913, page 4, Accessed March 17, 2015, Newspapers.com 9. "Motor Car Test", Reading Times, April 7, 1914, Accessed March 17, 2015, Newspapers.com 10. "Non-Rim-Cut Tires- 10% Oversize", New York Times, January 16, 1913, page 12, Accessed March 17, 2015. 11. "Automobile Industry." International Encyclopedia of the Social Sciences. 2008. Encyclopedia.com. 17 Mar. 2015 . 12. "The Norwalk Underslung- A Noteworthy Car Built in West Virginia", The Old Car 13. "About Us", The Friends of Norwalk, 2014, Accessed March 17, 2015, http://www.norwalkmotorcar.com/About%20Us/index.html 14. John McVey, "Norwalk Underslung 6 Turns 100", The Journal, June 25, 2014, Accessed March 17, 2015, http://www.journal-news.net/page/content.detail/id/612474/Norwalk-Underslung-Six-turns-100.html?nav=5006
Additional Information