Frontier Culture Museum
Introduction
The Frontier Culture Museum of Virginia is an outdoor museum and educational institution that is operated by the Virginia government. The Museum includes a number of exhibits related to the history of the American frontier, relations between early settlers and Native American tribes, and the culture of American settlers. The museum also supports programs related to the history of the Shenandoah Valley and allows visitors to experience what life was like for early settlers through reconstructed buildings and living history programs that provide a unique perspective on America's past. The museum is open to the public daily throughout the year.
Images
A photograph overlooking museum grounds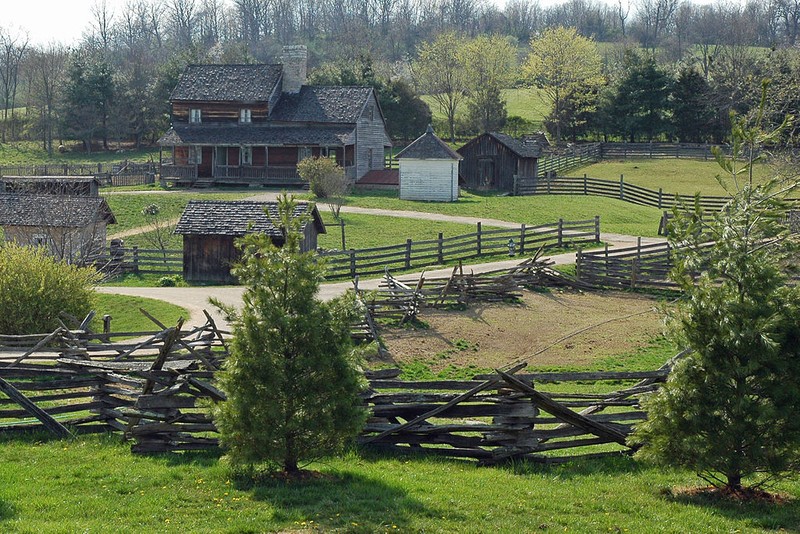 Backstory and Context
Frontier Culture Museum of Virginia is an outdoor museum, educational institution, and agency of the Commonwealth of Virginia located in the upper Shenandoah Valley. The Museum's mission is to educate the public about the origins, formation, and spread of American frontier culture, and about how this distinctively American folk culture continues to shape the lives of the American people in the twenty-first century.

The Museum currently features 11 permanent outdoor exhibits that are divided into two sections -- the Old World and America -- and serve as settings for educational and interpretative programs. These programs use outdoor living history and hands-on, experiential learning to advance the Museum's mission and goals. Interpretative signs and a walking-tour map are also available for visitors who prefer an independent, self-guided experience.

The Museum's Old World section holds 5 outdoor exhibits that represent rural households in eighteenth century West Africa, seventeenth century England, eighteenth century Ireland and Germany. These exhibits offer visitors the opportunity to explore the Old World origins of American frontier culture, and the ideas and practices the men, women, and children who migrated to colonial America from these places contributed to its creation.

The America section currently has 6 outdoor exhibits where visitors explore the critical contributions Eastern Woodland American Indian cultures made to the creation American frontier culture, and how it evolved over the course of a century and spread westward across the United States with the nineteenth century pioneers.

The Museum's collection of outdoor exhibits is unique in its scope and in the variety of examples of vernacular architecture it includes. Most of these buildings were originally built at the time and in the place where the Museum represents them. These originals were documented, dismantled, restored, and transported to the Museum site and reconstituted. Those exhibits that are not originals are careful reproductions based on extensive research, and constructed to the greatest extent possible using traditional tools, techniques, and materials.

All of the Museum's outdoor exhibits are furnished with period reproductions, many of which were made by staff and dedicated volunteers. Most exhibits are staffed daily by professional interpreters and Museum educators who often work in period costumes to demonstrate the skills and folk ways of the past and educate the public about the history and importance of American frontier culture.





Additional Information