Deady Hall
Introduction
Constructed in 1876, Deady Hall was the University of Oregon's first building and remained the university's only building for almost ten years after its construction. In 1893, the building was named in honor of Matthew Deady, a politician in Oregon's territorial period who passed away that year. Together with Villard Hall, Deady Hall was named a National Historic Landmark in 1977 owing to their status of two of the oldest campus buildings on the West Coast.
Images
This three-story campus building features the Italianate style of architecture and an ornate a mansard roof.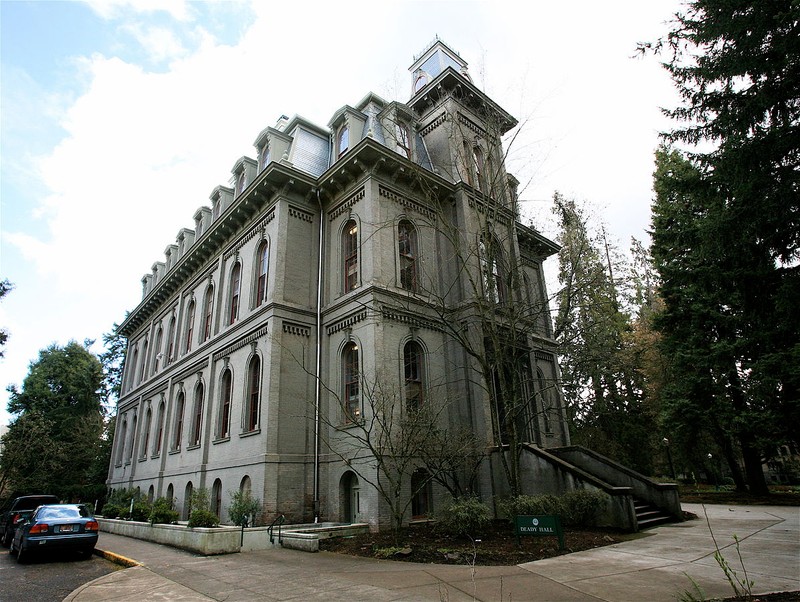 Backstory and Context
Despite a student petition calling on the university to change the name of this iconic campus building owing to Deady's early positions and his frequent use of racist language, university administrators decided in 2017 to keep the name unchanged. Although Deady once opposed funding for the state university, he later served on the board of regents and helped to establish the university's law school and was a member of the American Antiquarian Society.

During the antebellum period, Deady was one of a small number of Oregonians who hoped to extend slavery to Oregon and prohibit free people of color and other nonwhites from entering the territory. He also opposed citizenship for Native Americans at that time. Deady served as a federal judge in Oregon from 1859 to 1893, a period that saw his gradual support of suffrage and citizenship for African Americans.

Sources
Report on the History of Matthew P. Deady and Frederick S. Dunn. University of Oregon. August 05, 2016. Accessed October 16, 2018. https://president.uoregon.edu/sites/president2.uoregon.edu/files/deady_dunn_final_report_08-05-16.pdf.


Additional Information