Thomas Earl House in Ann Arbor
Introduction
Constructed circa 1861 for the family of Tomas and Mary Earl, this home was added to the National Register of Historic Places in 1992, a year after the home was converted into a small office property. Thomas Earl was a successful and wealthy retailer in Ann Arbor who maintained a store in the heart of the city from around 1850 to 1882. Thomas was born in Ireland in 1810, moved to Canada in 1829, and then to Michigan in 1833 and the city of Ann Arbor in 1849. Earl came to Michigan after establishing a successful business and gained substantial wealth before moving to Ann Arbor and establishing his store. After Mary Earl died in 1899, the Schmid family purchased the home and kept it in the family for much of the twentieth century, In 1991, the home was converted into a small office property, which remains its purpose in 2020.
Images
2010 photo of the Thomas Earl House in Ann Arbor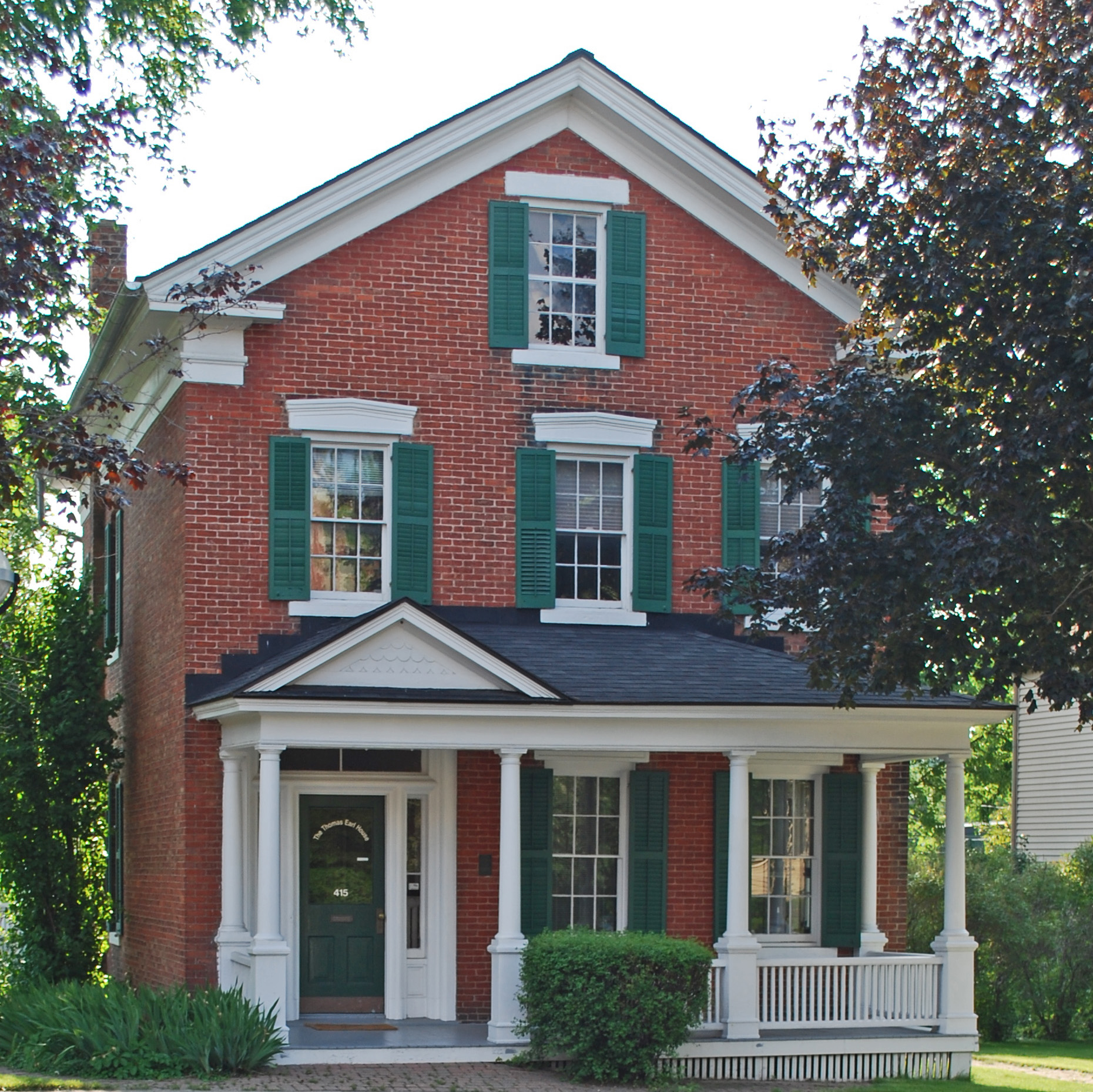 Backstory and Context
The Thomas Earl house survives as one of the finest preserved of the few remaining front-gable, Greek Revival houses in Ann Arbor. The house's side-hall plan and front-gable form reflect the influence of migrants coming to Ann Arbor from the Northeast United States, where that style enjoyed popularity. However, the story of Thomas Earl speaks to the influx of affluent Irish immigrants that arrived in Ann Arbor during the mid-nineteenth century. 
Thomas Earl was born in Ireland in 1810 and moved first to Canada in 1829 before settling near Ann Arbor in 1833. He enjoyed considerable affluence when he arrived, which allowed him to purchase a substantial piece of property (roughly 200 acres) in Northfield Township, just outside of Ann Arbor. Earl came at a time during the 1830s when several Irish immigrants settled in the region, some poor and some with wealth. In 1834, he married Mary Ann Duncan and joined the parish that would become St. Patrick's, one of the first parishes of the Diocese of Detroit. He quickly amassed ample wealth and actively participated in local politics. Sadly though, in 1848, Thomas and Mary's daughter died (her tombstone still stands in St. Patrick's cemetery). As a result, the couple moved from their Northfield Township home to Ann Arbor proper in 1849. 
Upon moving into the growing town, Earl entered the grocery business. Thomas and Mary Ann lived above the store from 1849 until they built the now-historic home. They purchased the lot in 1857, but construction did not commence until either 1860 or 1861. The Greek Revival home enjoys distinction for its high-quality, classic details, including glass panes and unusually small, locally-produced bricks laid evenly (an expression of the mason's exceptional skills). The interior mirrors many of the houses found in New York, demonstrating the influence of settlers coming to Michigan from the Northeast. The couple continued to operate the store while living in the home. Evidence suggests the Earl's also planted an orchard and maintained a farm both in Ann Arbor and their former property in nearby Northfield Township. The farm likely supplied the store with goods. Earl died in 1882, but Mary Ann lived a long life, dying in 1899. 
Fred Schaible bought the house at auction in 1900 and subsequently renovated it. He added a bathroom, furnace, gas pipes, electric wiring, new chandeliers, and other modern features; he also added a front porch in 1907. Fred bequeathed the home to his daughter, Lucille, and her husband, Harry Schmid. The couple lived in the home throughout much of the twentieth century. Mrs. Schmid kept the pewter numbers "57," which speaks to Ann Arbor's late-nineteenth-century numbering system (changed in 1897). In 1990, businessman Peter Fink purchased the house and renovated it for office use, which remains its function as of 2020. 
The home's interior design notes the influence of design trends seen in New York that spread to other communities including Michigan. The home is also a reminder of the centrality of immigration as Thomas Earl came from Ireland to Canada and then Ann Arbor during the 1830s when several Irish immigrants arrived in the area and started businesses, organized Catholic churches, and helped establish local polity. 
Sources
Culver, Mary M. "Nomination Form: Earl, Thomas House." National Register of Historic Places. archives.gov. June 25, 1992. https://catalog.archives.gov/id/25340605.
Miller, Kerby A. "Emigrants and Exiles: Irish Cultures and Irish Emigration to North America, 1790-1922." Irish Historical Studies 22, no. 86 (1980): 97-125.
Reade, Marjorie and Susan Wineberg. "Thomas Earl House, 1860." Ann Arbor District Library. aadl.org. Accessed November 16, 2020. https://aadl.org/buildings_hhaa085.
Image Sources
By Andrew Jameson - Own work, CC BY-SA 3.0, https://commons.wikimedia.org/w/index.php?curid=10678190

Additional Information