The Carillon
Introduction
The Carillon, Virginia's War Memorial for World War I, was erected by the Commonwealth of Virginia to commemorate those who served. Designed by noted Boston architect Ralph Adams Cram, it is an interpretation of the Italian campanile in Georgian classicism. A commission was formed about 1922 to study a design and a site but public campaigns altered the initial proposal and delayed construction until 1931. The tower was completed and dedicated on 15 October 1932. The Carillon reaches a height of 240 feet and its bells were originally intended to ring out patriotic concerts.
Images
early 20th century colored postcard of The Carillon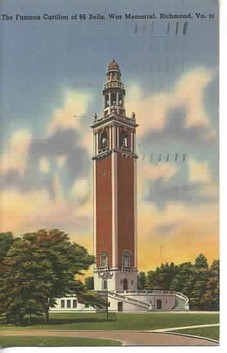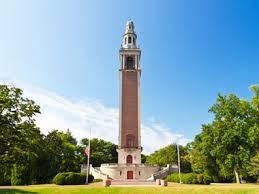 Backstory and Context
Formed in 1923, The American Battle Monuments Commission sought to create memorials to commemorate the lives lost in the first World War. Richmond was selected as Virginia's place of remembrance because it is the state capitol. Work on the structure began in 1928 and was not completed until early 1932 as the construction was being funded by both private and public organizations.

The Carillion is a 200-foot tall Georgian Revival bell tower. The architects sought to create a somber building as they knew it would be a memorial for fallen soldiers. The top of the building holds a 44 foot hight bell loft. This loft contains 53 bells which each play different notes. Originally, the tower held 65 bells but only played 53 notes; the top 12 bells in pitch had duplicates so they would produce a richer sound. The Carillon was restored in the 1970s and the bells with duplicates were replaced with sturdier bells so there was no longer a need for duplication.

The tower sits in Byrd park and continues to be used for events and memorials. The lobby of the Carillon is currently a museum that functions as a memorial for the first World War. After the second World War, the city of Richmond included a Nativity each Christmas.
Sources
Childers, Doug. "Discover Richmond: The Carillon," accessed June 3, 2016. Richmond Times-Disptach, August 1, 2014.
Additional Information