Marvin Holman Historical Marker
Introduction
This historical marker shares the story of Marvin Holman, a mule and tractor salesman who operated one of the South's largest stables in Dothan. Holman's stables were located near the marker, and the 27,000 square foot red brick structure was a center of trade and also a gathering place for local farmers and townsfolk. Mules were vitally important to the agricultural sector, as were the tractors Holman sold following the construction of a new building at this location in 1917. While the 1917 building was demolished long ago, this historical marker was dedicated in 1981 by Edith Holman Jones and Maxwell E. Jones.
Images
Picture of the Marvin Holman marker.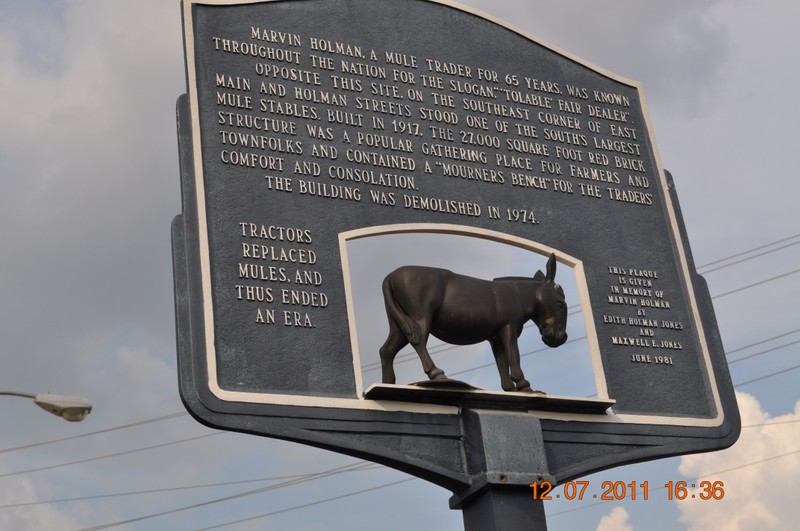 Backstory and Context
Marvin Holman was a mule trader based out of Dothan Alabama in the early 20th century. At the time mules were the primary work animal for the Wiregrass region. In the late 1800s, mules ended up replacing oxen in the Dothan area and were therefor central to Dothan's economy, in agriculture and the logging industry and the turpentine industry.
Across the street from this historical marker is the spot that Holman constructed his mule stable in 1917. Holman's mule stable and place of business was a red brick, 27,000 square foot building, making it one of the largest mule stables in the south. This building became a popular gathering place for farmers and townsfolk of Dothan. Holman installed a "Mourners Bench" next to his business for traders' comfort and consolidation. To supply his mule stable Holman traveled around the country to purchase mules and ship them back to Dothan via train to eventually be sold to Houston county farmers.
As the age of tractors started getting underway, Holman kept with the times and began a Tractor sales company, pivoting to new methods of farming while keeping his mule business. As part of starting this business, Holman offered a deal to farmers where they could trade in their mules for a tractor, letting the farmers make a down payment with their old mules. As this tractor business grew, the company moved into a new building, leading to the eventual demolishing of the Holmes Mule Stable.
Marvin Holman is actually the brother of J.D. Holman, another prominent businessman in the Wiregrass region. J.D. Holman's home is on the National Register of Historic Places and is located in Ozark AL. J.D. Holman was also a mule trader and decorations within his home reflect how he got his start in business. In 1981 this historical marker was erected in memory of Marvin Holman by Edith Holman Jones and Maxwell E. Jones.
Sources
Gamble, Robert. HOLMAN HOUSE, SAH Archipedia. January 1st 2012. Accessed November 24th 2020. https://sah-archipedia.org/buildings/AL-01-045-0080.
Hare, Jay. Dothan Murals Mules in the Wiregrass, Dothan Eagle. August 28th 2019. Accessed November 24th 2020. https://dothaneagle.com/dothan-murals-mules-in-the-wiregrass/image_114f5790-c9bc-11e9-a811-c7d207f2d6c2.html.
Kirkland, Scotty E.. Dothan & Houston County: Yesterday, Today & Tomorrow, issuu. January 1st 2011. Accessed November 24th 2020. https://issuu.com/beersbooks/docs/dothan_booknew/42.
Mertins, Ellen. Holman, J. D., House, National Register of Historic Places. February 19th 1982. Accessed November 24th 2020. https://npgallery.nps.gov/NRHP/AssetDetail?assetID=30c088b9-a1ec-484a-ae2b-c8a15c7d26f0.
Sailors, Jimmy. Answer Man: What's the story behind Dothan's mule marker?, Dothan Eagle. May 10th 2020. Accessed November 24th 2020. https://dothaneagle.com/news/local/answer-man-what-s-the-story-behind-dothans-mule-marker/article_1b195a93-9152-5f1e-a16b-60d894fe11c9.html.
Thacker, Christine. Marvin Holman, Find A Grave. September 13th 2004. Accessed November 24th 2020. https://www.findagrave.com/memorial/9456596/marvin-holman.
Tidwell, Sandra Hughes. Marvin Holman, Historical Marker Database. June 11th 2020. Accessed November 24th 2020. https://www.hmdb.org/m.asp?m=83784.
Young, Susan J.. Delightful Street Art On a Grand Scale: The Murals of Dothan, AL, Southern TRAVEL News. January 20th 2009. Accessed November 24th 2020. https://www.southerntravelnews.com/NewsRelease.aspx?NewsId=700.
Image Sources
Photo taken by Sandra Hughes. Image sourced from Historical Marker Database: https://www.hmdb.org/m.asp?m=83784

Additional Information