Converse-Dalton-Ferrell House
Introduction
This elegant historic residence is the Converse-Dalton-Ferrel House, which is named after the families who lived here. It was built in 1902 by its first owner and prominent local figure, Thomas B. Converse (1854-1932), who was a successful businessman and farmer. In terms of design, the house is an excellent and interesting example of Neoclassical architecture. Notable features include a grand two-story portico with Ionic columns that wraps around the front corners of the home, two balustraded balconies on the second floor, and decorative elements such as laurel wreaths. Added to the National Register of Historic Places in 1983, the house has been since 1982 the home of the Valdosta Junior Service League, an all-women community service organization.
Images
Built in 1902, the Converse–Dalton-Ferrel House is a fine example of Neoclassical architecture.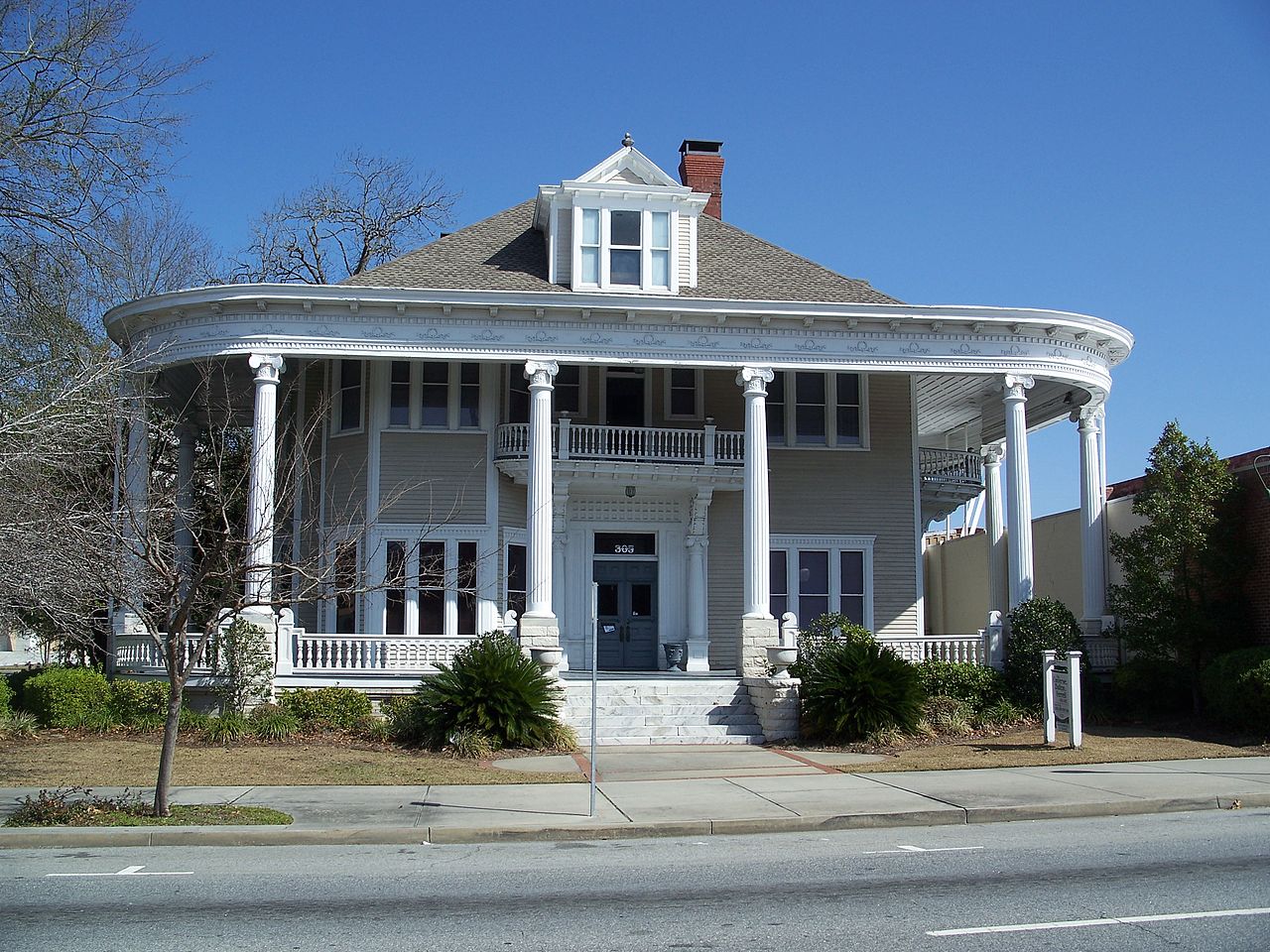 Backstory and Context
Thomas Briggs Converse was born on December 12, 1854 in Troupville, Georgia. His family moved to Valdosta when he was six. As an adult, he joined his father and his younger brothers in a clothing business called Converse Brothers. He married his wife, Minnie, in 1882 and they would eventually have 13 children together. Converse built the first family home in 1883. As his family grew, the need for a larger house became apparent and he built the current house in 1902. Interestingly, it was reported that the house did not have locks on doors since the boys of the family kept coming and going. In 1915, Converse decided to sell his interest in the business to take up farming, which he did until his death in 1923. He sold the house (in 1915) and moved to a new one, which later burned down, two miles northeast of the city.
The next owner of the Converse–Dalton-Ferrell House was T.B. Varn, who operated it as a boarding house. In 1923, O.D. Dalton, bought it and lived here with his family but rented out rooms as well through the 1950s. He had one son and nine daughters. In 1955, one of his daughters, Emma, and another woman Valerie Ferrell purchased the home (it is unclear what Valerie's relation to Emma was). How long they lived here is unknown but, as noted above, the Valdosta Junior Service League acquired it in 1982. The League was established in 1936 and incorporated in 1966.
Sources
Blanchard, Haley et al. "Converse–Dalton House." National Park Service - National Register of Historic Places Nomination Form. April 28, 1983. https://npgallery.nps.gov/NRHP/GetAsset/NRHP/83000233_text.
Poling, Dean. "A Magnificent Home." Valdosta Daily Times. November 18, 2009. Last Updated September 11, 2014. https://www.valdostadailytimes.com/news/local_news/a-magnificent-home/article_02cede29-66b4-584d-915e-7603488545d8.html.
Image Sources
Wikimedia Commons: https://commons.wikimedia.org/wiki/File:Valdosta_GA_Converse-Dalton_House01.jpg

Additional Information