Jerry West Statue at West Virginia University Coliseum
Introduction
In February 2007, West Virginia University dedicated a life-size bronze statute to honor one of the greatest basketball players to play for the Mountaineers, Jerry West. Situated outside the Coliseum in Morgantown, the statue complements the Jerry West Lounge that was established during the 1998-99 season. Jerry West was a West Virginia native who went on to be a 14-time NBA All-Star and an NBA champion. This statue, created by Morgantown artist Jamie Lester, honors the man who many believe changed West Virginia University basketball forever.
Images
Jerry West Statue at West Virginia University Coliseum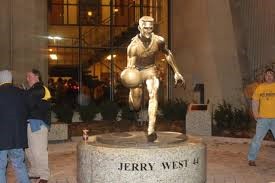 West at the West Virginia University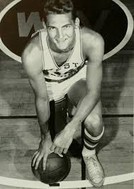 West while he played with the Lakers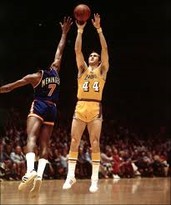 Backstory and Context
Jerry West was born on May 28, 1938 in Chelyan, West Virginia. He attended East Bank High school and graduated in 1956. As East Bank's shooting guard he led them to a state title in 1956 while averaging 32.2 points per game. He was the only prep player to score 900 points in a season. West then attended West Virginia University where he averaged 24.8 point per game. He was also named an All-American twice.
West then was drafted in 1960 by the Minneapolis Lakers, now known as the Los Angels Lakers. The man drafted above him was Oscar Robertson. West won a gold medal with Robertson and the US National Team in 1960 at Rome. West spent 14 years with the Lakers and made the All-Star team every single year of his career, and gaining the nickname Mr.Clutch among peers in the NBA. He led the Lakers to nine NBA titles games only winning one of those nine appearances in 1972.
West retired from the game he loved and devoted so much of his time to in 1974. West left behind a legacy when he retired. West retired as the third leading scorer in NBA history behind Wilt Chamberlin and Oscar Robertson. He career points per game average at 27 is fourth among retired players. West did not leave basketball however after he became head coach of his former team the LA Lakers in 1976 staying on only for three years. He then was a scout of the team for another three years and then became general manger in 1982. After 40 years connected to the Lakers in some way West retired. He then later was President of basketball operations for the Memphis Grizzles in 2002. West now resides as one of the Board Members of the Golden State Warriors.
Sources
"Jerry West Summary." National Basketball Association. NBA Encyclopedia Playoff Edition. http://www.nba.com/history/players/west_summary.html

"Jerry West Biography." National Basketball Association. NBA Encyclopedia Playoff Edition. http://www.nba.com/history/players/west_bio.html
Additional Information