Virgin Valley Heritage Museum
Introduction
The Virgin Valley Heritage Museum offers a variety of exhibits and programs that preserve and share the history of Mesquite and the Virgin Valley. Highlights of the museum include artifacts and exhibits related to the pioneer settlers of the area.The museum also maintains an online archive of images and artifacts-click the link below to view this archive.
Images
This local history museum works to preserve and share the history of the early pioneer settlers of the region.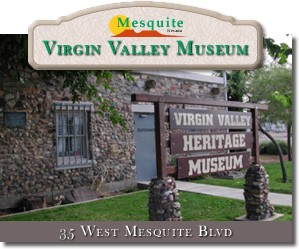 Backstory and Context
The museum was established by the city in 1984 and is located in a community building that was originally intended to serve as a library. Shortly after the library was established, however, community members decided to convert the facility into a small hospital. This medical facility served as the only hospital in the area until 1977. The building was later used as a meeting hall for community groups until 1984 when the city opened the museum.
Additional Information