Airliewood
Introduction
One of the most beautiful homes in Holly Springs, Airliewood is a historic mansion built in 1858 by wealthy planter William Henry Coxe (1824-1865). It is a striking example of Gothic Revival architecture. Notable features include three steeply pitched front gables with ornate woodwork and pointed Tudor-arched windows. In the winter of 1862-1863, Union General Ulysses S. Grant lived in the house and used it as his headquarters. Airliewood is a contributing property of the East Holly Springs Historic District, which is listed on the National Register of Historic Places.
Images
Airliewood was built in 1858 by wealthy landowner William Henry Coxe. It is a fine example of Gothic Revival architecture and appears to be owned today by Rust College.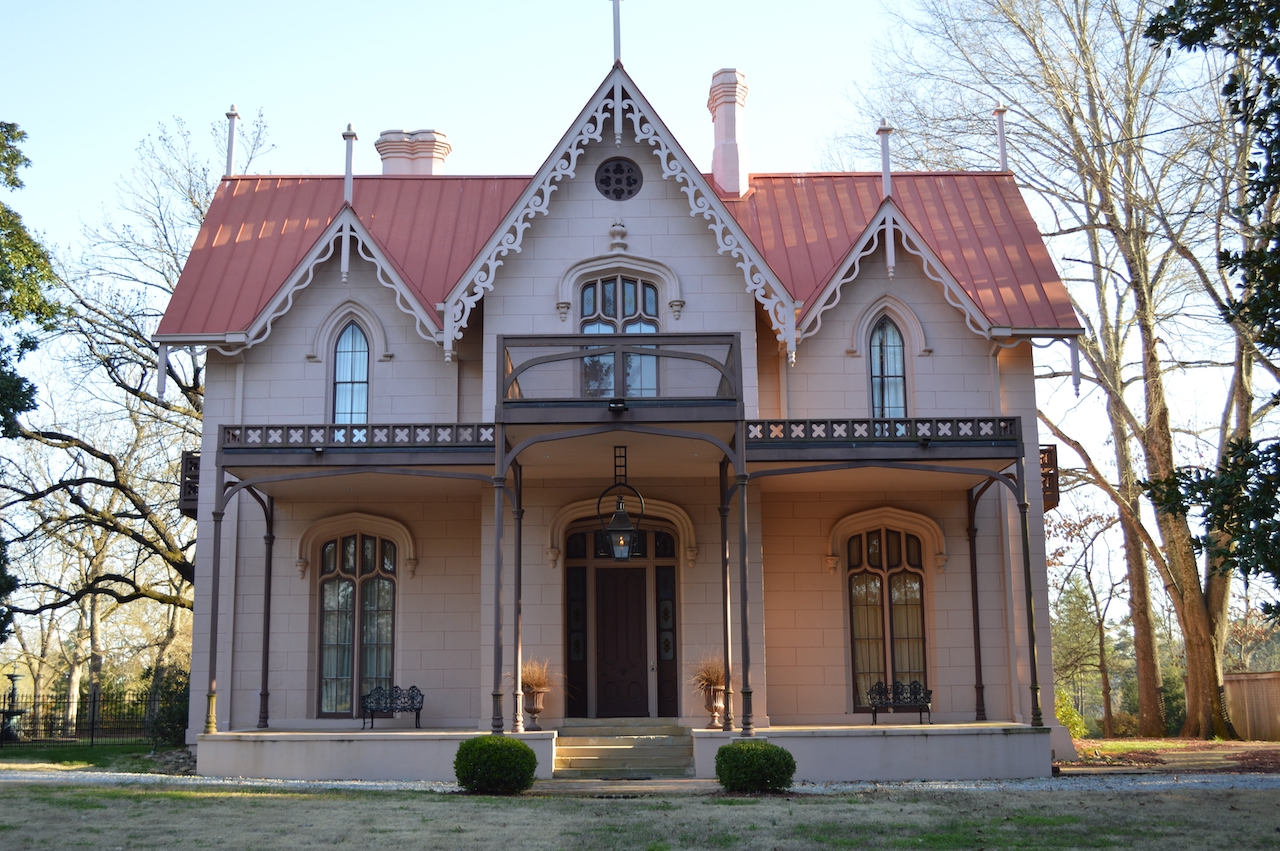 Backstory and Context
William Henry Coxe was born to a family whose lineage traced back to English aristocracy (specifically to an English lord). He was born in 1824 in Oglethorpe County, Georgia and had four brothers. The family relocated to Holly Springs in 1836 after Chickasaw Indians were forcibly removed from northern Mississippi. They were attracted by the area's fertile lands. In 1842 when was 18, Coxe married his wife, Amelia, and established a plantation, named Galena, shortly thereafter around 10 miles southwest of the town. Many years later, he earned enough wealth to build Airliewood in 1858 (the original plantation house built by slaves was torn down in the 1950s). Unfortunately, Amelia died before it was completed.
In the early 2000s, the owners of Airliewood restored and expanded it, and then opened it to the public for tours and events. In late 2011, it was acquired by Rust College. It is unclear whether the college still owns it, but the college planned to use it as a museum and event space. It is difficult to see the house from the street as trees block the view. There is also a fence that surrounds the property. The fence (and the gate) is a replica of the one at the West Point military academy.
Sources
"101 Places: Airliewood in Holly Springs." Preservation Mississippi. June 26, 2012. https://misspreservation.com/2012/06/26/101-places-airliewood-in-holly-springs.
"Airliewood." The Historical Marker Database. Accessed December 28, 2020. https://www.hmdb.org/m.asp?m=85131.
"Antebellum Period." Fitch Farms. Accessed December 28, 2020. http://fitchfarms.com/history.
"Black Historic College Receives Ante-bellum Mansion." Mid-South Gospel Tribune. Accessed December 28, 2020. http://www.mid-southgospeltribune.com/Black%20College%20news%205.htm.
"The Coxes." Airliewood [old website]. Accessed December 28, 2020. http://www.webbgraphic.com/Airliewood%20Web%20Site/History/thecoxes.html.
"East Holly Springs Historic District." National Park Service - National Register of Historic Places Nomination Form. April 20, 1983. https://npgallery.nps.gov/GetAsset/c1525f0b-5ec5-49ab-8375-84516811b566.
Image Sources
Phillip Knecht, via The Historical Marker Database

Additional Information