Cliff House Totem Pole
Introduction
"One bleak morning last year when a bus load of tourists was glumly trying to see San Francisco's famed Seal Rocks through an ocean fog, they were diverted by the arrival of a giant truck carrying a sixty-foot totem pole. It turned out to be the biggest totem pole in the world, and was planted, with a few half-hearted war whoops, in front of the historic Cliff House Restaurant at the exact spot where P. T. Barnum once talked dreamily of training seals to ride horses side-saddle..." -Post Magazine circa 1950.
Images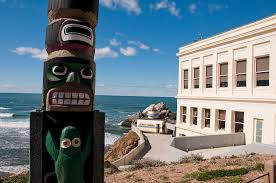 Backstory and Context
The original Cliff House was the product of Senator John and C.C. Butler, but it was Captain Junius Foster, who leased the restaurant, that made Cliff House a major sightseeing attraction. After several renovations and an additional two wings, Adolf Sutro (well-known and prominent San Franciscan) purchased the Cliff House in 1883. Sutro's poor management capabilities led him to lease to Sroufe and McCrum, a local wholesale liquor company.

This gave the Cliff House somewhat of a scandalous reputation and ended up and stayed under the care of J.M. Wilkins, who was encouraged to bring back a family friendly atmosphere. After a structural damaging explosion, the Cliff House was restored by Dr. Emma Merrit and John Tait using the Sutro estate fund. The Cliff House was temporarily shut due to military orders. It stayed closed until the late 1930s, where owners George and Leo Whitney bought, restored, and added to the Cliff House.

The Cliff House Totem Pole was installed in 1949. An article announcing the installment of the pole read, "Chief Mathias Joe Capilano of the Squamish Indians of Western Canada, he carve 'um 58-foot totem pole for George K. Whitney to plant in front of Cliff House." The carving was broken in half during a storm sometime in the 1950s and was later moved to its current location. The figures on the pole were loosely representative of the immediate family of George K. Whitney, owner of the former Playland amusement park.

Sources
Hartman, Sierra. SF's 6 Best Disregarded Monuments — The Bold Italic — San Francisco. The Bold Italic. May 13, 2014. Accessed April 16, 2017. https://thebolditalic.com/sf-s-6-best-disregarded-monuments-the-bold-italic-san-francisco-8a7c346bff9e.

The Totem Pole at the Cliff House. Art and Architecture. September 04, 2013. Accessed April 16, 2017. http://www.artandarchitecture-sf.com/the-totem-pole-at-the-cliff-house.html.


Additional Information