Chalmers Institute
Introduction
The Chalmers Institute building has significant historical connections to the city. It was once the home of four schools in Holly Springs: Holly Springs Literary Institute (a boy's school), the University of Holly Springs, a Methodist law and medical school, and another boy's school called the Chalmers Institute. Built in 1837, it is one of the oldest structures in the city. It is currently owned by the Preserve Marshall County & Holly Springs, Inc., which has worked to preserve and restore it since acquiring the old building in 2009.
Images
Built in 1837, the Chalmers Institute building housed four schools including the first university in the state—the University of Holly Springs.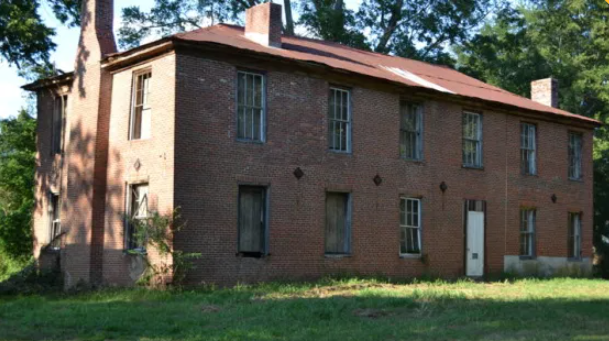 Backstory and Context
The school building was constructed not long after the town of Holly Springs was established. Residents bought $22,650 in bonds to complete the project and the first school to occupy it was the Holly Springs Literary Institute. In 1838, it became the University of Holly Springs—the first university in Mississippi. The university only operated until 1839, however. The Methodist Church bought it and opened a law and medical school, which operated until 1843. The building remained vacant until a Presbyterian minister named Rev. Sam McKinney, who was born in Ireland, established the Chalmers Institute. It was named after a Scottish Presbyterian minister named Thomas Chalmers.
The institute lasted much longer than the other schools. It closed in 1878 when the Yellow Fever epidemic swept through the community, killing many residents. The next school to occupy the building was the Holly Springs Normal Institute. It also operated for many years, closing some time in the early 20th century. The building was then converted into a private residence. Eventually it was abandoned and fell into disrepair several decades later. Given its historical significance, the building was added to the National Register of Historic Places in 1982. The Mississippi Department of Archives and History has supported Preserve Marshall County & Holly Springs's effort to preserve the building.
Sources
Amelia W. Williams. "McKinney, Samuel." Handbook of Texas Online. Accessed January 1, 2021, https://www.tshaonline.org/handbook/entries/mckinney-samuel.
"Chalmers Institute (1837)." Hill Country History. Accessed January 1, 2021. https://hillcountryhistory.org/2015/10/03/holly-springs-chalmers-institute-1837.
"The Chalmers Institute." National Parks Service - Historic Site Survey. January, 1981. https://www.apps.mdah.ms.gov/nom/prop/22330.pdf.
"Picnic to Preserve Holly Springs' Historic Chalmers Institute After Heavy Storm Damage is Slated for August 10, 2019." The Local Voice. July 17, 2019. https://www.thelocalvoice.net/oxford/picnic-to-preserve-holly-springs-historic-chalmers-institute-after-heavy-storm-damage-is-slated-for-august-10-2019.
Additional Information