Josh Gibson Statue (1911-1947)
Introduction
Often called the "Black Babe Ruth," Josh Gibson was one of the best Negro League baseball players to play the game before the integration of Major League Baseball. Despite having such a strong following, Gibson's statistics are often brought into question because Negro Leagues didn't record game summaries. However, his stats are often reflective of the best players around the time even by the most conservative historians. Gibson would die of a stroke at the young age of 35, which was mere months before Jackie Robinson broke the color barrier in Major League Baseball. In 1972, Gibson, along with Buck Leonard, was recognized for his play by being inducted into the Baseball Hall of Fame.
Images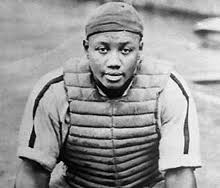 The statue of Josh Gibson is located just inside of the center field gate of Nationals Park.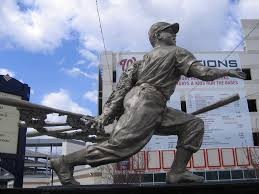 Backstory and Context
   Josh Gibson began playing baseball around the age of 16 for the department store he was working for at the time, Gimbels. He would later go on to be picked up by the Pittsburgh Crawfords, a semi-professional team in 1928. In 1930, Gibson was recruited by the Homestead Grays, which was the biggest Negro League team in Pittsburgh. He would play for the Homestead Grays, Rojos del Aguila in the Mexican League, Ciudad Trujillo in the Dominican League, and serve as first manager of the Santurce Crabbers in the Puerto Rico Baseball League. 
   Like every other baseball player in the history of the sport, Gibson will always be remembered for the career he had while playing. The tricky part for Gibson, as with every other Negro League player, is that it is hard to pinpoint exact statistics for him since the Negro League didn't record game summaries. Another problem historians face when examining Gibson's career is how to factor in his numbers against real competition since most of his games came in the form of exhibition games that most didn't take seriously. Despite these problems, many historians generally agree that he batted somewhere between .354 and .384, and hit close to 800 home runs in his 17 year career.
   Unfortunately for Gibson, he experienced many health problems starting in 1943, which eventually ended with a stroke in 1947. His death was just three months before Jackie Robinson broke the color barrier in baseball. Even in death, the legacy Gibson left behind would only grow as time past. He was inducted into the Baseball Hall of Fame in 1972, along with fellow Negro League player Buck Leonard, which would make them the second and third Negro League players to be inducted into the Hall of Fame after Satchel Paige. Stories of Gibson's batting ability are still remembered by those who look into baseball's long history as one of the best. In fact, many called him, "the Black Babe Ruth," while some thought so highly of his ability that they called Babe Ruth, "the White Josh Gibson."
Sources
"Gibson, Josh." American National Biography Online (n.d.). Retrieved March 17, 2015, from http://www.anb.org/articles/19/19-00071.html?a=1&n=josh.
"Josh Gibson." (n.d.). Retrieved March 17, 2015, from http://baseballhall.org/hof/gibson-josh Schwartz, L. (n.d.).
"No joshing about Gibson's talents." Retrieved March 17, 2015, from https://espn.go.com/sportscentury/features/00016050.html.
Additional Information