Modern Art Museum of Fort Worth
Introduction
The Modern Art Museum of Fort Worth is dedicated to collecting, presenting, and interpreting international developments in post-World War II art in all media and creating a welcoming environment for its public appreciation. It promotes understanding and interest in the arts through curatorial research and publication. The Modern also offers a variety of educational programs including lectures, guided tours, classes and workshops for guests across the age spectrum. The collection includes nearly three thousand objects, including paintings, sculptures, photos, prints, and videos that date from 1945 to the present. Art movements represented include Abstract Expressionism; British, German, French and American Pop; Color Field Printing; Minimalism; Conceptualism; Post-Minimalism and many more.
Images
The Modern Art Museum of Fort Worth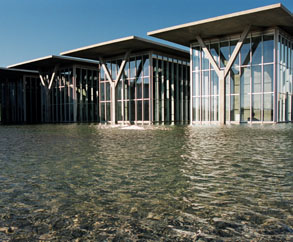 Backstory and Context
The Modern Art Museum of Fort Worth building, completed and opened in 2002, was designed by the world-renowned Japanese architect Tadao Ando. The design, which embodies the pure, unadorned elements of a work of modern art is comprised of five long, flat-roofed pavilions situated on a 1.5 acre pond. Of architectural concrete and glass, opening the display areas to the natural light so important in appreciating modern art. The choice to use the diffused and reflected light was clearly integral to the design itself. The facility sets on 11 acres of landscaping, allowing the embrace of significant outdoor features, such as a sculpture garden and the large reflecting pond. Though its legacy dates back to 1892, the Modern has gone through many names, before resolving into its current name in 1987.
Programs put on by the Modern accommodate a broad spectrum of ages, tastes, and objectives. Particular programs for Children, Teens and Adults, as well as particular outreach to public educators and students of art all bring Modern Art into the visitors' lives. Of particular note is the Graduate Student Lectureship Program that give opportunity to area graduate students to be hands-on in studying Art and Art history, and then present their findings in a lecture format. This is a very limited program, but it has been very successful.
Tours led by trained docents provide particularly insightful experiences for young and old, allowing close viewing and interactive, informative, conversation. Groups with special needs are welcome, and it is recommended that you call ahead, for the most part, at least a couple of weeks.
Public tours focusing specifically on the special exhibitions are available at 2:00 pm on the first Saturday of every month, and do not require special arrangement. These start in the Museum Lobby.
The 53,000 square feet of gallery space is more than ample for the more than 3,000 pieces on display A variety of gallery spaces are accommodated through the two levels because of the simple modularity f the design. This two-tier layout allows the staff to work on elements of the permanent collection, while hosting a major traveling exhibit on the other.
Its 5,600 square foot learning center affords it the flexibility to perform outreach and education throughout the year, for young and old alike.
The Modern can host a wide array of events using its modular design to optimal efficiency.