Anderson Rosenwald School
Introduction
This small rural school was one of over 800 rural public schools for African American children in the state of North Carolina that was made possible by matching funds from the Rosenwald Fund. Built between 1927 and 1929, this schoolhouse replaced a previous one-room school that was built in 1905. In 1959, the school was renamed in honor of former slave Joseph Anderson. Demonstrating the economic connection between slavery and local institutions, Anderson was used as collateral to secure a loan to Mars Hill College. Over 2,000 children attended this small school, some of whom were Anderson's descendants. Local residents are working to restore the historic structure, which they hope will become a community center and museum.
Images
This rural school closed in 1964. Local community members are working to restore the school and operate a historic site at this location.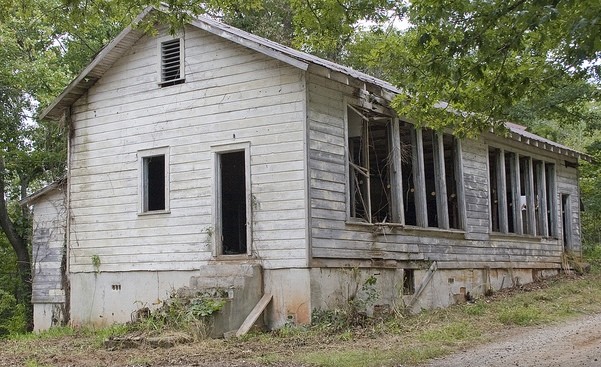 This undated photo of students at the school comes from the Historic Mars Hill Anderson School Rehabilitation Project-click the link below for more images and news about the preservation effort.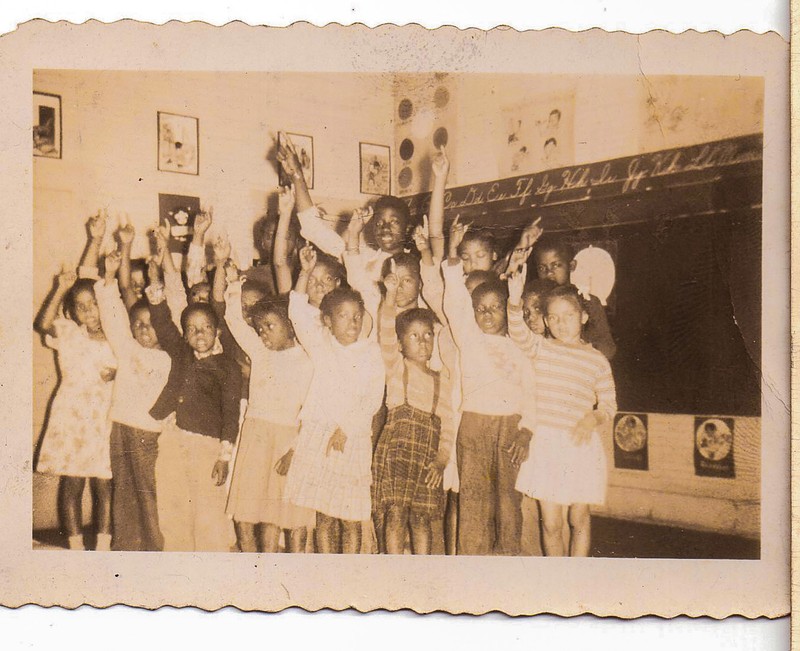 Backstory and Context
Given the refusal of Southern state legislatures to provide equal funding for schools for African American children, urban Black communities often raised their own funds to subsidize the construction and operation of schools. The issue was especially problematic in the rural South, where hundreds of thousands of Black children lived without any access to a public school.

Recognizing that lack of access would perpetuate a cycle of poverty for Black sharecropping families, educator and leader Booker T. Washington worked to raise funds for rural schools. In 1912, Julius Rosenwald, a Sears executive and philanthropist, agreed to create a fund that would help rural Black communities build schools. The Rosenwald Fund allowed Black communities that had already raised funds on their own to apply for additional assistance.

With donations provided by the Rosenwald Fund, money raised by local communities, and the reluctant financial support of county school boards, over 5,300 "Rosenwald" schools were created in the rural South between 1912 and 1932. The significance of this program can hardly be overstated, as over one out of every five Black students in the rural South attended a school that had been made possible by the Rosenwald Fund.

The African American community of Madison County was already committed to education, following Washington and Rosenwald's recommendations for local communities to raise money and construct buildings rather than rely solely on federal funds. The community updated the existing Long Ridge School in 1925, but realizing the building did not meet their needs, began planning to build a new school. They raised around $600 and collaborated with the
Director of Rosenwald funds, Superintendent C. M. Blankenship, to receive Rosenwald support. Thanks to the amount of money the community raised, they received $750 in Rosenwald funds in the summer of 1929 and opened the school in the fall.
The school operated until 1964, when it closed during integration.
The Mars Hill Anderson Rosenwald School was named for Joseph Anderson, a slave owned by one of the founders of Mars Hill College, J. W. Anderson. Joseph Anderson, also known simply as
"Joe," and his family lived at Mars Hill, where he is said to have made the bricks for the first college building. In 1859, he was imprisoned in Asheville as collateral for a contractor's $1,100 debt, and was released when eleven Mars Hill trustees paid off the debt. He and his family were released from bondage in the Civil War, and lived on a farm on Gabriels Creek until his death in 1910. While his final resting place moved a few times, Joe's grave is now at Oak Grove near the Heritage Cabin. His descendants also have close ties to Mars Hill College, his great-great granddaughter being the first African American admitted to the school in 1961. During the New Deal, a
CCC Camp on South Main street, Camp Joe, was named in his honor. His family has been recognized as a "Founding Family" of Mars Hill College. The college honored him in 2010 by renaming Dormitory Drive to Joe Anderson Drive.


Like many other rural schools for Black children, the Anderson Rosenwald School was abandoned in the 1960s. In 2002,
the National Trust for Historic Preservation named Rosenwald Schools of the South and Southwest as Endangered Historic Places. Of the
3,537 properties associated with Rosenwald Schools, including school buildings, teacher homes, and shops, only an estimated 10-12% remain. The Historic Mars Hill Anderson Rosenwald School Rehabilitation Project is spearheading preservation of this site, with plans to transform the building into a cultural center for southern Appalachian Black history. The organization has also been collecting interviews to document the history and memories of Anderson Rosenwald School.
Local residents working to restore the school would greatly appreciate public support.
For more informaton, contact Willa Wyatt at (828) 689-3922 or email wwyatt@frontier.com
Sources
"History." Mars Hill Anderson Rosenwald School Rehabilitation Project. Accessed May 2018. http://andersonrosenwaldschool.com/category/history-2/

"The Story of Joseph Anderson." Mars Hill Anderson Rosenwald School Rehabilitation Project. Accessed May 2018. http://andersonrosenwaldschool.com/the-story-of-joseph-anderson/

"Rosenwald Schools." National Trust for Historic Preservation. Accessed May 2018. https://savingplaces.org/places/rosenwald-schools#.Wvrsqi-ZNmB

Additional Information