Everettville Miners Memorial
Introduction
The memorial honors the 97 miners killed on April 30th, 1927. The Federal No.3 Miners Memorial proudly displays the names of the 149 miners who bravely perished in the mine, including those who died in the fateful mine explosion in 1927. Both faces of the memorial lists the names of the miners and the year of their death. The Miner's Logo also displays above the memorial on both faces. The memorial now stands proudly near Federal No. 3, next to the Friendship Baptist Church in Everettville.
Images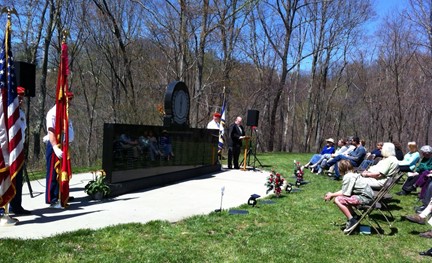 Backstory and Context
On April 30, 1927, there was an explosion at the Federal No. 3 mine owned by New England Fuel and Transportation Company, in Everettville, Monongalia County, WV. One hundred and eleven people were lost, and nine were saved. Below are the newspaper headlines for the following week–the disaster happened at around 3:30 PM so it didn't make the evening edition of the Morgantown Post on April 30–the results of the Great Mississippi Flood took up a lot of front page space that day. The Everettville mine disaster was reported in a number of local newspapers and even made national news. 
The spark and flames alerted the nearby miners and foreman who tried to run but were overcome by the expanding fire ball. Approximately 4000 feet of methane gas and air mixture provided the initial fuel for the explosion. The mine had not been covered in rock dust in accordance with the mine-inspector's direction in the month prior, so the explosion of gas found a new propellant in the coal dust covering nearly every surface of the mine. The explosion moved outward from the room, hurling mine cars down the passageways destroying men and machinery alike. The force of the explosion was strong enough to bend and disfigure the massive metal experimental loading machines. The "toppings," or the foot of coal sitting above the lip of loaded mine cars, was sent flying through the shafts as lethal projectiles, accompanied by electric water pumps torn from their mounts and sent tumbling. The violence of the explosion sent debris from the mouth of the mine into the tipple and out to a distance of over 600 feet. At least eighty-six men died immediately within the mine, and another six died when the explosion ripped apart the tipple.
In the minutes following the explosion, several groups of men found themselves trapped within the mine. A few barricaded themselves in a pump room in an attempt to protect themselves from fires started by the explosion, but they died from exposure to the "afterdamp." Some of the trapped miners left messages written to their loved ones on whatever they could get their hands on, including a lunch pail and scraps of cement-bag paper. While several miners were able to walk out of the mine themselves, rescue operations were mounted immediately.
Sources
http://www.wvculture.org/goldenseal/Fall14/Everettville.html
https://news.lib.wvu.edu/2018/04/30/everettville-mine-disaster-in-their-own-words/
Additional Information