Strom Thurmond Statue: Egdefield Statehouse
Introduction
Strom Thurmond, the longest South Carolina senator to enjoy office, is a definitive figure in not only South Carolina history but also national political history. A Democrat turned Republican born in 1902, Thurmond served for five decades in the U.S. Senate. He is most known for his extremely lengthy filibuster against the Civil Rights Bill of 1957, the longest in history. Though widely known for his pro-segeration sentiments, Thurmond, however, is also quite popular due to his service in WWII, his decisions as South Carolina governor, and his book the "Southern Manifesto".
Images
The statue of Strom Thurmond outside the Edgefield's Courthouse in South Carolina.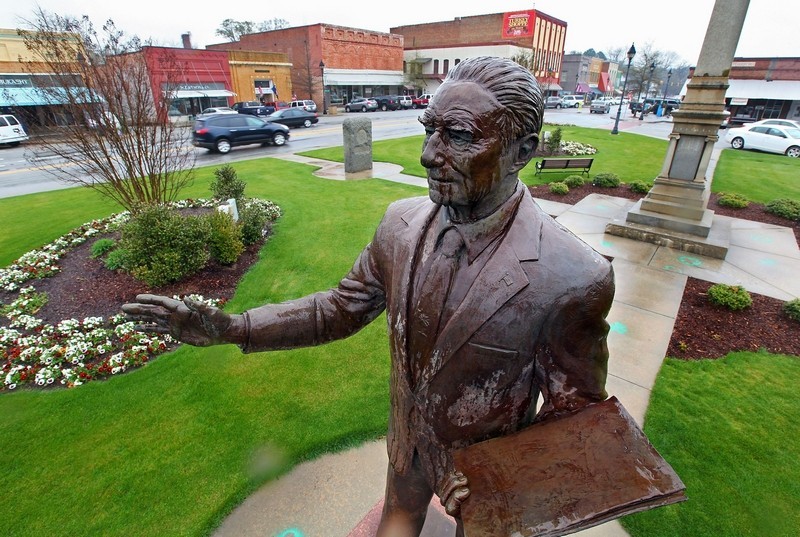 A campaign photograph of the Senator.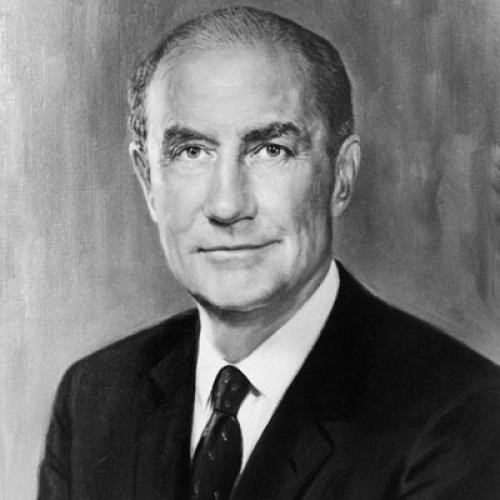 Backstory and Context
Strom Thurmond was born James Strom Thurmond, and was raised in Edgefield, South Carolina, getting his start to life on December 5, 1902. His father, John William Thurmond, and mother, Eleanor Gertrude Strom, had 5 other children as well. John Thurmond was a local lawyer, community leader, and South Carolina state senator. Strom would follow in his father's footsteps in regard to political and community leadership. He attended public school until his college years, which he spent at Clemson University before graduating in 1923. Thurmond went on to teach history in South Carolina high schools for 6 years until he became bar certified in 1930. Thurmond would come to serve as city and county attorney and a circuit court judge before being elected to the South Carolina state senate in 1933. During this period Thurmond also served in the United States Army as a Major General during WWII. From 1942-1946 he would fight in both Europe and the Pacific and participate in the Battle of Normandy. He would later receive a Purple Heart his service. After returning home Thurmond ran for South Carolina Governor, defeating incumbent candidate Ransome J. Williams in 1946.
Thurmond had been a democrat throughout his involvement in political life; it can be rightfully assumed that this choice was based on racial policy, as Thurmond's future political career would be defined by questions of segregation, equality, and civil rights. His decision to run for president in 1948 would support this contention. That year Truman ran for reelection as a liberal democrat, promoting the a pro-civil rights platform that advocated abolition of poll taxes, anti-lynching legislation, and a ban on discriminatory practices in commerce. The southern wing of the Democratic party strongly opposed these ideas and broke off from the establishment to join a more conservative wing Democrats called "Dixiecrats". This novel yet traditionalist group centered party ideology on an anti-civil rights platform and States' Rights. Thurmond would lose the election, unsurprisingly, as the Dixiecrats catered to a small and very specific demographic therefore garnering Thurmond little electoral votes.
In 1954 Thurmond was elected a U.S. senator. In was during this first term that he would perform some of his most famous acts- the penning of the Southern Manifesto and the filibuster. The Southern Manifesto was a document written in Congress and signed by 101 politicians in opposition to the integration of public places. Many historians believe the document was produced in response to the 1954 Supreme Court decision in Brown vs. The Board of Education, in which the court decided segregation in public schools was unconstitutional. All but three southern democrats would sign, those obtaining included future President Lyndon B. Johnson. Thurmond's commitment to racial integration and degradation continued to show its self. In 1957 Thurmond filibustered against the Civil Rights Bill of 1957 for 24 hours and 18 minutes, making it the longest in the history of the Senate. The bill was passed even in the wake of Thurmond's efforts. He would do the same, though somehow less dramatic the second time around, for the Civil Rights Bill of 1964, filibustering yet unable to overcome Lyndon Johnson's fervent efforts. It seemed by the end of the 1960's Thurmond was attempting to stand behind all his earlier statements, including one of his most well-known, which he made in 1948.
"I wanna tell you, ladies and gentlemen, that there's not enough troops in the army to force the southern people to break down segregation and admit the nigger race into our theatres into our swimming pools into our homes and into our churches."1


Despite all Thurmond's wishes integration would follow, even if not as rapidly and fully as might have been hoped, America would desegregate much to the disdain of southern Democrats.
After the political death of the Dixiecrat party and very short return the Democrats, Thurmond would declare himself a Republican in 1964. He found common ground with Barry Goldwater, a Republican candidate for president, who employed and essentially invented the "southern strategy." This strategy was based in the idea that the southern white vote would depend solely on issues of race and a conservative approach to these questions would bring voters from the Democrats to Republicans. Goldwater believed one could win elections in the south disregarding Black voters altogether. This outlook and the actions of both Goldwater and Thurmond would redefine not only the perception but also the actually framework of each large American party.
By the 1970s Thurmond's anti-civil rights rhetoric was proving more harmful than helpful. A truth proven in the South Carolina gubernatorial race of that year, in which the Thurmond endorsed candidate lost to the more liberal civli rights contender, John West. Like any good politician Thurmond the detected the changing tides of American sentiment and altered his political identity. He specially hired African American Thomas Moss, giving him a permanent position on staff so as to keep the senator informed specifically on issues facing the Black community. And in 1982 he supported the Voting Rights Act after cajoling from fellow party members. The outcomes of these actions appears positive as Thurmond's political power continued to grow. He served as Chair of the Senate Judiciary Committee from 1981-1987 and was President Pro Tempore in 1995. By this point Thurmond was one of the oldest men in the Senate. He turned 100 in ,while holding office. Soon after he retired in 2003, dying that same year on June 26.
Six months after the Senator's death Essie Mae Washington-Williams, a Black woman from Columbia, South Carolina, publicly announced she was the daughter of Thurmond. Her mother, Carrie Bulter, had work in the Thurmond household in Edgefield when Essie had been conceived. Thurmond was 22 and Williams 16. There had been earlier rumors of a situation akin to this, but Thurmond never publicly acknowledged them during his life. It was later found out that the Senator did pay for her to attend college though. This a number of other more private matters of their relationship can be read about in Washington-William's book Dear Senator: A Memoir by the Daughter of Strom Thurmond. Washington-William's claims were confirmed by DNA testing. Though Strom Thurmond's legacy was tarnished by this fact, and others, today he is still regarded as the most popular South Carolina politician to serve the country and a pivotal figure in American history.
Sources
1- International Encyclopedia of Social Sciences. "Thurmond, Strom." Encyclopedia.com. HighBeam Research, 01 Jan. 2008. Web. 29 Mar. 2015. Janofsky, Michael. "Thurmond Kin Acknowledge Black Daughter", The New York Times, December 16, 2004 O'Donnell, Michael. "A Malevolent Forrest Gump." The Washington Monthly. N.p., Sept.-Oct. 2012. Web. 29 Mar. 2015.
Additional Information