Carnegie Library, Binghamton
Introduction
Built in 1903 with funds donated by Andrew Carnegie. The building was designed by Sanford and H.A. Lacey under the supervision of Isaac Gale Perry. The building closed in 2000 was vacant for many years until it became home to the SUNY Broome School of Culinary Arts.
Images
Photo composite, Carnegie Library today with ca. 1905 inset.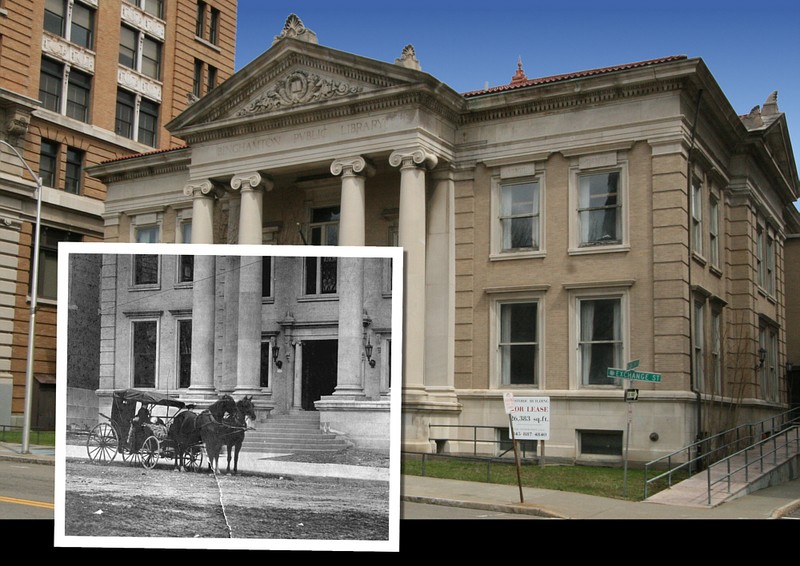 Interior view. More photos at http://nysLandmarks.com/carnegie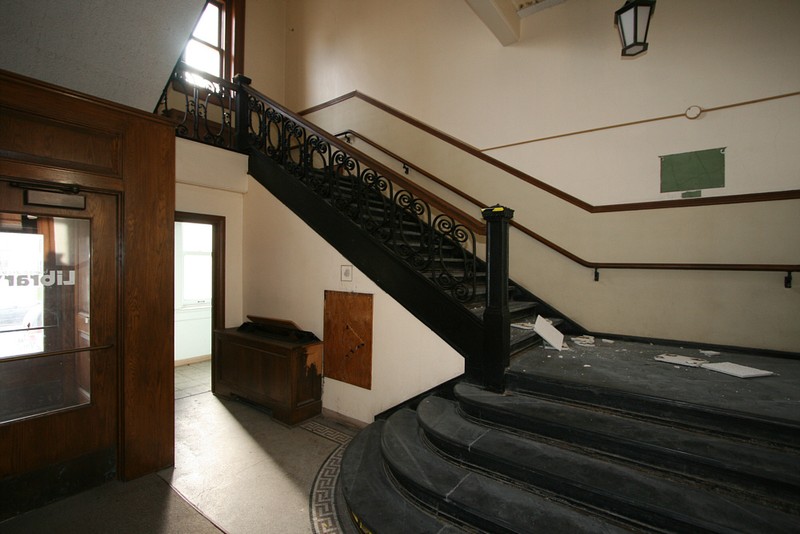 Learn more about the history of central New York-check out David Stradling's, The Nature of New York: An Environmental History of the Empire State-click the link below.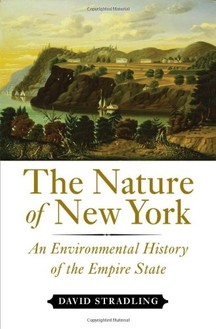 Backstory and Context
In 1901, philanthropist Andrew Carnegie contributed $75,000 for a library in Binghamton. Two years later construction began, at a time when construction was booming in the rapidly growing town. That year saw construction of the library, the neighboring Security Mutual Life building, and around the corner on Chenango Street, the 12-story Press Building. 
Binghamton's new public library was designed by architects Sanford and H.A. Lacey, and, as one of the last projects of his career, Isaac Perry acted as design consultant. 
The neoclassic-style yellow brick building is trimmed with limestone. A two-story front entrance portico is of Greek Ionic style and the steeply pitched concrete roof is covered with red clay tile. Names of thirteen literary icons including Emerson, Homer, Plato and Shakespeare are etched in stone above the large windows.  
Inside, grand arched passageways, brick fireplaces, rich wood trim and twin staircases dominate the first floor. Library shelves once filled the mezzanine, and upstairs is a magnificent amber skylight.  
On the occasion of laying the cornerstone, which can be seen at the northwest corner of the building, the facility's first librarian, William F. Seward, spoke of Binghamton's new public library as "the people's university." Functioning as a library, historical museum and community center, the institution successfully filled that role for nearly 100 years. In 2000, a new home for the library was built nearby and since that time Carnegie's "gift to Binghamton" has remained vacant.
Additional Information