Concord Museum
Introduction
For well over a century, this museum has offered exhibits that connect residents and visitors to the history of Concord. The museum dates back to a local resident who collected artifacts and histories. This collection soon became a regular museum operated by the Concord Antiquarian Society. The museum offers an impressive collection of items from the colonial period and early 19th century in addition to artifacts and collections related to early businesses, military history, women, and local culture and art.
Images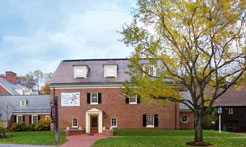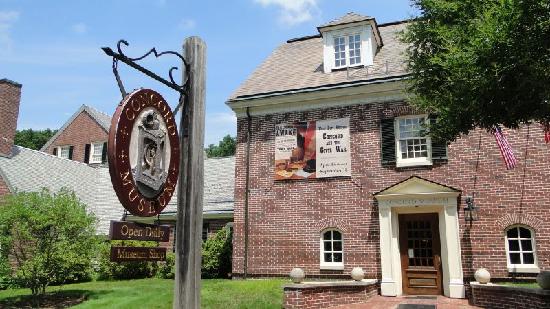 A view of Thoreau at the Concord Museum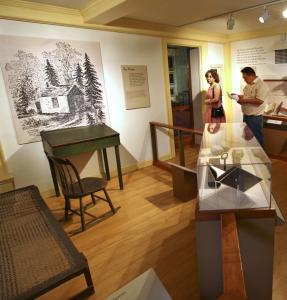 Backstory and Context
In July 1850, Cummings Davis (1816-1869) whose collection of historic artifacts would form the basis of the museum in its early years moved to Concord. Davis opened a store that sold food, drinks, newspapers, and other items at the train depot, He later moved his business to the center of the town.
Cummings Davis started collecting artifacts and information about local history. He soon amassed a collection of artifacts from the colonial period along with other items. After a decade, his collection was large enough to share and by 1870, his collection attracted a large numbers of visitors. During the Centennial Celebration in Concord 1875, the Revolutionary War relics and other items Davis displayed attracted four thousand people.

To secure a better place for the arrangement and exhibition of Davis's collection, a group of thirty Concordians offered to pay to secure a room at the courthouse in 1881. In 1886, two thousand objects were transferred to the newly-formed Concord Antiquarian Society. In 1887, Concord Antiquarian Society expanded their location and bought Reuben Brown's historic house to display the collection. In 1893, Davis's health failed and he died at age eighty, but his work lives on.
The museum grew and the Concord Museum was constructed as Davis's home and room in the courthouse were insufficient to hold the collection. In 1981, the Davis building was completed for educational programs and administrative purposes.
Sources
"History of the Museum". Concord Museum. Retrieved Mar 28, 2015 from http://www.concordmuseum.org/history-of-the-museum.php
Additional Information