The Wayside
Introduction
The Wayside is a historic Concord house that was briefly the home of Louisa May Alcott and her family during her childhood and inspired many of the scenes she later depicted in her novel "Little Women." For a longer period, it was the home of another significant literary figure, Nathaniel Hawthorne, author of "The Scarlet Letter," and his family. Later, it was the home of Margaret Sidney, a children's author. Alcott's family housed an escaped enslaved man during their time here and their extended family included many abolitionists, including Judge Samuel Sewall who wrote an early anti-slavery tract called "The Selling of Joseph." Alcott's brother Samuel J. May was also a founding member of an abolitionist site as well as a conductor on the Underground Railroad.
Images
Front of The Wayside house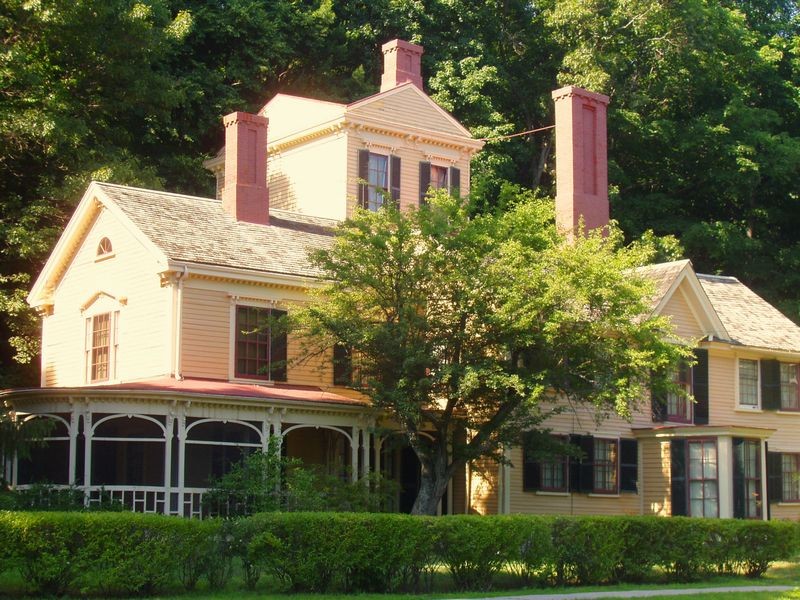 This marker discusses the role of this home as hosting at least two slaves on their way to freedom along the Underground Railroad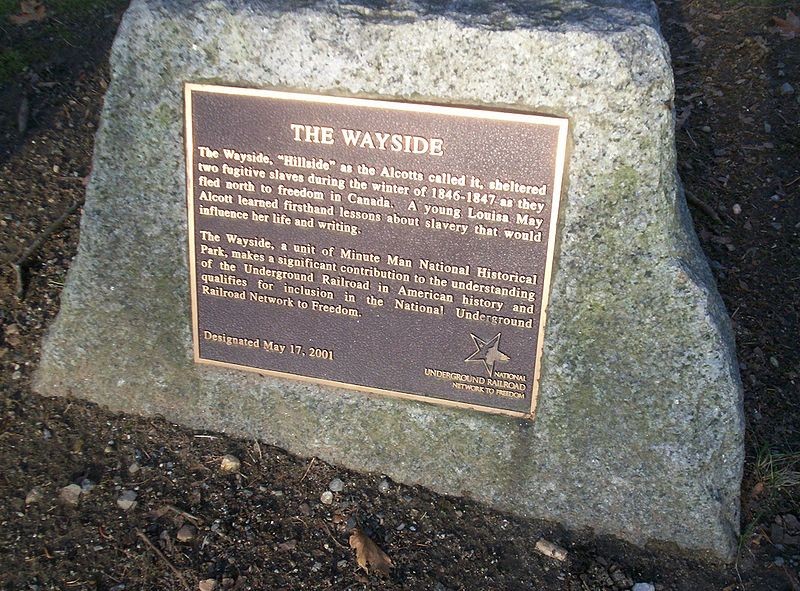 Parking is located just across the street.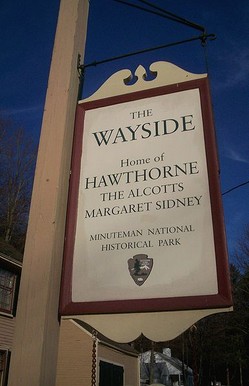 Backstory and Context
Before the Alcotts arrived at the home, local militia member Samuel Whitney lived in the home and his family would have observed British troops passing through the town prior to the confrontation at the North Bridge that led to the start of the American Revolutionary War. Wayside was also home to scientist John Winthrop when Harvard College was relocated to Concord for nine months. 
The Alcotts came into possession of the home in 1845 and named the property "hillside." The Alcotts immediately began to renovate the home, which at that time was a modest structure known today as a "colonial saltbox" style of home. In this house, the future author Louisa May Alcott and her sisters lived out many scenes that would later shape the book "Little Women." Louisa Alcott's brother, Amos Bronson Alcott opened the home to many people, and the house was even home to meetings by abolitionists and sheltered fugitive slaves on their way to Canada. While most sites on the Underground Railroad are difficult to chronicle, Louisa confirmed this in her journal, saying "fugitive slaves were sheltered under our roof." Bronson hoped that these experiences would teach a lesson for his family. 
After the Alcotts moved out of the home in 1848, the house became the home of famed author Nathaniel Hawthorne, whose family renamed the home to what it is now known today, "The Wayside". The Hawthornes called The Wayside home until Nathaniel's death in 1864. The home was made open to the public in 1927 by the daughter of Margaret Sidney, who was author of the "Five Little Peppers" book series. The Wayside became known as "Home of Authors" and was made part of the Minute Man National Historical Park in 1965. The home's role in the Underground Railroad was also recognized in 2001 when the National Underground Railroad Network to Freedom placed a marker on the site.
Sources
http://www.nps.gov/subjects/ugrr/discover_history/underground_map.htm http://www.newenglandtravelplanner.com/go/ma/boston_west/concord/sights/wayside.html http://www.nps.gov/mima/planyourvisit/placestogo.htm
Additional Information