Argus Mill
Introduction
This three-story brick building at 6 Mill Street was constructed in the mid-1870s as a warehouse for the textile mill R & H Adams, which was located on the west side of Mill Street. Robert and Henry Adams manufactured mosquito netting at the mill, and they stored the netting in the building at 6 Mill Street. The building later housed the Argus Yarn Mill starting in the 1940s. The interior of the building collapsed and had to be gutted before being restored in 2012. In 2020, plans were being made for the vacant building to be renovated again and turned into affordable housing and office space. Argus Mill was added to the existing National Register historic district for Great Falls of Paterson/Society for Establishing Useful Manufactures (SUM) in 1986, which already included the former mills across Mill Street. It also is listed in the City of Paterson Register of Historic Places.
Images
Front and parking lot side of Argus Mill, looking E from Mill St. in 1984 (James Richardson)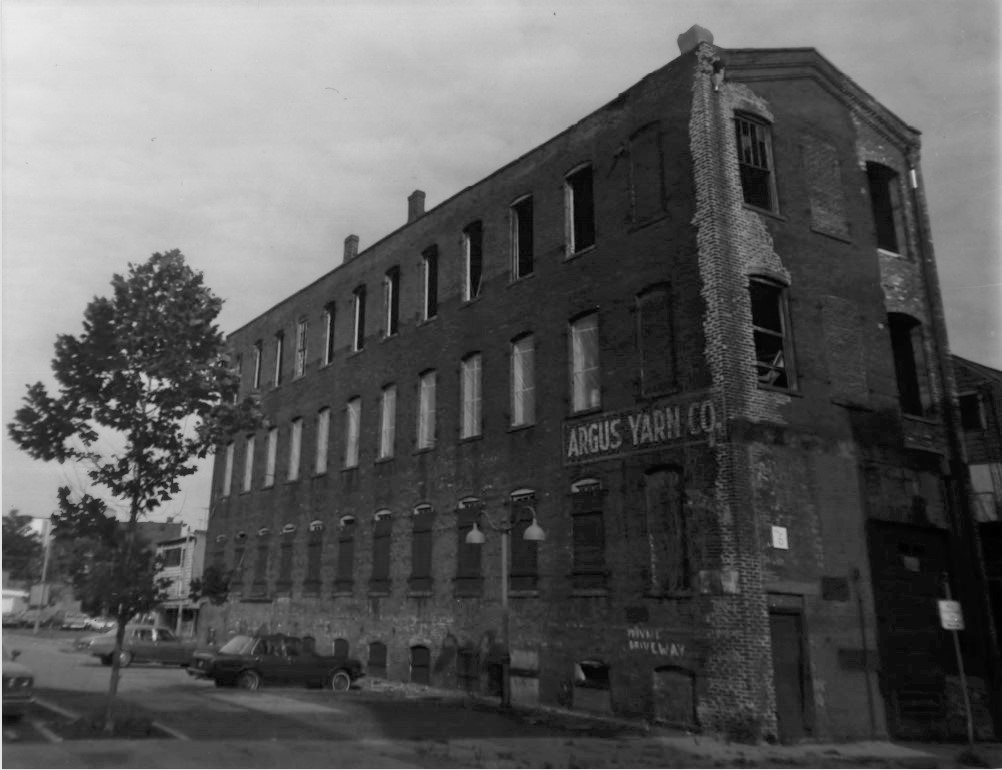 Map of Great Falls of Paterson National Register Historic District (yellow) & Argus Mill (Black circle), to be added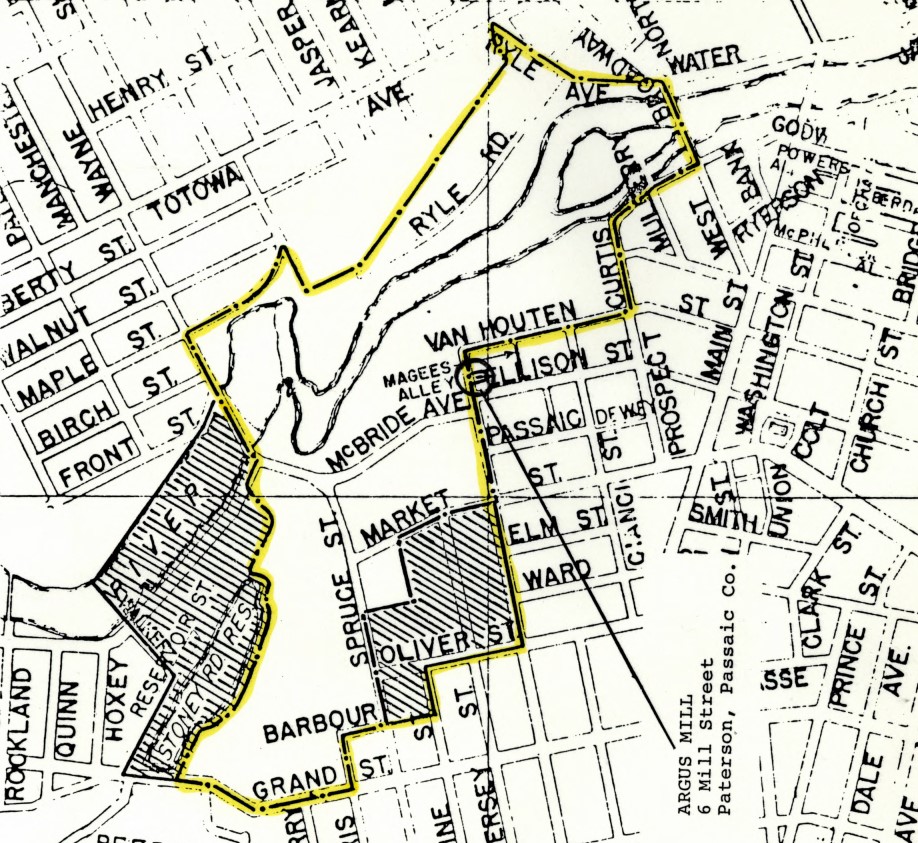 Sign manufacturing & storage at Argus Mills building (green arrow) on 1950 Sanborn map (p. 5)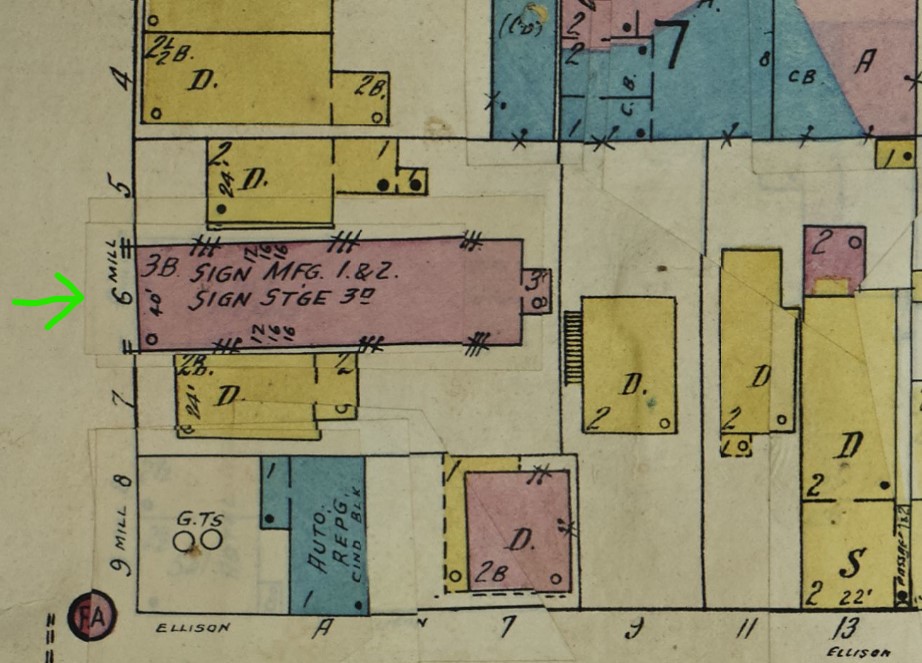 Vacant Argus Mills building (green arrow) at 6 Mill St. on 1899 Sanborn map (Vol. 2 p. 102)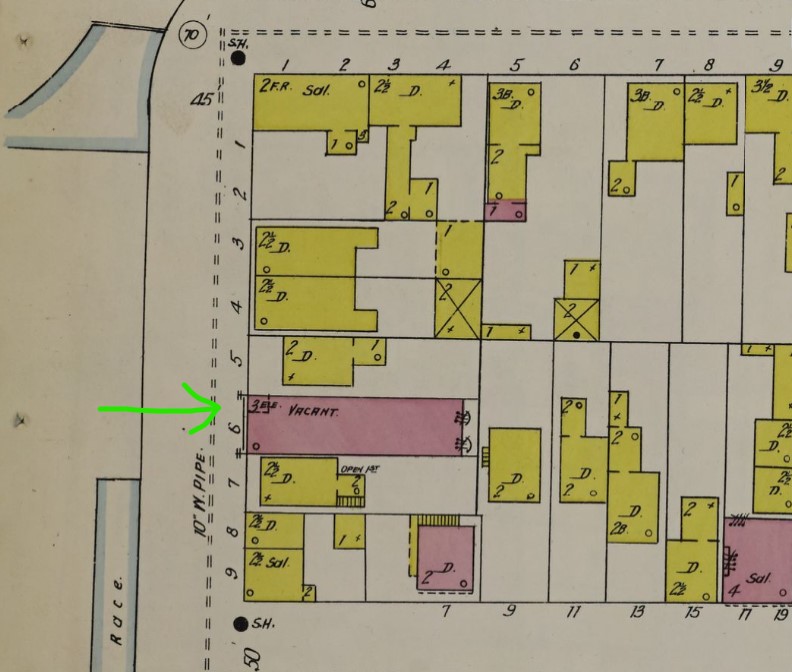 R & H Adams Warehouse at Argus Mills building (green arrow) on 1877 Sanborn map (p. 4)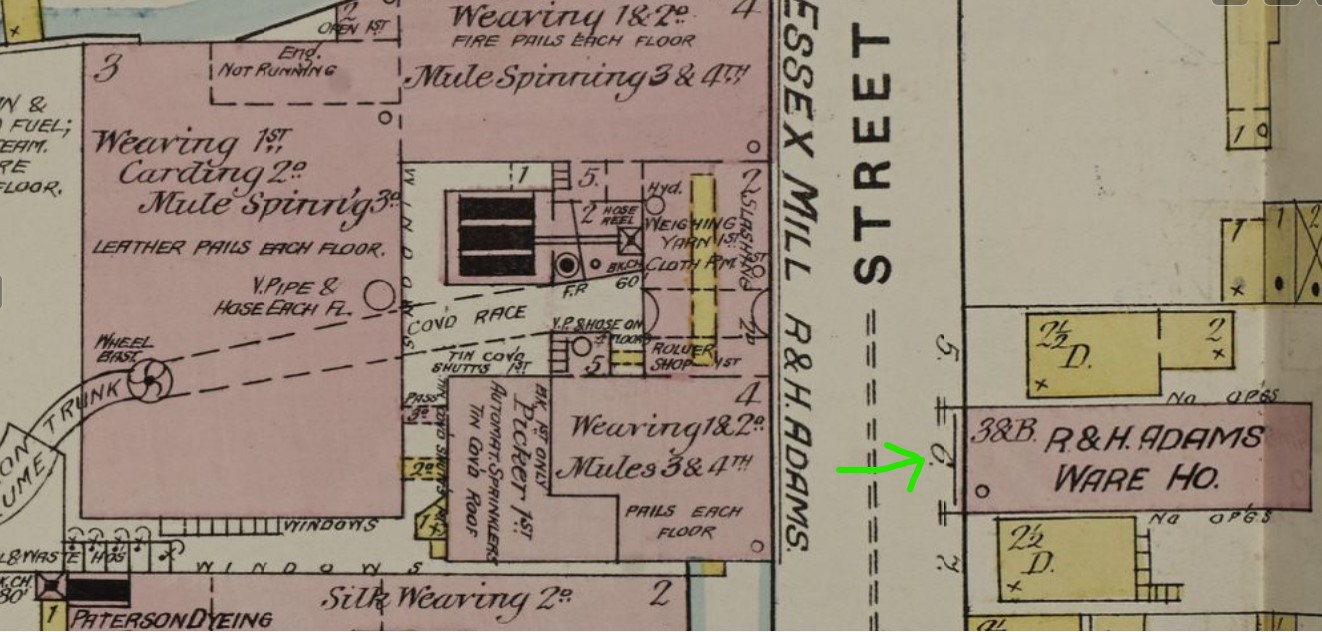 Rear & S sides of Argus Mill in 1984 looking W; Essex Mills in background (Richardson)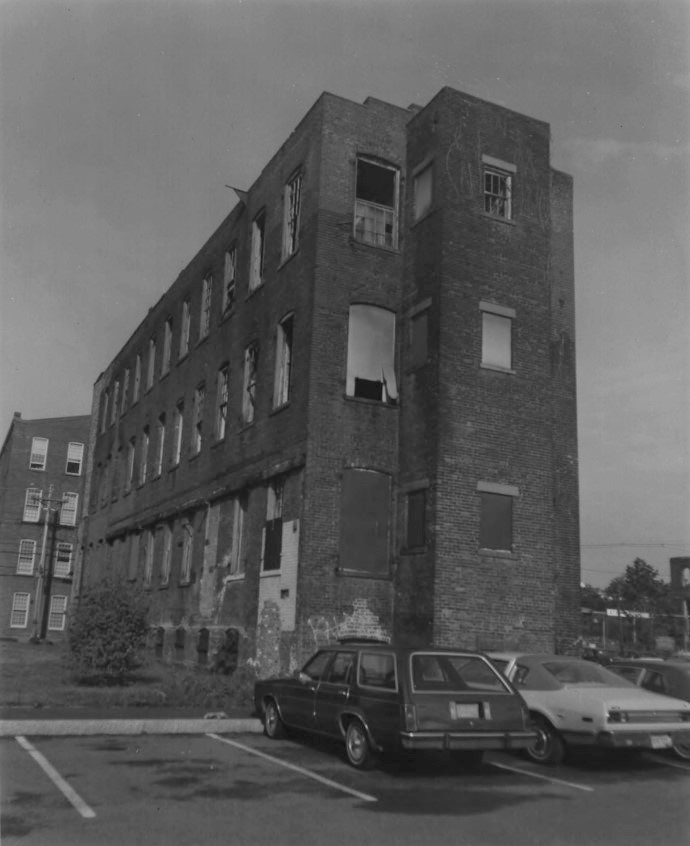 Backstory and Context
William Adams manufactured mosquito netting in New York City in the 1830s. With his sons, Robert and Henry, William bought a former cotton factory in Paterson, Harmony Mill. William Adams and Company later became R & H Adams. The Harmony Mill burned down in 1869; the brothers bought Essex Mill (on the west side of Mill Street) in 1870 from the Passaic Manufacturing Company, and made improvements to the brick structures, fed by mill races. The brothers bought the property across the street from Essex Mill in 1876; this is likely when they had the three-story brick warehouse built (on the east side of Mill Street, 6 Mill Street). The new brick warehouse was on a block with wood frame dwellings, directly across Mill Street from both the Essex Mill and Franklin Mill complex of brick buildings.
Robert Adams retired in 1879. By 1881, 280 people worked in Essex Mill. R & H Adams went out of business by the late 1890s; Henry Adams sold the property at 6 Mill St. to Tisha Gordon in 1899. The building at 6 Mill Street was vacant in 1899, according to the Sanborn map of Paterson, and still neighbored by wood frame dwellings, with saloons on each corner of the block. Henry Gordon owned the building from the 1920s to 1941 and it was known as "Gordon Mill." Gordon was a dealer in spun silk yarns, tram, and organizine.
The Argus Yarn Company was manufacturing from another location in Paterson in the 1930s, at 26 Fulton Street. Aaron Minoff was the head of the company by 1938; he lived in Paterson by 1923 and worked as a weaver. By 1942, the company moved to 35 Fulton Street, where they sorted waste and textile byproducts. The firm bought the 6 Mill St. building from Henry Gordon, and the building became known as "Argus Mill." The building housed a sign manufacturing company by 1950.
The Argus Mill building was owned by Paterson Renaissance Organization by the mid-1980s. The building's exposed beams, brick walls, and windows were retained in early twenty-first century renovations, and the "ghost" sign reading "ARGUS YARN CO" is visible on the southwest corner, facing the parking lot. The restoration project incorporated modern building guidelines for a school, and the building was to be used as an educational space for fifth and sixth graders. The property was available to lease in September 2014. Longstreet Development is the firm that renovated the historic building in 2012. The property was managed by the firm's association company, Alexa Management. Both firms have offices a few doors up Mill Street, in the John Ryle House (9 Mill St., also a Clio entry, with the adjacent Daniel Thompson House at 8 Mill St.). The proposed renovated Argus Mill building is slated to contain six apartments, community space, and office space. The adjacent parking lot will be the location of a ground-level parking garage topped by a four-story apartment complex with 68 more apartments. The housing units are intended for low-income, multi-generational households with grandparents raising grandchildren. The Grandparent Relatives Care Resource Center will occupy 1,000 square feet of office space. Lagos Partners is the developer for the proposed $36.6 million project, controlled by Owen Tonkins and Daryll Tyson.
Sources
Hawley, Monica E. Boucher, Jack. HAER of Essex Mill, Paterson, New Jersey, NJ-6. Historic American Engineering Record. Washington, DC. National Park Service, 1983.
Longstreet Development. Historic Argus Mill, Properties for Rent. July 25th 2013. Accessed March 15th 2021. http://www.longstreetdevelopment.com/property_view.php?from=renting&id=10.
New Jersey Bureau of Statistics and Records. The Industrial Directory of New Jersey. Trenton, NJ. 1940.
Price & Lee Company. Paterson Directory 1923. New Haven, CT. Price & Lee Company, 1923.
Price & Lee Company. Paterson Directory 1928. New Haven, CT. Price & Lee Company, 1928.
Price & Lee Company. Paterson Directory 1938. Newark, NJ. Price & Lee Company, 1938.
Price & Lee Company. Paterson Directory 1942. Newark, NJ. Price & Lee Company, 1942.
Rahman, Jayed. "Developers get 30-year tax abatement from Paterson for $36.6 million housing project." Paterson Times (Paterson, NJ) November 2nd 2020. Politics sec.
Rothe, Len. NRHP nomination for boundary increase, Great Falls of Paterson Historic District. National Register. Washington, DC. National Park Service, 1985.
Image Sources
https://npgallery.nps.gov/AssetDetail/NRIS/86001507

NRHP nomination, Great Falls of Paterson Historic District boundary increase (Rothe 1985), https://npgallery.nps.gov/AssetDetail/NRIS/86001507

https://www.loc.gov/item/sanborn05590_006.5/

https://www.loc.gov/item/sanborn05590_003/

https://www.loc.gov/item/sanborn05590_001/

https://npgallery.nps.gov/AssetDetail/NRIS/86001507

Additional Information