Continuum
Introduction
It's not often you get to see a painting in a dome but once you walk into the entranceway of the 401 N. Tryon Center building, look up. Artist Ben Long painted the dome of this outdoor breezeway in 1998. Long was born in North Carolina but trained as an apprentice in Florence, Italy to learn the technique of "buon" fresco painting.
Images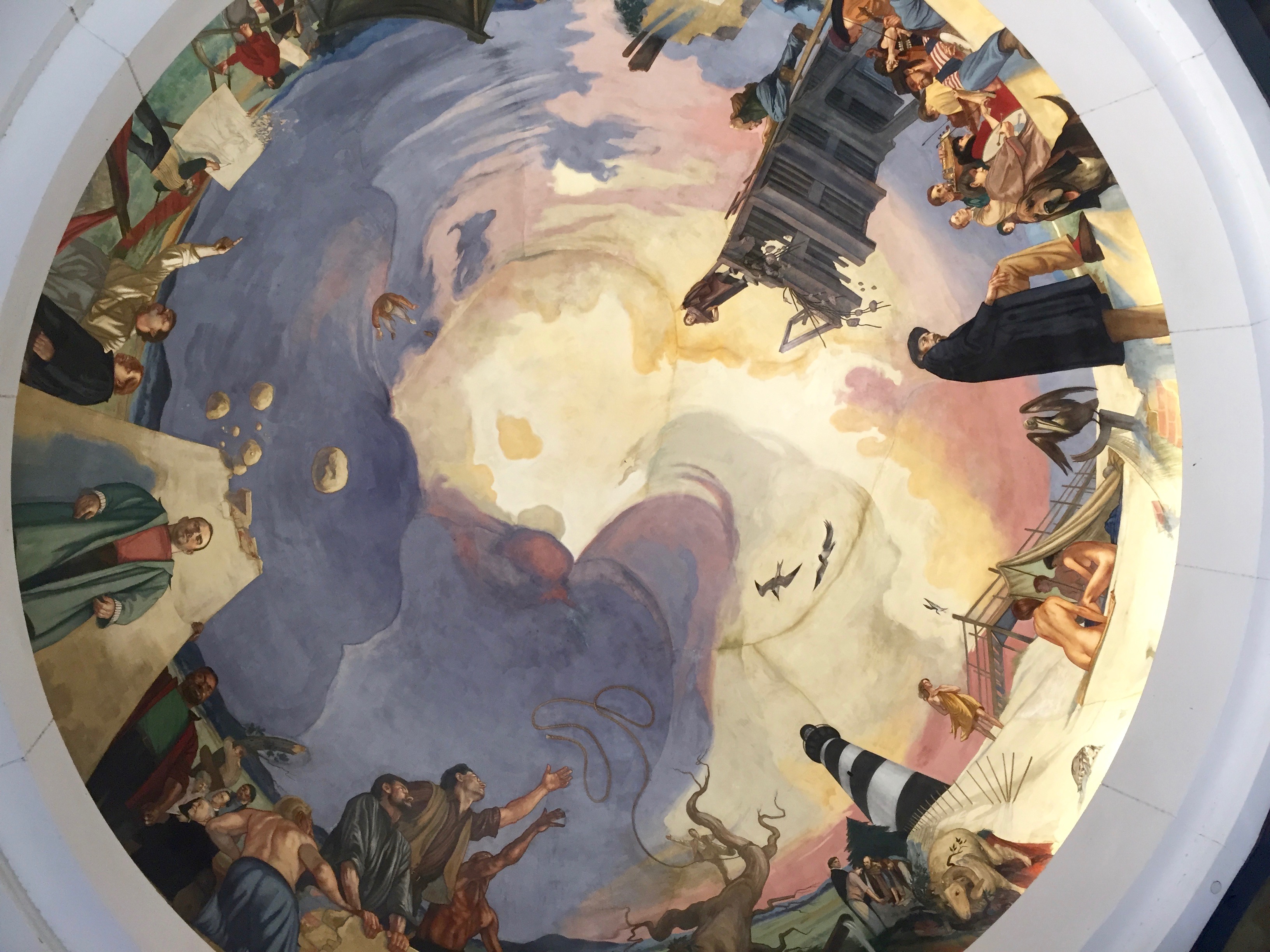 Backstory and Context
North Carolina native Ben Long was commissioned by the former NationsBank to create this mural. Long has several other mural commissions in uptown Charlotte including the Bank of America Corporate Center, the CMPD building on Trade Street, and First Presbyterian Church. Long grew up in Statesville, NC and now makes his home in the NC mountains and the South of France. He trained in Italy to learn the type of painting called fresco painting.  
Key Formal Elements:
Implied lines of the figures pointing
Space – the shape of the composition is a dome
Make the Connection: Fresco painting is a traditional type of painting but not used often by contemporary artists.  The fresco painting method was known to the ancient Romans and was prevalent during the Renaissance. Fresco painting involves painting into wet plaster directly onto the wall and is ideal for creating murals.  
Drawing on the traditions of illusionistic ceiling painting from the Renaissance and Baroque periods, Long uses heavily foreshortened figures and linear perspective to create the illusion of depth and an opening to the heavens. Individual vignettes or groupings of figures tell stories along the circumference of the dome. Can you find the self-portrait of the artist standing at an easel? Also included is a portrait of Hugh McColl, former chairman of the Bank of America and long-time patron of Long's art. Long tells a story of destruction and renewal to suggest the passing of time in this unique mural.
Sources
Accessed March 20th 2021. https://www.blueridgenow.com/news/20020512/ben-long-brings-an-ancient-art-to-the-carolinas.
Accessed March 20th 2021. https://www.postandcourier.com/aikenstandard/lifestyle/feature-columns/charlotte-offers-visitors-self-guided-fresco-tour/article_150015fe-b31b-5a92-8a55-b16eaae8077e.html.
Accessed March 20th 2021. https://www.charlotteiscreative.com/continuum-ben-long/.
Additional Information