Man Feeding the Poor
Introduction
This is one of the oldest murals in Charlotte so make sure that you take note of its location on the side wall of Spirit Square along 7th Street. Artist Allen Carter completed this mural in 1992 with the assistance of some local students. The artist uses line and color to share a message of service within our community.
Images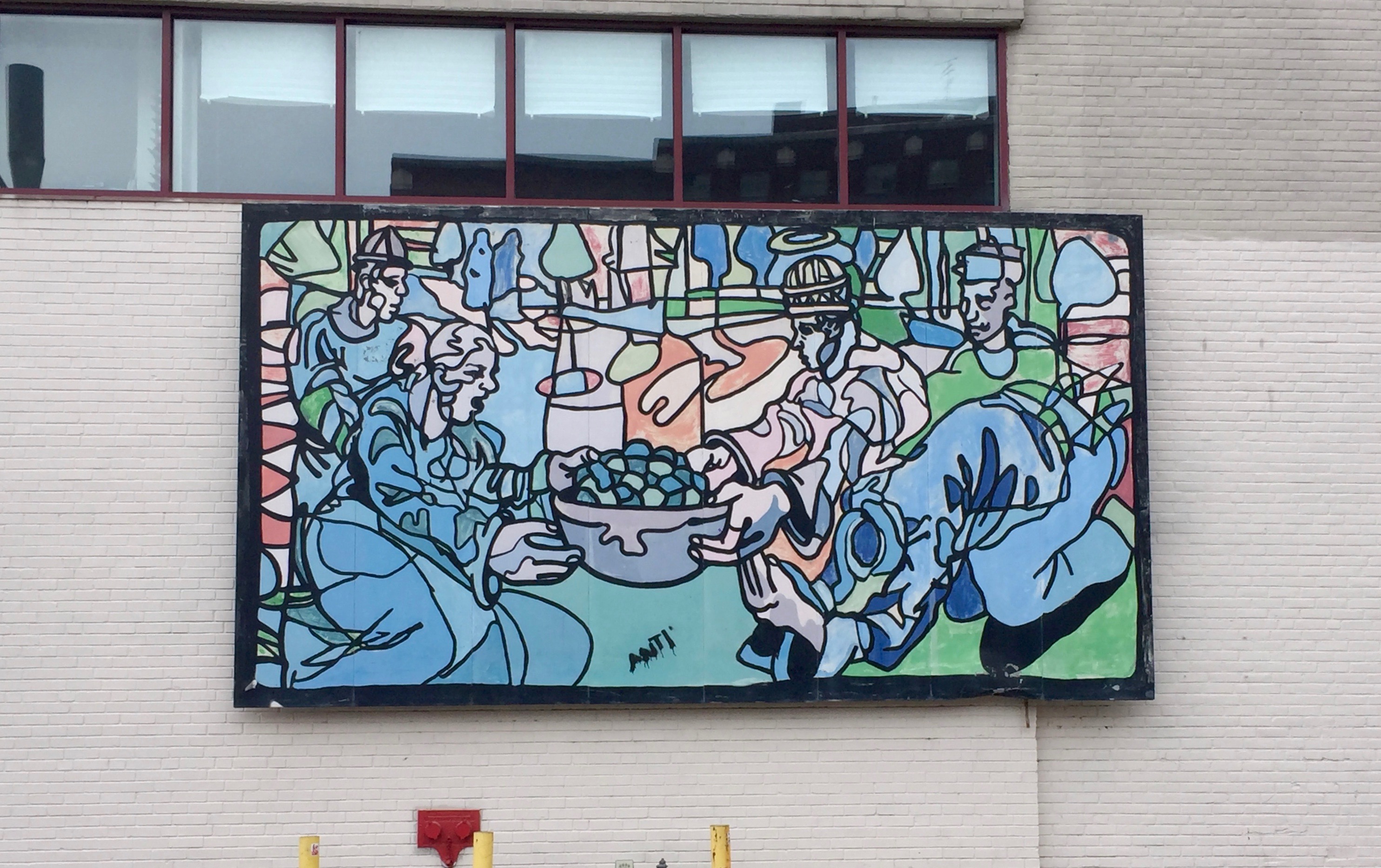 Backstory and Context
American artist Allen "Big Al" Carter (1947 – 2008) was a prolific artist and educator. His art was widely exhibited in the Mid-Altantic and Southern regions during his lifetime. He largely lived and worked in the areas around Washington, DC, teaching art in public schools and making his painting, prints and sculptures. Collected by many museums including the Corcoran Gallery of Art, Carter rejected the New York art scene and preferred to operate somewhat as an outsider in the art world. While visiting Charlotte in 1992, the artist painted at different sites and even participated in a panel discussion with local artists titled, "Public Murals Through Community Intervention." His art bridges the gap between modernism and traditionalism with his emphasis on abstract shapes, line and color but with the inclusion of figurative compositions. Brought up in a very religious family where both parents were preachers, spirituality often plays a role in his art. 
Key Formal Elements:
Use of outline and contour lines
Focal point is the basket of fruit
Make the Connection: 1992 is so very long ago in the history of community murals and public art in Charlotte. To put it in perspective, the oldest other mural that is still up is from 2008. The Public Art Commission in Charlotte only started overseeing a public art program in 1993.
The composition uses a lot of outlines around each of the figures in the painting. Contour lines inside the figure help to define the volume of each figure. In the center of the image, a basket of fruit is being shared between the main figures in the foreground of the mural. Perhaps the small depiction of a halo over the figure on the right identifies him as a religious figure.   
While not much else is known about this mural, local organization Charlotte is Creative recently published an article renewing interest in this historic piece. Much of their information was provided by Karen Beach and a 1992 paper "A Report on an Arts Administration Internship with Spirit Square Center for the Arts" by Karen L. Thompson.
Sources
Accessed March 22nd 2021. https://www.washingtonpost.com/archive/lifestyle/magazine/2006/05/21/living-color-span-classbankheadwhen-it-comes-to-selling-himself-to-the-art-world-big-al-draws-the-linespan/c679aa60-9d32-4b2e-bd8b-198f4958c2b1/.
Accessed March 22nd 2021. https://www.charlotteiscreative.com/man-feeding-poor-man/.
Additional Information