Fitchburg Public Library
Introduction
The Fitchburg Public Library (FPL) is a striking work of modern architecture that includes two parts, both designed by Harvard-trained Bauhaus-influenced architect Carl Koch. The Youth Library was dedicated in September 1950. The children of Fitchburg had collected pennies to help support its construction, and Eleanor Roosevelt visited and admired the light-filled open plan building when she visited shortly before its completion. It was the first free-standing children's library in the U.S. The Wallace Public Library was dedicated in 1967, and was also designed by Carl Koch. It replaced an 1885 library that had also been funded by Rodney Wallace.
Images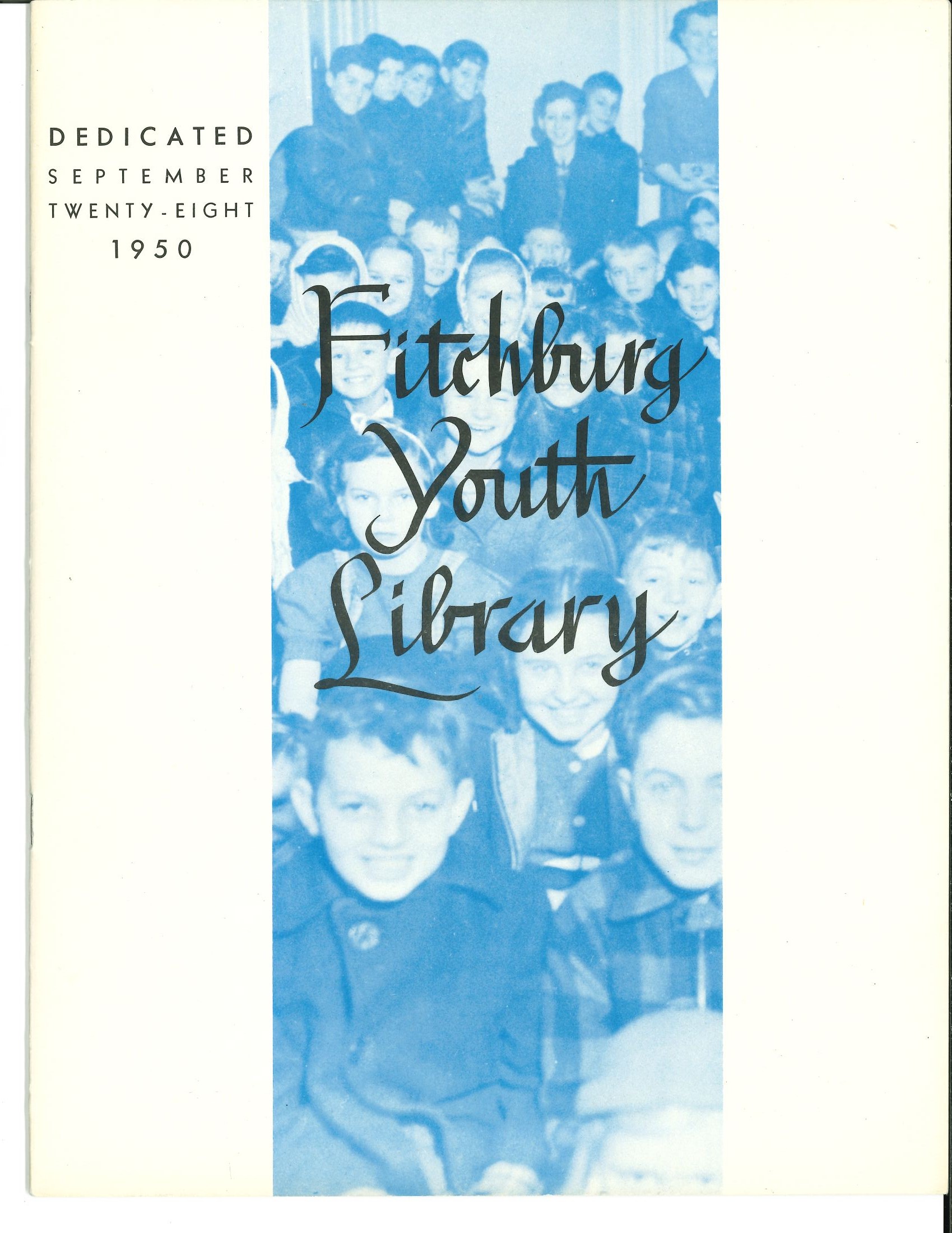 Title card: I Remember When TV Show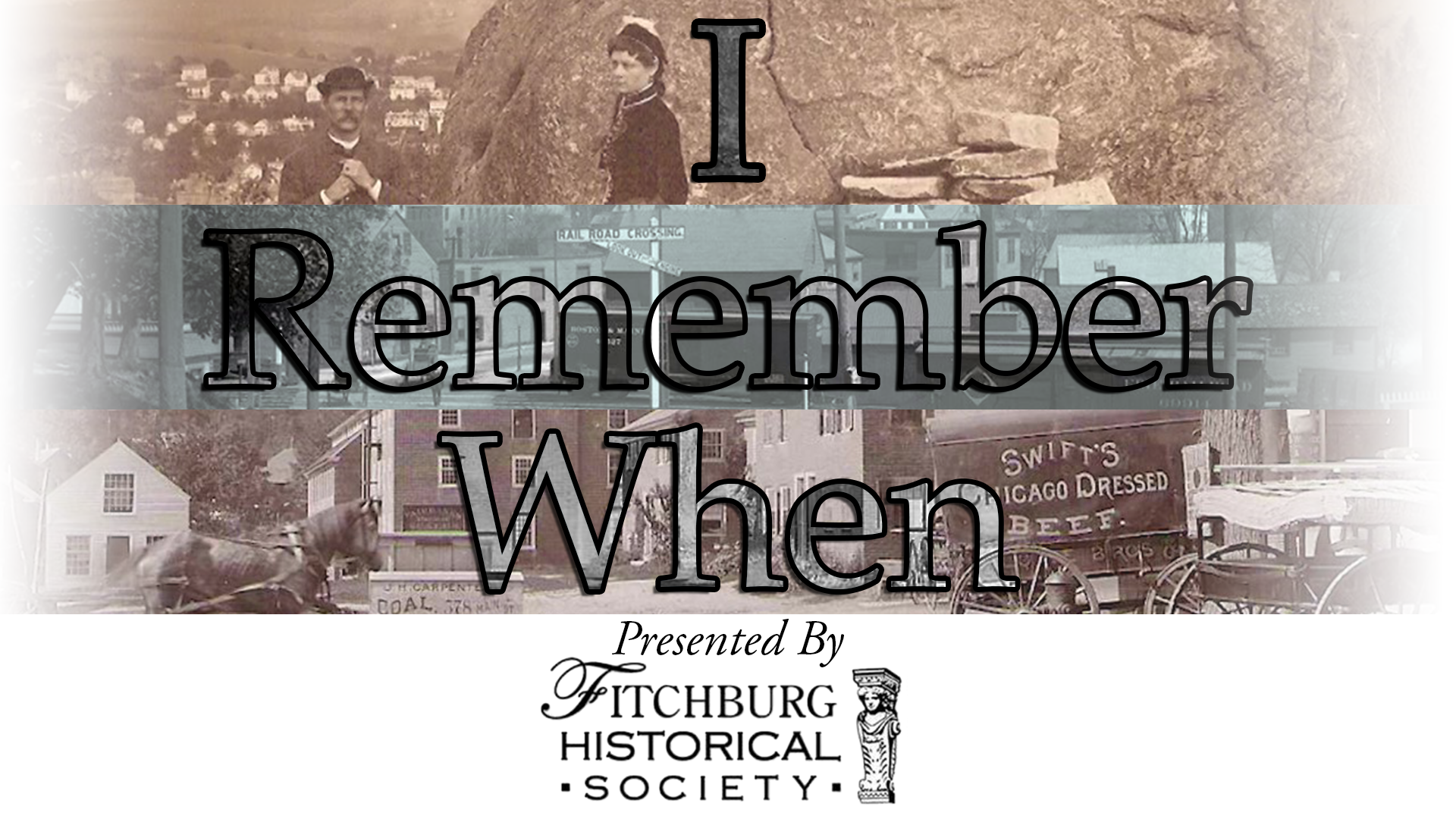 Fitchburg Public Library interior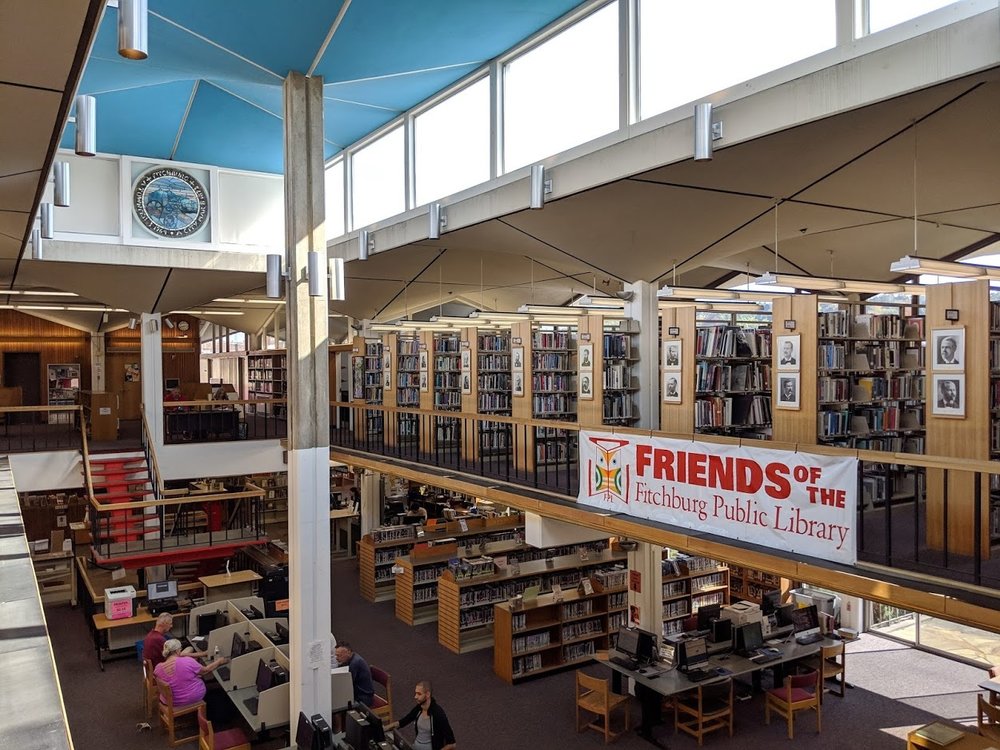 Owl symbol of Fitchburg Public Library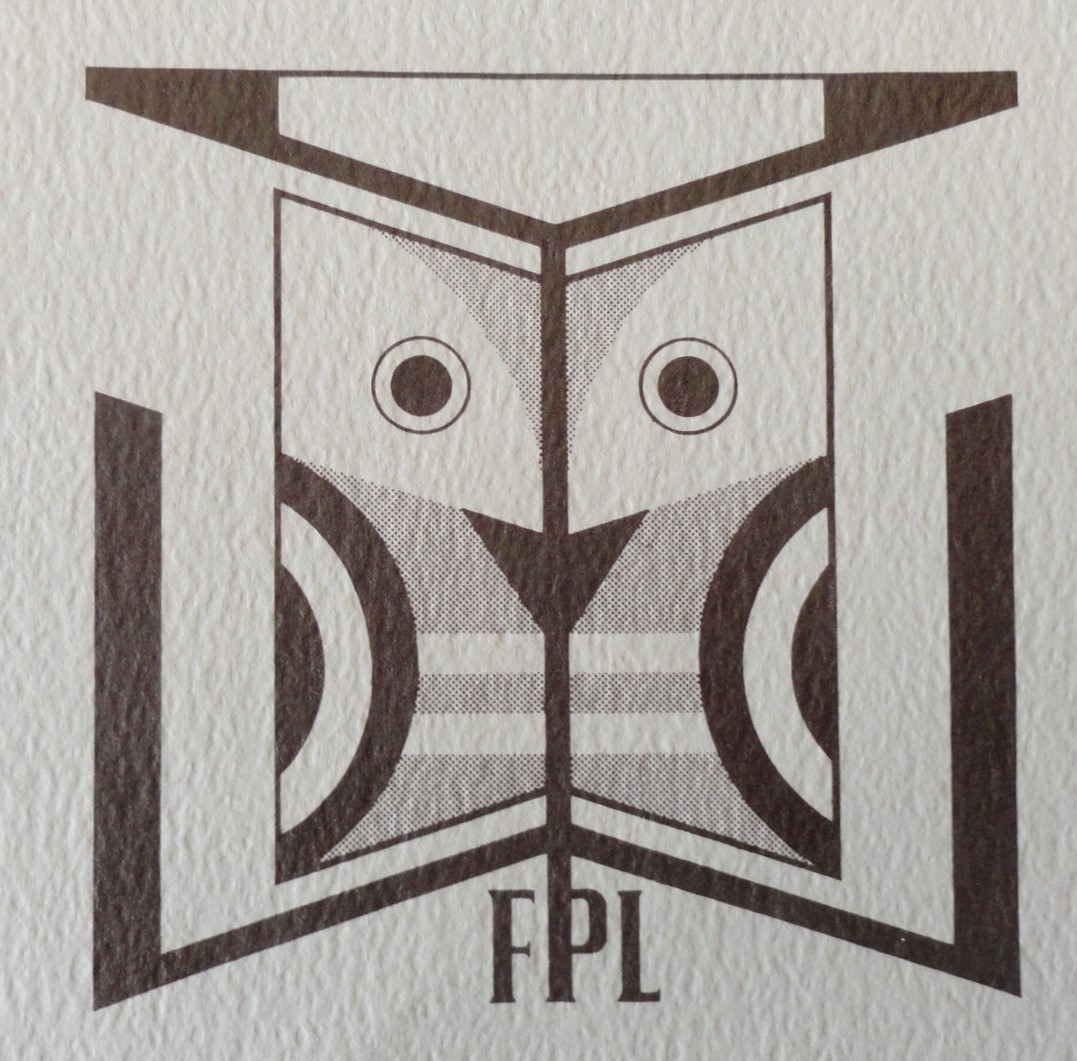 Fitchburg Public Library interior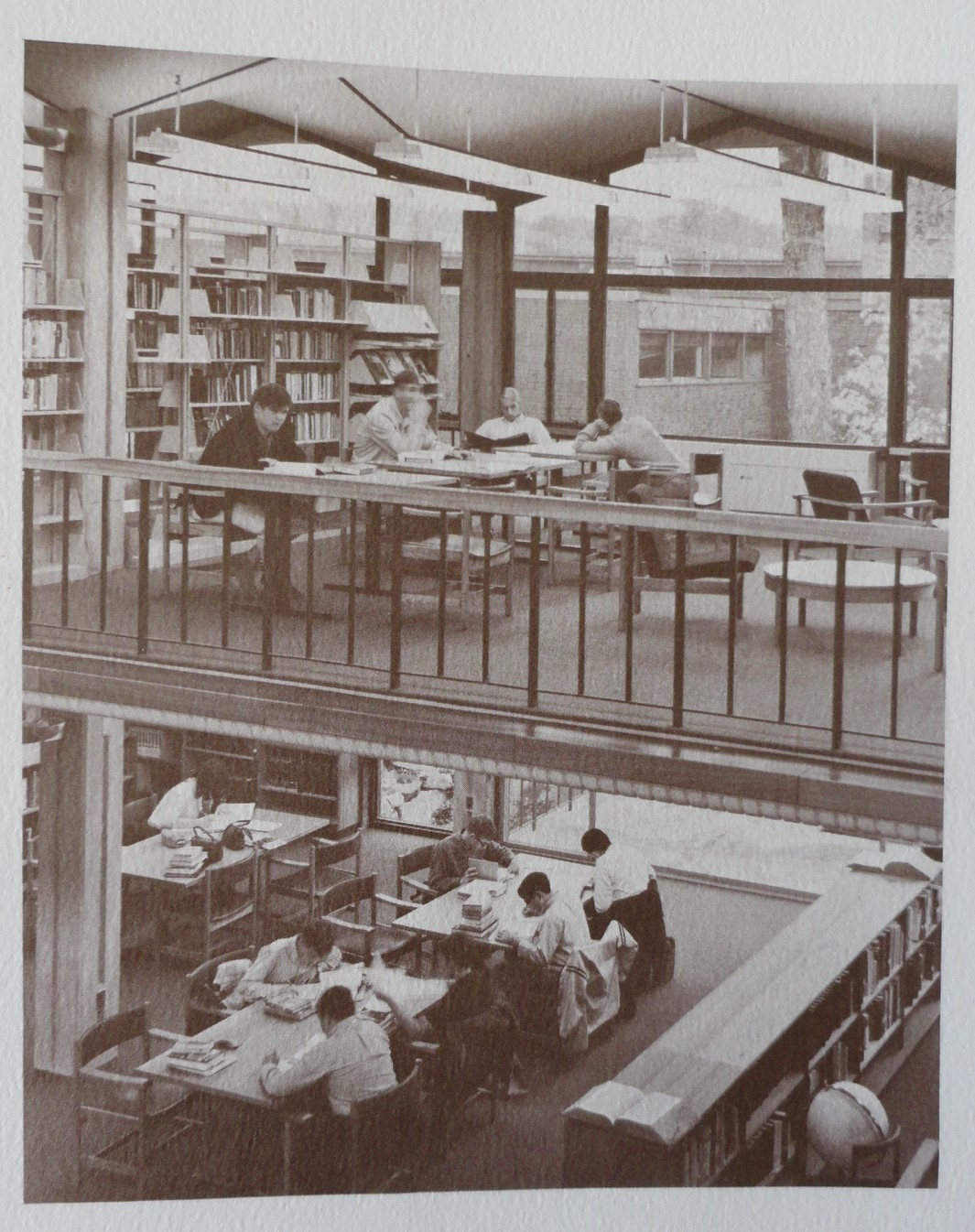 Fitchburg Public Library interior
Backstory and Context
Fitchburg's first free town library opened in the Town hall in 1859. It occupied rooms that had formerly been occupied by the private Fitchburg Athenaeum. In 1885, that library was replaced by a building on half of the current site. It was designed by local architect Henry M. Francis, which included a spacious art gallery on the top floor that was lighted by skylights. By the 1940's, the community was outgrowing the library, and increasing educational ambition and cultural opportunities in Fitchburg created the desire for a new and larger library. There was a Baptist church next door to the 1885 Wallace Library, they decided to build a new church on the newly laid John Fitch Highway. Additional land containing a four-tenement building extending from Newton Place to the Baptist church behind the original library had been contributed to the city by George R. Wallace in 1922, in order to make it possible for the library to expand into what eventually became the Youth Library.
Carl Koch came from Milwaukee to Massachusetts in order to study at the Harvard Graduate School of Architecture. The home he built for himself in Belmont, Massachusetts, on "Snake Hill", is known as a monument of early mid-century modernism. After serving as one of the "Monuments Men" in World War II and studying architecture in Sweden for a year, he began an architecture practice in the Boston area where he experimented with new forms of prefabricated building forms and the use of reinforced concrete to create new kinds of large, open-space buildings. The Youth Library shows the influence of the Bauhaus and Europe in his use of simple shapes, natural light, interaction between indoor spaces and outdoor garden areas, and warm textured color for decoration. Particularly striking is the indoor/outdoor fireplace in the reading areas and the monumentally scaled auditorium, with its long glass wall.
The later 1967 library uses large cast reinforced concrete to create tall open spaces that give an airy feel and a high, light-filled clerestory at the center. Both buildings were built by H. Vincent Lindberg, contractor, and many of the interior fittings and decorations were created by Fitchburg businesses.
The designer for both buildings was Gyorgy Kepes, who created the abstract baked enamel frieze around the Youth Library, the back of the Wallace Library and over the front door. He also created the three bas-relief owls that can be seen on the Youth Library from Newton Place. He collaborated with Laszlo Moholy-Nagy in Berlin during his youth, and later taught at MIT, where he founded the Center for Advanced Visual Studies. In 1995 the Hungarian government endowed a museum in Eger, Hungary, devoted to housing a major collection of Kepes' paintings, drawings and photographs as well as his archives. A permanent collection of his photographs is in Hungary's National Photography Museum.
The Wallace family donated more than $600,000 for the library. When it was opened, the Fitchburg Sentinel claimed, "It adds a striking contemporary note to the Main Street scene...With its charming garden, its attractive decor, its flowing lines, the Wallace Library will be an ideal place for working or reading for pleasure. The old library, a beautiful and functional building in its day, was no longer large enough or suitable by modern standards. Consider, for instance the long flight of stone steps that led to the old building...The new building is entered at street level, and no one need climb a stair to avail himself of most of the library's services."
Fitchburg's librarians were praised in an article in a July 1946 Saturday Evening Post. It described the expansion and heavy usage of the library by war veterans, high school students and other locals, encouraged by the work of Miss Ruth Hyatt (Librarian) and Miss Alice Cushman (children's librarian) and Miss Helen Hutchinson, reference department.
Sources
Subject File, "Fitchburg Public Library", Fitchburg Historical Society
"I Remember When - Special: Carl Koch and Mid-Century Modernism" by the Fitchburg Historical Society and Fitchburg Access TV.
Image Sources
Fitchburg Historical Society

Fitchburg Historical Society

Fitchburg Public Library

Fitchburg Public Library Publication

Fitchburg Public Library Publication, Annual Report

Fitchburg Public Library Publication, Annual Report

Additional Information