Fly Girl
Introduction
Painted in 2019 for the Charlotte Shout festival, this mural by artist Sloane Siobhan almost hides in an alley on the side of a parking deck. But don't miss the beauty of its female figure, creative lettering and inspiring message. This mural is located down 4th Street across from a dentist's office.
Images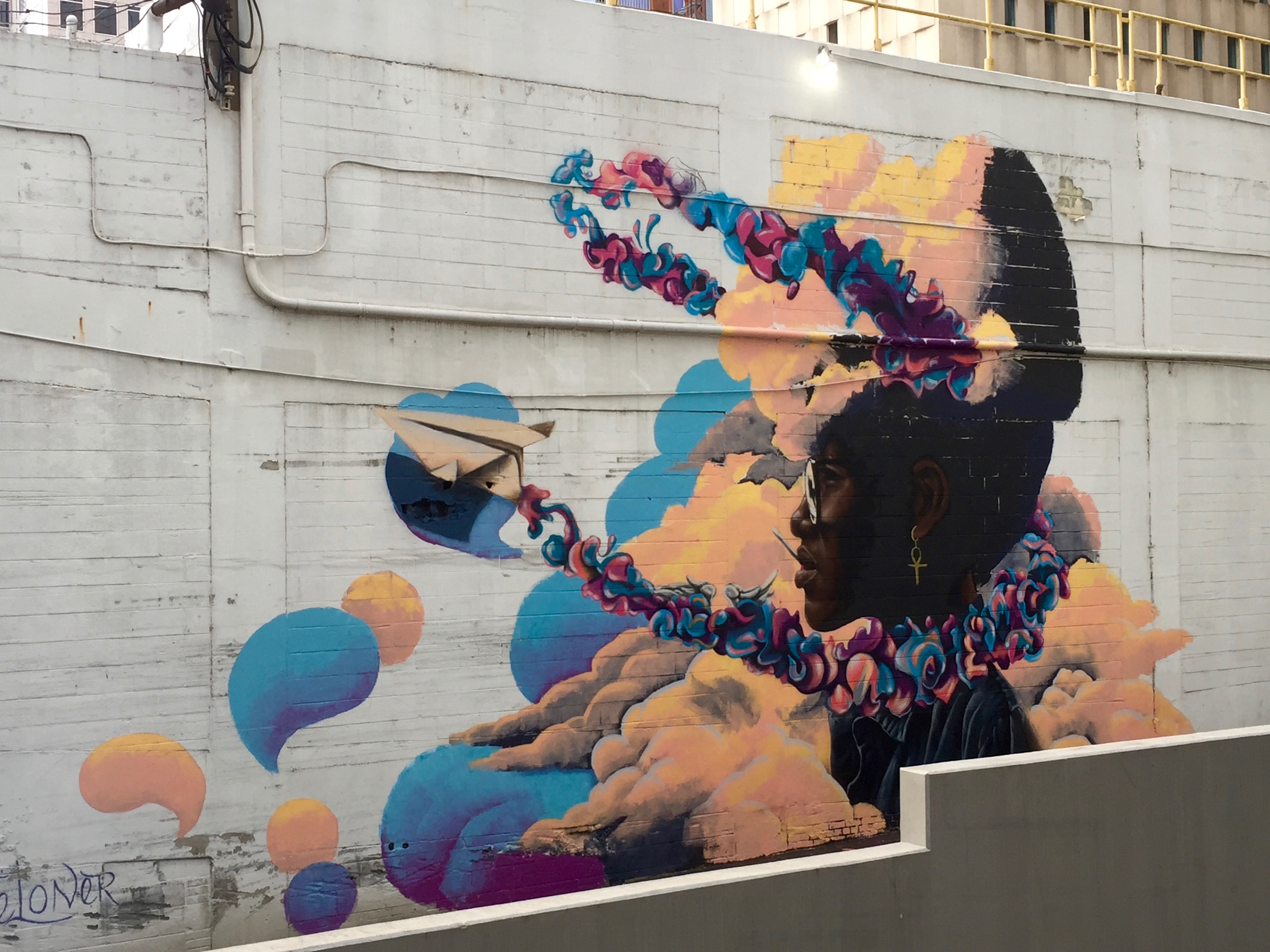 Backstory and Context
Former Charlotte resident, artist Sloane Siobhan received her BFA in Studio Art from Appalachian State University. She now works out of Las Vegas and came to Charlotte to paint this mural for the Charlotte Shout festival in collaboration with Talking Walls. The Charlotte Shout festival was a celebration of art, music, and ideas that coincided with the commemoration of Charlotte's 250th anniversary and was held in May 2019.  
Key Formal Elements:
Asymmetrical balance
Blue and orange complementary colors
Make the Connection: Siobhan nestles a profile of an African-American female in light and fluffy blue and orange cloud-like forms. A flowing ribbon of wild style graffiti lettering leads your eye to the paper airplane. In a description of the work, Siobhan wrote, "because despite the cards dealt you can rise." While this was completed before the national racial reckoning of the Summer 2020, Siobhan skillfully directs our attention to "all the little Black girls and their dreams." As a social justice statement, the artist inspires Black girls to dare to dream and overcome the biases of racism. The mural inspires in its message and delights with its visuals. 
Sources
Accessed March 23rd 2021. https://clclt.com/charlotte/rising-artist-sloane-siobhan-maps-Black-girl-magic/Content?oid=7622585.
Additional Information