Strange Fruit Mural
Introduction
This mural by artist Dammit Wesley is an important social justice statement. It is located on a tucked-away side wall on Tryon Street between the business at the corner of E. 7th Street and Spirit Square. Completed in 2018, it was a commission as part of the Talking Walls mural festival.
Images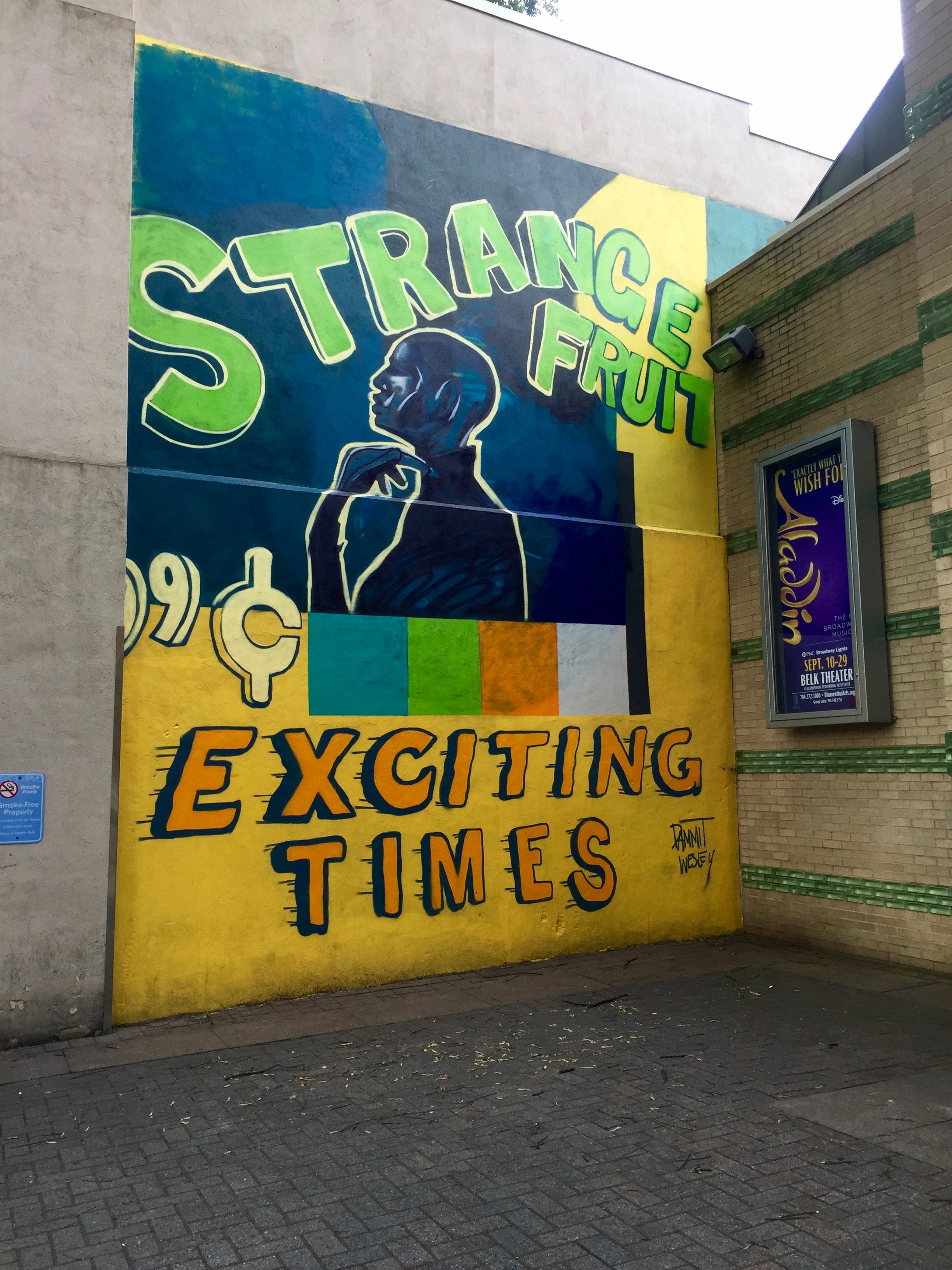 Backstory and Context
Dammit Wesley is a community leader, social and political activist, and outspoken supporter of creatives of color. Wesley received his BFA from Winthrop University. He is a founder of the BlkMktCLT and a leader in the artistic community in Charlotte. In 2020, he was one of the project directors for the Black Lives Matter mural in uptown Charlotte. His art sheds lights on the Black experience through the lens of popular culture. This mural was completed during the inaugural year of Talking Walls in 2018. Talking Walls is a city-wide public art and mural festival bringing together artists with diverse styles and backgrounds to create murals around the city. 
Key Formal Elements:
Strong use of outline
Secondary colors of green and orange
Make the Connection: Look at the prominent title above the main figure in the mural. "Strange Fruit" refers to the song recorded by Billie Holiday in 1939. The song was written by Jewish American writer, teacher, and songwriter Abel Meeropol in 1937. The lyrics of the song compare victims of lynching to fruit hanging from trees. "Strange Fruit" became Holiday's biggest selling recording and in 1999 Time Magazine named it "Best Song of the Century." At the time of recording, Holiday's label, Columbia declined to record it and Holiday went to a smaller label. 
Without knowing at least something about the reference here by the artist, it is easy to miss the entire content of this work. Wesley places the iconic song titled with its condemnation of racism with the reference to times of today. Connect the figure and the words to determine the meaning of this mural. 
Sources
Ellis, Maddie. "Black muralists in Charlotte talk about the meaning behind their art around the city." Charlotte Observer (Charlotte) June 8th 2020. .
Additional Information