Harriet Beecher Stowe and Abraham Lincoln Statue
Introduction
Harriet Beecher Stowe was the best-selling author of Uncle Tom's Cabin, the wildly popular 19th-century anti-slavery story. The novel made Stowe a household name in the era and garnered her an audience with then President Abraham Lincoln. Stowe was a writer, publishing more than 30 books, and an ardent abolitionist. She was also a mother and a Christian, which strongly informed her views on slavery. Stowe's novel is widely read and commonly taught even today.
Images
Statue depicting the meeting of Harriet Beecher Stowe and Abraham Lincoln in the downtown Hartford Riverwalk Statue Park.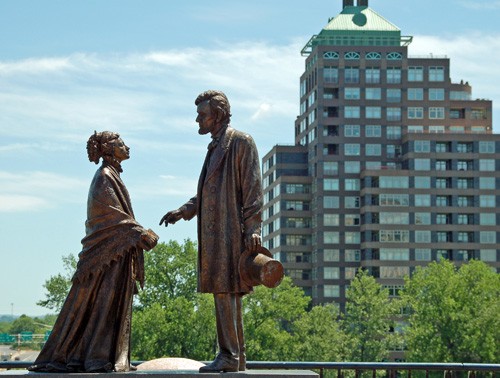 Backstory and Context
Harriet Beecher Stowe was born June 14 of 1811 in Litchfield, Connecticut. Her father, Rev. Lyman Beecher, and her mother, Roxanna Foote Beecher, had 11 children all together. Harriet was the sixth. Her later success can be at least marginally attributed to her parents who urged all the Beecher children to act as agents of change. All of the 7 Beecher boys became ministers, and the oldest daughter, Catharine was a ardent advocate for the education of women. The youngest daughter, Isabella, founded the National Women's Suffrage Association.
When Harriet was just five her mother died. The young girl would take up writing, drawing and painting very much in her mother's honor, as she had a talent for these arts. While in primary school Beecher won a school essay contest; she was just seven. Harriet's father got married again when Harriet was young, to Harriet Porter Beecher. The woman was supposedly very beautiful and treated her stepchildren kindly. She added three of her children to the family- Isabella, Thomas, and James. The family created a great environment for learning and debate. They boarded at Tapping Reeeve's Law School. Harriet's father taught religion at Sarah Pierce's Litchfield Female Academy. The intellectual conversation was common for the family. Stowe started her education at Sarah Pierce's Academy and was one of the very first girls encouraged to learn academic subjects as well as simple arts and trades. She then attended Hartford Female Seminary, an institution founded by her sister Catharine. She later graduated, and the accepted a teaching position.
When Harriet turned 21 she moved to Cincinnati, OH where her father taught at a prominent seminary. It was this year, 1832, that Harriet meet Calvin Stowe, a theology professor. Harriet and Clavin had 7 children. However, Stowe lost one of her sons; Samuel Charles was just 18 months old when he died of cholera. Stowe later described the intense pain and lost she felt as one inspiration behind Uncle Tom's Cabin because she now understood the pain slave women felt when their children were taken from them and sold. A few years later Calvin Stowe joined the faculty of his alma mater, Bowdoin College and the family moved to Brunswick, Maine, where they would remain until 1853.
Though Stowe had been writing and publishing actively since the 1830s. Her most famous work came in 1851 with the first installment of Uncle Tom's Cabin in The National Era. The magazine's publisher, Gamaliel Bailey, contacted Stowe wanting a story to "paint a word picture of slavery". The story would run in installments in the magazine. Stowe had expected Uncle Tom's Cabin to be written in just 3 or 4 installments, but she ended up writing more than 40. Due to the financial security that followed the publishing of Uncle Tom's Cabin Stowe began to write full time. She published a number of works including Key to Uncle Tom's Cabin, a sort of companion to Uncle Tom's Cabin, and Dred: A Tale from the Swamp, another more intensley violent anti-slavery story.
In 1862, after the wide spread popularity of her book, Harriet Beecher Stowe was able to meet President Abraham Lincoln on Thanksgiving day. The story we hear today is that Lincoln greeted Stowe by saying "So you're the little woman who wrote the book that started this great war." This occurrence has yet to be proven historically, but it does highlight a very important historical reality- that Uncle's Tom's Cabin helped illustrate the heinous nature of slavery and started a national moral conversation that had been put off for nearly 100 years.
The family moved back to Connecticut to Hartford after Calvin retired. It was here that Harriet built her dream house at Nook Farm, a family neighborhood. Debts brought on by weighty maintenance costs and the increasing factory industry forced her to sell the home in 1870. The family moved to a brick Victorian cottage-style home near Forest Street, where she would reside until her death. While living Connecticut, Stowe started doing speaking tours all around the United States. She traveled to promote the progressive ideals of abolition and women's suffrage, among other things. She helped reestablish the Wadsworth Atheneum Art Museum and the Hartford Art School, which today is the University of Hartford. Stowe wrote more highly popular works during this time including- Lord Byron Vindicated, The American Woman's Home, and Pogunuc People.
Sources
"Welcome to the Harriet Beecher Stowe Center." Harriet's Life. The Harriet Beecher Stowe Center, n.d. Web. 06 Apr. 2015.
Additional Information