Crime and Redevelopment on Belmont Springs Main Street
Introduction
Author-Uploaded Audio
In 1938 Lawrence K. Farrar, Jr. and his wife Marguerite purchased the land at 1035 Harrill Street for $1,250; and they later built and opened a convenience store named L.K. Grocery. The store stayed in the family and provided goods to the community through decades of changes in the neighborhood.
Images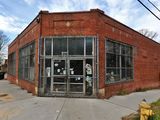 Backstory and Context
By the 1980s, the racial segregation and poverty that had been exacerbated by displacement and housing policy had been concentrated for well over a decade in the Belmont area. This combination of neighborhood disinvestment, displacement, and concentrated poverty gave rise to growing drug and crime rates in the area. The cocaine use that had begun in wealthier urban areas became a plague in poor neighborhoods. In a 2006 Quality of Life study in Charlotte, Belmont had 3,300 residents, with a violent crime rate that was double the city average. This store became a high traffic spot for the problems plaguing the neighborhood. Between mid-2012 and the end of 2013, there were 122 drug arrests and 74 violent crimes near the property.
The City of Charlotte purchased the store in 2014 in an effort to stabilize the area and promote different uses. Based on the Quality of Life Explorer, violent crime has been trending down, with 24 crimes reported across the Belmont neighborhood in 2018.
The building was vacant when it was sold in 2018 for private development. An animal hospital using more than half the building opened in 2019. Renovations on the remaining part of the building were completed in 2020 for a florist and bottle shop concept.
Across the street, two restaurants opened in 2018, which began restoring Belmont Avenue as a center of business for the neighborhood again.
While facing the building at 1035 Harrill Street, turn right to head west on Belmont Avenue a half block towards Seigle Avenue. The medallion will be found across the street at 901 Belmont Avenue.
Additional Information