Piedmont Courts to Seigle Point
Introduction
Author-Uploaded Audio
The City of Charlotte located its first public housing project for whites in Belmont. Piedmont Courts opened in 1940 at Seigle Avenue and East 10th Street. The site, on a hollow along Sugar Creek near the railroad, had long been a makeshift shantytown. The new project's architecture by Martin Boyer and Harold Bursley featured elegant historic motifs, including rounded dormers, brick exteriors, and red-tile roofs. The townhouses were arranged to provide covered walkways and interior play yards, which were considered very progressive ideas at the time. Another less elaborate design was created for Blacks in a development near Statesville Avenue across town.
Images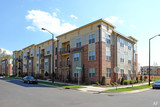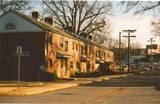 Backstory and Context
By the time Brooklyn was razed in Uptown, Charlotte was integrating, and Black families who could not buy new homes moved into Piedmont Courts. Poverty and neglect were concentrated in the area, and when the crack cocaine epidemic struck, Piedmont Courts became a notorious corridor of drug activity. Witnesses said that users, "queued up to dealers like customers at a fast-food drive-thru." On a Saturday afternoon in November of 1985, gunfire exploded during a conflict between dealers, leaving seven people injured. The book, Money Rock: A Family's Story of Cocaine, Race, and Ambition in the New South, tells the story of a drug dealer and the shootout.
The complex was demolished in 2006 and replaced by Seigle Point and Vistas @ 707 Apartment Homes, a mixed-income development. Today, some former residents of Piedmont Courts continue to hold an annual reunion and relish the friendships and memories they made there.
Let's cross Seigle Avenue and Otts Street. Look for the medallion near the warehouse building and stop sign. 
Additional Information