Nodaway County Historical Society
Introduction
The Nodaway County Historical Society has been collecting, preserving, and documenting historically significant material for over eight decades. Founded in 1944, the society has had several very significant preservation successes over the years: for example, the establishment of the museum in Caleb Burns' house (built in 1849) and the building of a 3-story museum showcasing the artifacts of Nodaway County, which the society had collected over the years.
Images
The Nodaway County Historical Society Museum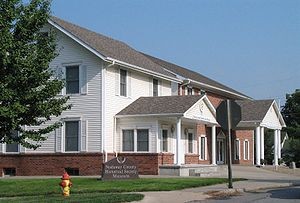 Backstory and Context
For many centuries, what is today Nodaway County, was once Native American lands. Covered with prairies and full of game, the lands were prime hunting grounds. However, on September 17, 1836, the Fox, Sac, and Iowa Indians signed a treaty, giving the land to the young state of Missouri.

Today the rural county is rich in history, both from its original inhabitants and its later European- and African-American inhabitants. Individuals like Ben Jones and Jimmy Jones, whose horses won two Triple Crowns, as well as the Kentucky Derby six times, were born here. U.S. Supreme Court Justice also once studied at the Conception Seminary College to become a priest, before changing his mind and instead attending law school.

There have also been more notorious stories, such as that of Raymond Gunn. On January 12, 1931, after the African American man confessed to the murder and attempted rape of a young female teacher, a mob pushed into the jail, took Gunn away, tied him to the top of the schoolhouse, and set the school on fire.

A visit to Nodaway County will take visitors past sites of amazing, eccentric, and horrific pieces of history. Most visitors will not ever know what they have passed, however. The Nodaway County Historical Society's Museum, however, sheds light on the diverse history of the county.


Sources
http://www.nodawaycountymo.us/county-facts/ http://www.nodawayhistorical.net/
Additional Information