Washington Irving Trail Museum
Introduction
America's first internationally-recognized author, Washington Irving, first stumbled upon the site of the current museum in 1832. At the time, he made camp there, while traveling with Captain Jesse Bean and his U.S. Rangers. After the trip, Irving made the area famous through his account in A Tour of the Prairies. Today all the diverse and long history of the location, including the original camp site of Washington Irving, is exhibited at the award-winning Washington Irving Trail Museum.
Images
The unique glass bottle collection at the Washington Irving Trail Museum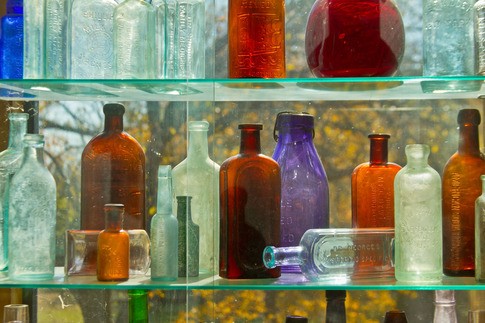 Backstory and Context
The Washington Irving Museum commemorates history in its broadest sense, both the well-known history-changing moments and the odd and mundane bits of life, that once removed by a century or more are no longer mundane in the slightest.

The "History's Forgotten Treasures" exhibit exemplifies this combination of odd and no-longer-mundane. Meteorites and lightning-formed fulgurites are alongside an Abraham Lincoln campaign poster, a collection of teapots, a two-headed calf skull, and ancient Christian artifacts. It's both natural history and the odd bits of history that no longer make it into history books, hence "forgotten."

The museum also captures the era in which the name "Oklahoma" conjured up images of lawless gangs and shootouts with the sheriff. The "Gunfight at Ingalls" is one example, commemorated at the museum. Having occurred only four miles northeast of the museum's present location, the gunfight was one of the deadliest gun battles in America. Three Marshalls and two bystanders died as a result of the battle. However, it also marked the beginning of the end for the Doolin-Dalton gang.

Cowboys, such as Billy McGinty, and the start of the Western Music are likewise remembered and displayed. The very first commercial Western, Oklahoma boys, band is often accredited to cowboy Billy McGinty, who sponsored the band. However, it was Otto Gray who took the cowboys touring and made Western music famous. The museum actually sits on the former homestead of Otto Gray's family includes much memorabilia from his family and the band tours.
Additional Information