Hayden Building
Introduction
The Hayden Building is a two-story property that was constructed in 1904 and has remained almost entirely unchanged since that time. Throughout its history, the Hayden Building has housed numerous businesses and organizations including a furniture store, a dance school, a fraternal organization, a hotel, a supply company, a radio station, and a theater. A historical marker was placed at the site in 2015 by the Kern County Historical Society.
Images
Hayden Building, shown during renovation to become the Continental Hotel (1915)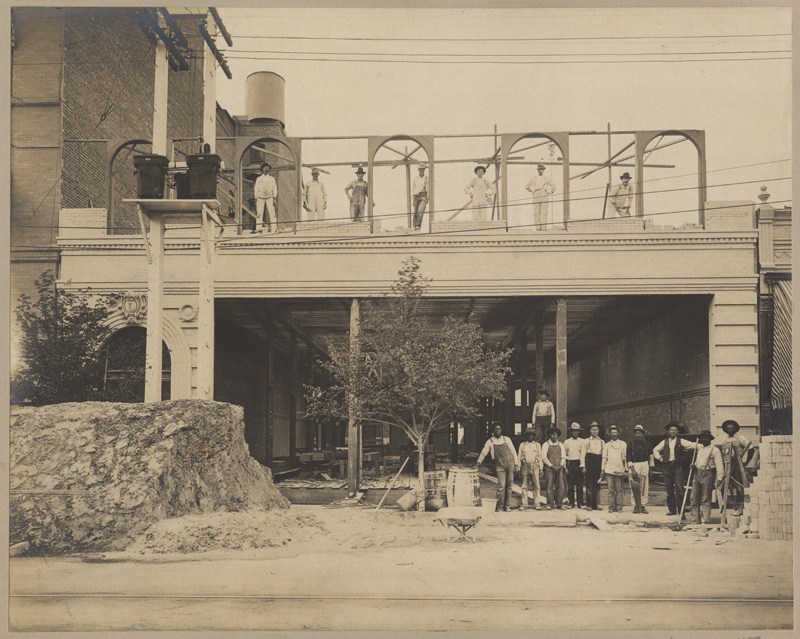 Hayden Building, following a 1915 renovation to become the Continental Hotel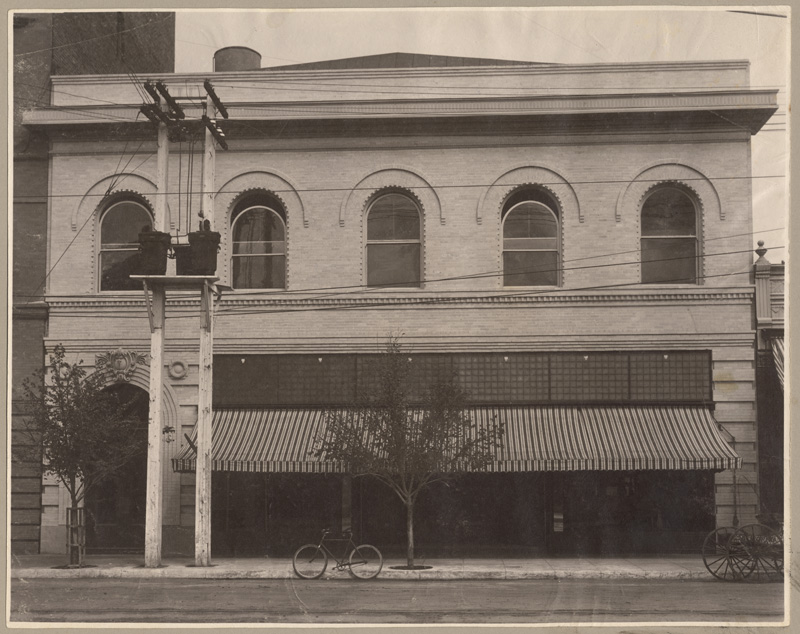 Hayden Building (November 24, 2013)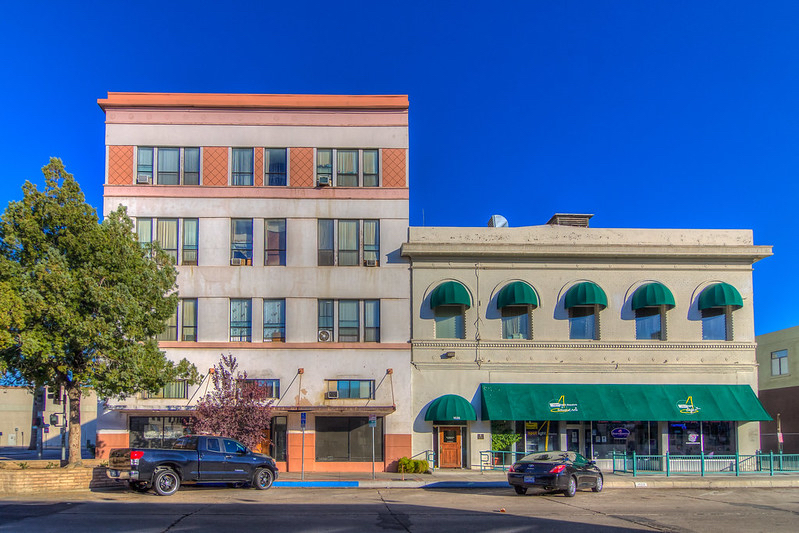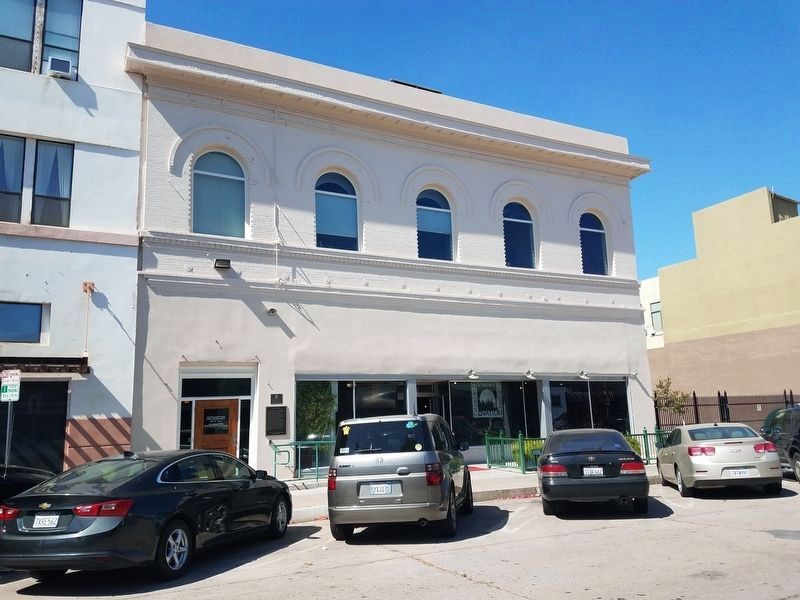 The Hayden Building historical marker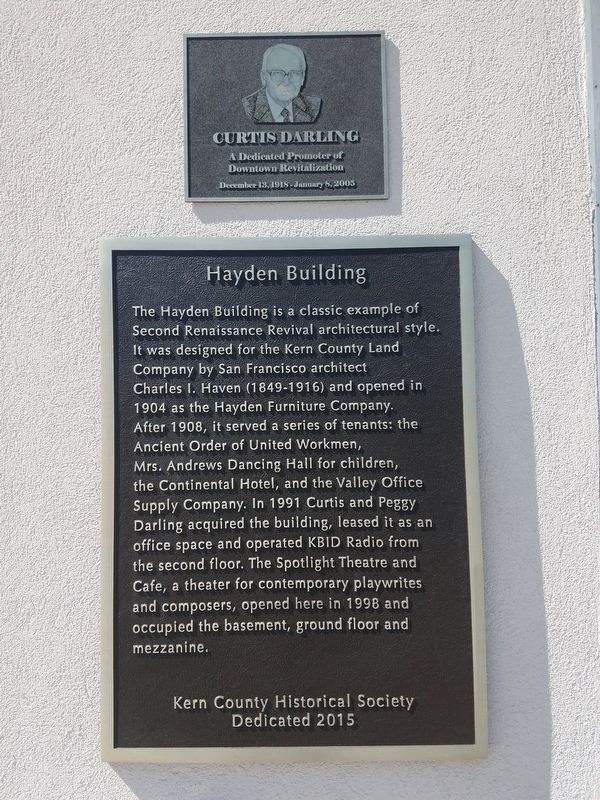 The Hayden Building and Tegeler Hotel (3D Model showing mural on side of Hayden Building)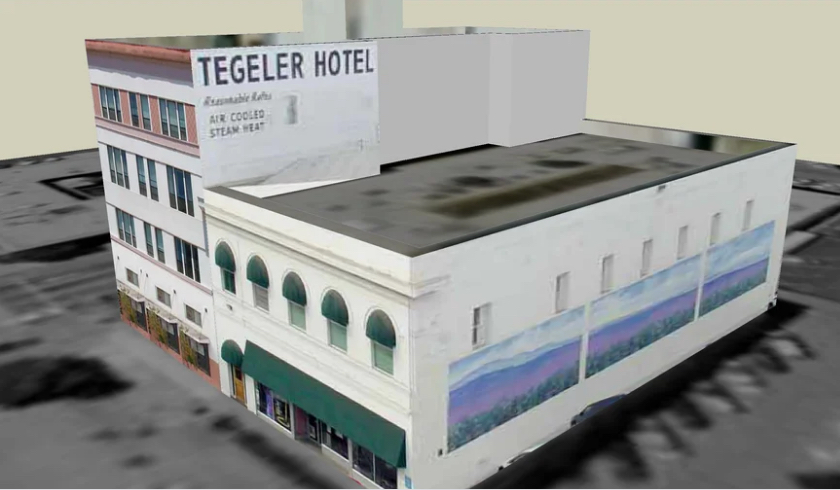 Backstory and Context
The Hayden Building was designed in the Second Renaissance Style, featuring a row of rounded arch windows on the second story. The San Fransisco architect, Charles I. Haven, originally designed the building for the Kern County Land Company. After it was constructed, the Hayden Building opened in 1904 as a furniture store called the Hayden Furniture Company. Thereafter, however, it housed a number of different tenants.
In 1908, the Ancient United Order of Workmen (AUOW), a working class male fraternal organization, began to use the Hayden Building as a meeting lodge. The building later became home to Mrs. Andrews' Dancing Hall for Children. In 1915, a renovation was undertaken to create the Continental Hotel. Archival photographs from the era show the addition of the second floor, including the row of upper-story arches.
Also during the 20th century, the Hayden building became the Valley Office Supply Company. In 1991, the Hayden Building was purchased by Curtis and Peggy Darling. They leased part of the building as office space, while also operating a radio station (KBID) from the second floor. Beginning in 1998, the basement, ground floor, and mezzanine of the Hayden Building became the home of the Spotlight Theater and Cafe. The venue provided a creative space for contemporary theater writers, musical composers, and performers.
Sources
The Hayden Building, Bakersfield, Alma. Accessed April 14th 2021. https://csl.primo.exlibrisgroup.com/view/delivery/01CSL_INST/12135711470005115.
The Tegeler Hotel and Hayden Building, Sketchup. Accessed April 14th 2021. https://3dwarehouse.sketchup.com/model/7c4a81feb9b8abe35948a6a07ff43613/The-Tegeler-Hotel-and-Hayden-Building-Bakersfield-CA?hl=en.
Boose, Denise. Hayden Building Historical Marker, The Historical Marker Database. May 21st 2018. Accessed April 14th 2021. https://www.hmdb.org/m.asp?m=117419.
Image Sources
Calisphere

David Seibold, Flickr

Denise Boose, The Historical Marker Database

Denise Boose, The Historical Marker Database

Sketchup.com