Pathways by Gillian Christy, 2010, metal and brick installation
Introduction
User Uploaded Audio
Gillian Christy's Pathways serves as a welcoming gateway into Fitchburg. Pathway's intention was to highlights aspects of this community's past, revealing its rich history to all visitors of downtown Fitchburg. Read on to learn more about Pathways and how it properly represents the transformation of Fitchburg across the 20th century.
Images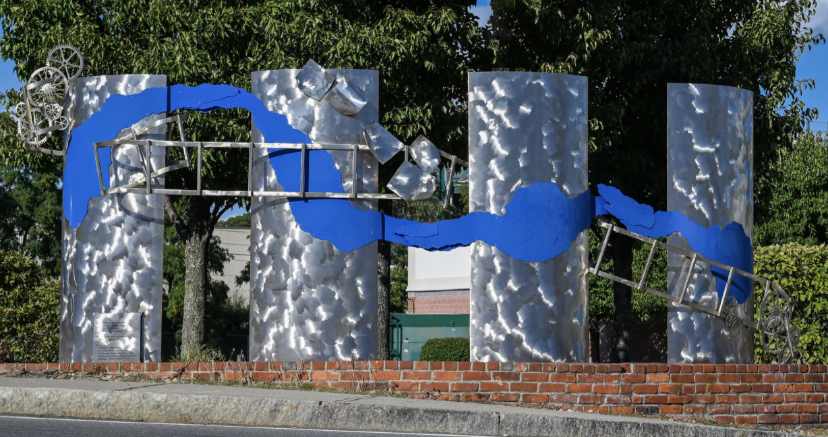 Photo by Charles Sternaimolo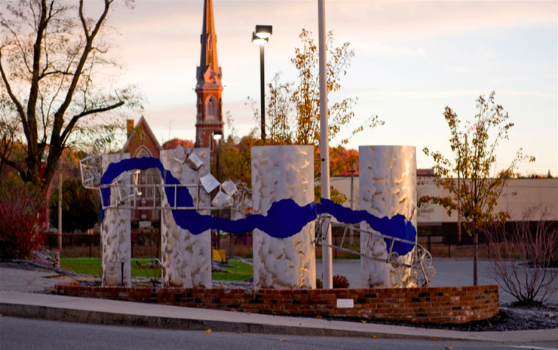 Photo by Charles Sternaimolo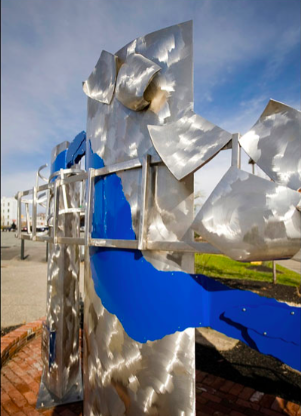 Backstory and Context
User Uploaded Audio
Pathways by Gillian Christy was created as an homage to the history of Fitchburg. This public art installation consists of four brushed metal pillars that were placed to represent Fitchburg's past, present, future, and community. Finding a way to connect these aspects, both physically and metaphorically, was essential to the design. When speaking with community members, Christy felt that it was important to reference different aspects of Fitchburg. Inspiration was drawn from the mill town history, which can be seen through the railroad-like structure, while the contrasting blue river-like feature represents the Nashua River. Pathways stands as a depiction of Fitchburg's strong identity based on nature and industry.
In order to give Fitchburg proper representation, Christy focused her research heavily on the voices of the community. When asked about the community's impact on Pathways, Christy states, "It made a huge impact, that was the goal to create a community-driven project… we spent about 8 months meeting with community members and I took stories the community provided and found things that meant something to them." This initiative allowed Fitchburg residents the opportunity to guide Christy into creating a work of art that truly represented them. Pathways has allowed there to be a place where many memories of Fitchburg thrive.  
Since Pathways has many viewers daily, due to its busy location, Christy hopes a sense of comfort and appreciation will become its legacy. In Christy's perspective, public art is meant to serve a higher purpose than being only aesthetically pleasing. Christy states, "I hope it gives a sense of place and that when you arrive or depart you have a sense of I am leaving or coming into a place I hold dear…, it serves in your memory as a positive landmark or gateway into one's hometown." Pathways is a gateway to learning about the art, culture, and history of Fitchburg.
Sources
Artist website: www.gillianchristy.com/Pathways.shtml. 
Writer: Declan Coleman
Speaker: Ryan Normand