This entry includes a walking tour! Take the tour.
Introduction
On April 15, 1920, a guard and a paymaster at the Slater-Morrill Shoe Company in Braintree, Massachusetts, were murdered in an armed robbery. Suspicion centered on local anarchists. Nicola Sacco and Bartolomeo Vanzetti, Italian immigrant anarchists, were shortly afterwards accused of the robbery. The trial occurred in June and July, 1921, in Dedham, the county seat of Norfolk County. The trial drew international attention because many people believed that the defendants were unfairly accused because of their politics and ethnicity. Both men were found guilty and sentenced to death.
Images
Bartolomeo Vanzetti (left) and Nicola Sacco (right)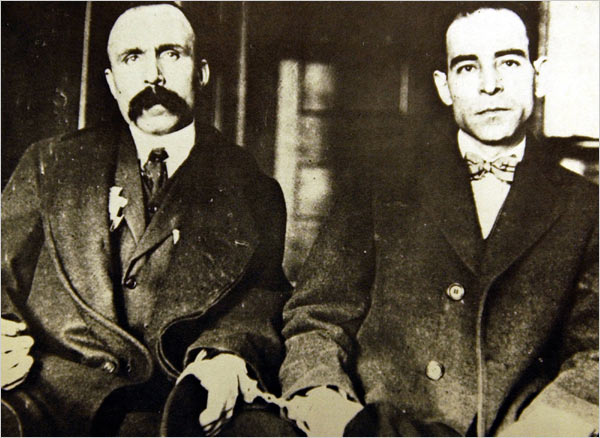 Backstory and Context
At the time, many people were deeply concerned by the potential implications of Sacco & Vanzetti's trial and conviction. In the years that followed the conviction, lawyers for the two men received money from people all over the world. After numerous attempts to overturn the verdict, Sacco & Vanzetti were executed on August 23, 1927. Governor Michael Dukakis pardoned them posthumously on August 23, 1977.
Sources
The tour is adapted from a walking tour Max Malamut created in 2018 for his Eagle Scout project.
Image Sources
https://en.wikipedia.org/wiki/Sacco_and_Vanzetti#/media/File:Sacvan.jpg